The Untold Truth Of The Little Mermaid's Jodi Benson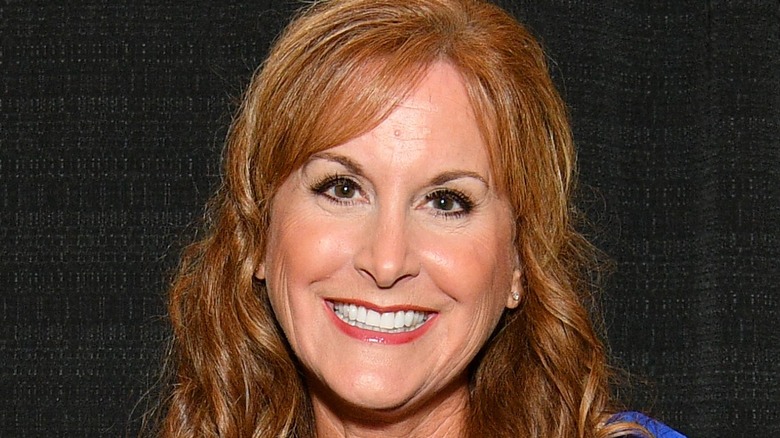 Getty
We may receive a commission on purchases made from links.
When Ariel, the strong-willed heroine of Disney's "The Little Mermaid" (1989) gives up her voice for a chance to be with her beloved Prince Eric, few audience members knew just how many places that voice — provided by Broadway actress Jodi Benson — would go.
Over the next 30 years, Benson would continue playing Ariel in multiple movies, TV series, and video games. She's shared her vocal talents with other popular Disney projects, including the "Toy Story" franchise and "Hercules" animated series. And she continues making appearances at conventions and cruises, where audiences get to hear her sing in person.
In 2011 Benson was recognized for her extraordinary contributions to the Disney legacy by being made an official "Disney Legend," an honor given to extraordinary artists, actors, and Imagineers in the Walt Disney Company. The award highlights an incredible career marked by celebrated public performances and touching moments with thousands of fans.
Looper caught up with Jodi Benson at the 2022 Phoenix Fan Fusion Convention, where she shared many fantastic stories about her life during a live panel. Here, straight from the voice of Ariel herself, are some of the most amazing truths about Jodi Benson.
The Little Mermaid provided Benson with her first voice acting role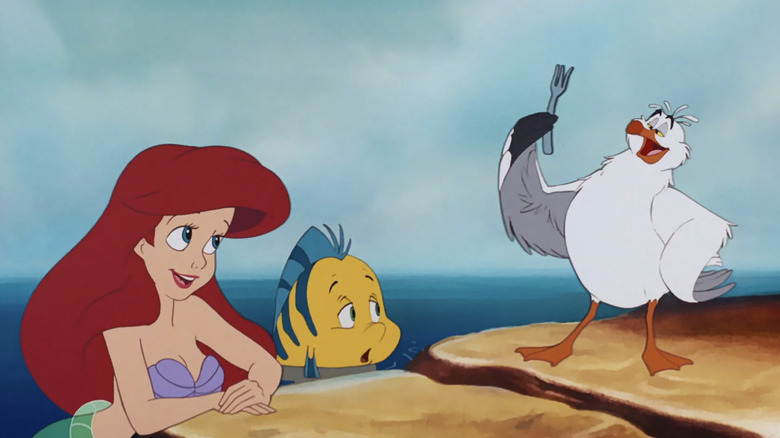 Buena Vista Pictures Distribution
Today, Jodi Benson's name is synonymous with voice acting. Aside from Ariel, Benson has voiced the title character in Don Bluth's 1994 "Thumbelina" animated movie, multiple characters in Cartoon Network's "Camp Lazlo" TV show, and even the superhero Aquagirl in two episodes of "Batman Beyond."
But back in the 1986, Benson hadn't even considered a career as a voice actor. Instead, she was performing in the Broadway musical "Smile," a production directed by legendary Disney lyricist Howard Ashman, who had been tapped to write the lyrics for "The Little Mermaid." At the Phoenix Fan Fusion Convention, Benson noted that "Smile" closed after only a few weeks. But her performance — and her rendition of the musical's song "Disneyland" — got her the attention of Ashman, who invited some cast members to audition for "The Little Mermaid" after the play ended.
"I went to the audition just saying, 'Oh, this is a neat experience,' never having been behind a microphone before," Benson recalled, who saw the audition as a "consolation prize" for the actors who'd just lost their jobs. "And I ran to the ladies' room, made sure no one was in the stalls, and started talking to myself in the mirror thinking, 'Gosh, is this what a sixteen-year-old sounds like? I don't remember!'"
A year later, Benson got a call from her agent, who told her she'd been cast as Ariel. Benson, who'd forgotten all about the earlier audition, innocently asked, "What's an 'Ariel?'"
Soon, however, Benson would see the role as a huge blessing — especially since it gave her the opportunity to work with Howard Ashman again. "[Howard] stood in the studio with me ... and got me through all my lines and all my songs," Benson recollected. "He knew I was struggling. I had never been behind a microphone and didn't know what I was doing at all, but he was just incredibly kind."
She voices another character in The Little Mermaid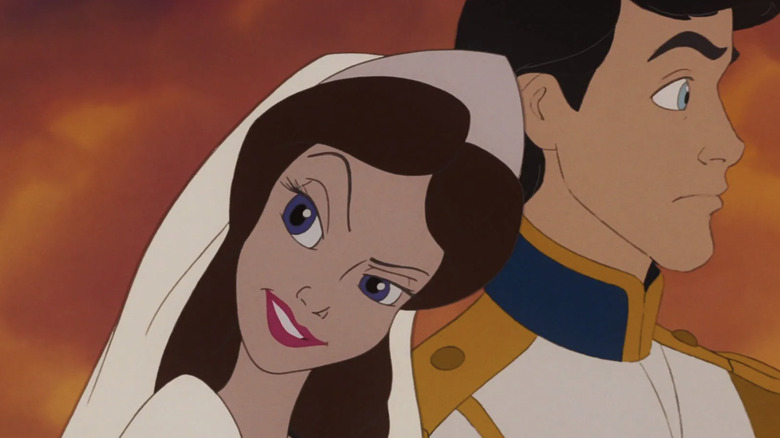 Buena Vista Pictures Distribution
Benson's performance as Ariel is so enchanting in "The Little Mermaid" that it's easy to forget that she voices two different characters in the movie — and the second character isn't so nice.
Near the end of the movie, the Sea Witch Ursula transforms into the human girl "Vanessa" to enchant Prince Eric and keep him from being with Ariel. To further bewitch him, she uses Ariel's stolen voice — so, naturally, Benson also voices Vanessa, making her Ariel's evil twin.
To differentiate the characters and make it clear that she was playing a disguised Ursula, Benson got some coaching from Ursula's voice actor Pat Carrol to mimic the Sea Witch's distinctive cackle (via Mouse Planet). Although her appearance is brief, it did get Benson thinking it could be fun to voice a Disney villain instead of a princess. Does this mean we'll be seeing Benson play against type in a future film?
She voiced another pop culture icon after The Little Mermaid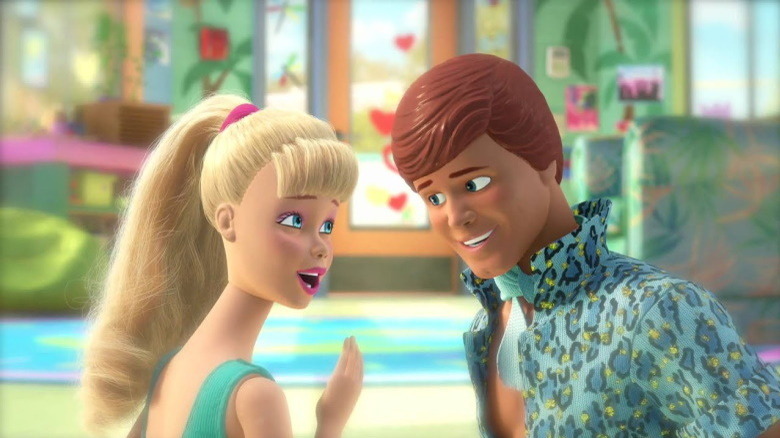 Disney Pixar
Getting to play the Little Mermaid gave Benson's voice acting career a great start, and just a few years after the film's release in 1989, Benson got to play another iconic character. In 1992, Benson was cast as the voice of Mattel doll Barbie for a 30-minute long "Dance! Workout with Barbie" exercise video, where she leads a group of kids (including a young Jennifer Love Hewitt) in a series of dance moves.
Years later, Benson was cast again as Barbie for "Toy Story 2" (1999). In an interview with The Dis Insider, Benson says that she didn't even have to audition for the film because John Lasseter of Pixar felt that Barbie is "inside" of her. Ironically, neither Lasseter nor the Mattel rep who attended the first recording session knew anything about Benson's previous work as Barbie. They told her the role would be a "really big deal" since this would be the first time Barbie had a voice.
In response, Benson told them she'd already done the workout video nearly a decade earlier, causing everyone to realize they'd cast Barbie ... to play Barbie. Benson would go on to play Barbie in numerous "Toy Story" films and shorts, showing sometimes there are roles you're just born to play.
Benson's daughter would like to take over the role of Ariel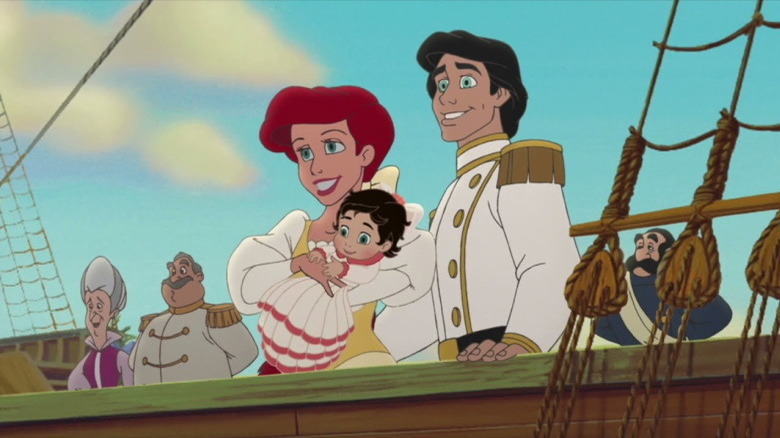 Buena Vista Pictures Distribution
Although Benson has voiced Ariel in virtually all of the mermaid's animated appearances, there is one person who's prepared to take over as The Little Mermaid once Benson finally relinquishes the role.
Delaney Benson is Jodi Benson's daughter and a talented actress and singer, who's performed as Elsa in "Frozen" for Red Phoenix Theatre Company and Lucy Van Pelt in "You're a Good Man, Charlie Brown." But back when she was 4-years-old, Delaney made her dream role very clear when her mother brought her on stage during a public performance, which Benson described at the Phoenix Fan Fusion Convention.
"I asked her, 'What do you want to do when you grow up?'" Benson recalled. "And she took that mike and she said, 'I'm going to be Ariel when you're dead!' ... And the audience of course laughed, but she was totally serious! So, now when we do concerts together, we share that story and I just look at her, and she's like, 'So, do you got this mom? You ready to give it up?' And I'm like, 'No, I'm still alive! I'm still kicking!'"
According to Benson, Delaney can do a "perfect sound-a-like" of Ariel's voice — suggesting the voice of The Little Mermaid could be performed by the Benson family for generations to come.
She got to act opposite another Disney voice acting legend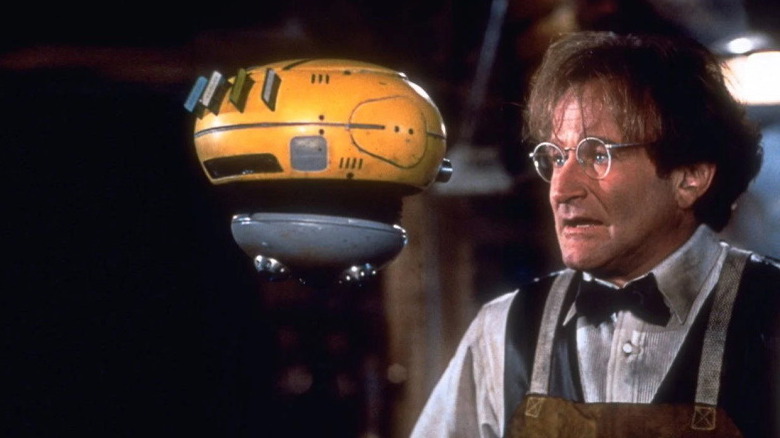 Disney
Voice acting recording sessions can be conducted in different ways. Sometimes, actors record their lines before a single frame of film is animated. Other times, a film or TV show will already be completed by the time an actor is brought on to record dialogue, which creates unique challenges for the performer.
This was the case for Benson when she was hired to replace the voice of the friendly robot "Weebo" for "Flubber," Disney's 1997 remake of "The Absent-Minded Professor" (1961). Robin Williams — who was already well-known as the voice of the Gene in Disney's "Aladdin" (1992) — stars as Professor Phillip Brainard, a scientest who discovers the sentient anti-gravity substance known as "Flubber."
Originally, Weebo had a computerized voice, which interfered with the human connection that needed to develop between her and the professor. So, Benson was called in weeks before the film was released to lend her voice to the robot, and she explained the difficulty of the role to the audience at the Phoenix Fan Fusion Convention.
"The challenge was for me to deliver my human lines building a relationship and a love that Weebo has with the professor and her adoration of him, locked in the timing of what the computer had already laid down," Benson shared. "And, of course, I didn't meet anyone in the cast until the premiere in Los Angeles, where I got to meet Robin and his family and say, 'Hi! I'm your Weebo!' And he was like, 'Oh my gosh! This is wonderful!'"
She once wore the official Disney World Ariel costume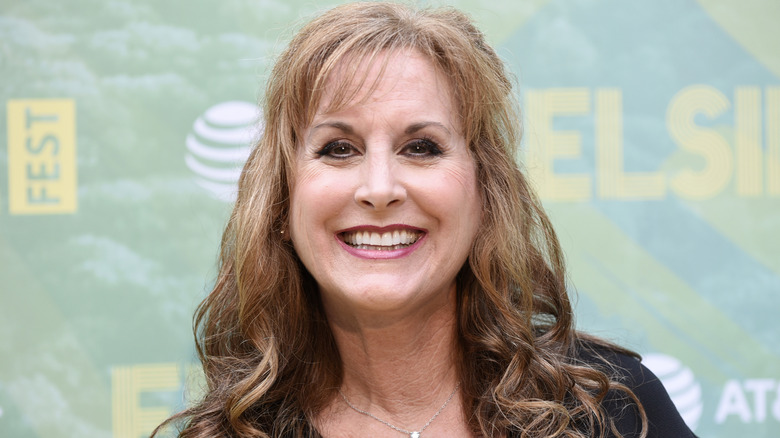 Jenny Anderson/Getty Images
Benson is so closely associated with the role of Princess Ariel that some fans have asked if she appears as The Little Mermaid at the Disney theme parks. While Benson's time as Ariel is usually limited to her voice work, there was one time when she actually got to wear Ariel's famous mermaid tail.
"One time, in the privacy of a hotel room, a costume designer brought the Disney World Ariel's costume, and just she and I were in the room in between events. I put it on, just for fun, and laid down on the little sofa," she recalls in an interview for Mouse Planet. "I had always wondered what it would feel like to have a fin and to wear the seashells."
Benson quickly switched to her gown for an upcoming performance and the costume went to the actress playing Ariel that night. However, Benson got to enjoy a quick chuckle knowing that for a brief moment, she really was Ariel in both voice and body.
It took Benson almost 30 years to see The Little Mermaid animated series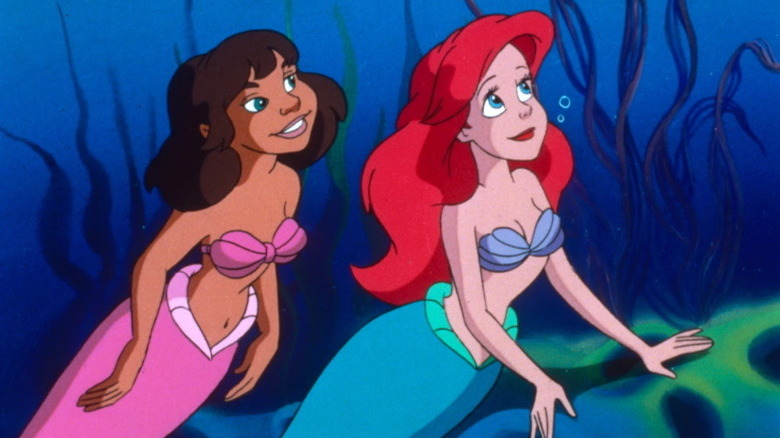 Buena Vista Television
Often times, actors take on multiple projects all at once, which makes their schedules very hectic. For Benson, who was busy with her stage and voice acting careers during the 1990s, this caused her to almost completely forget about her experience recording "The Little Mermaid" animated series that aired from 1992 to 1994. The show was a prequel that followed Ariel's undersea adventures before "The Little Mermaid" movie. It proved popular with fans, although it all went by in a blur for Benson.
"I was doing a Broadway show called 'Crazy for You' at the same time that I was working on the television series," she remembered, speaking at the Phoenix Fan Fusion Convention. "So, I would wake up at ten o'clock in the morning, I'd go to work, I'd come back, I'd do my episodes, I'd come back, I'd take a nap, I'd wake up, and then I'd go do the show at night. So, it was just a crazy schedule for those two or three years for me in New York City."
So crazy, in fact, that when a friend challenged Benson to watch "The Little Mermaid" television series during the pandemic, Benson had no recollection of recording the show or all the new songs. She soon fell in love with the series and the music, however, and later recalled working with Samuel E. Wright (a.k.a. Sebastian the Crab) in the studio on a handful of episodes.
Benson would have loved to play a role in the live-action The Little Mermaid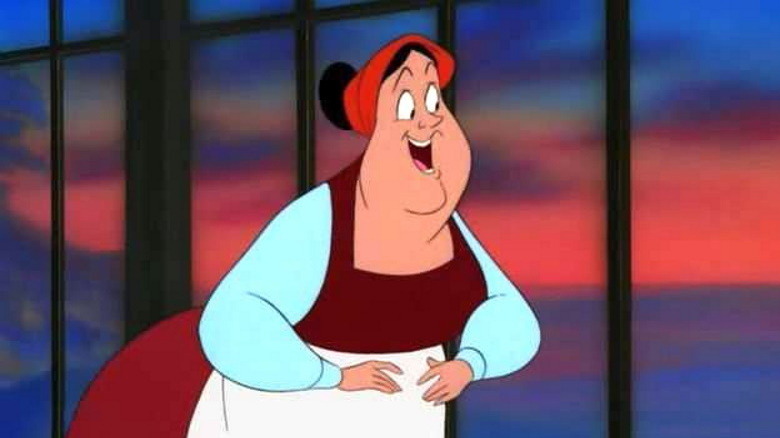 Buena Vista Pictures Distribution
The live-action "Little Mermaid" movie starring singer-actress Halle Bailey as Ariel is slated to come out in 2023 and Benson has confirmed she will not appear in the film. However, she did get to meet the entire cast and production team, who got her involved in the press and publicity for the movie.
And she has a role she would have liked to play in the movie — Carlotta, Prince Eric's kind-hearted maid (originally voiced by Edie McClurg), who takes care of Ariel when the mermaid first comes to Eric's castle. In the animated film, Carlotta unknowingly saves Sebastian from being caught by Chef Louis when the crazed cook trashes his kitchen looking for the runaway crab. Later, she appears briefly at the end during Eric and Ariel's wedding.
"I think it would have been super fun to play Carlotta, just because age-wise I can pull that off, but also she's like a caregiver and a mom," Benson explained to the audience at the Phoenix Fan Fusion Convention, adding she's not sure if Carlotta will appear in the live-action version. "I think she would be maternal with Ariel and kind of watching over her."
Benson's fellow Disney Princess voice actors really do know each other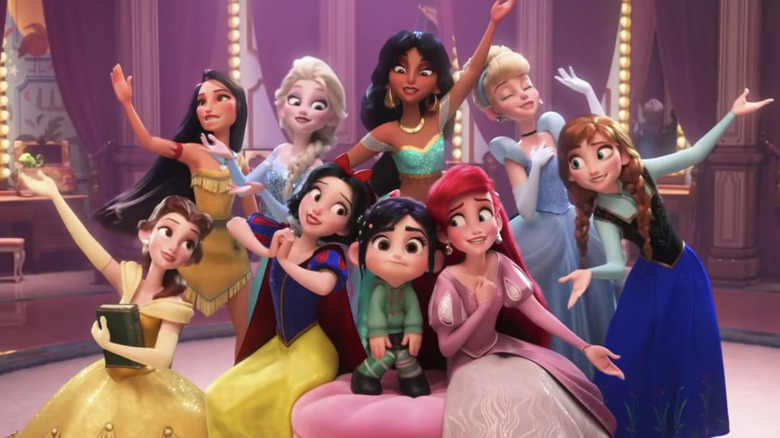 Walt Disney Studios Motion Pictures
In the movie "Ralph Breaks the Internet" (2018), the Disney Princesses — Cinderella, Ariel, Elsa, Anna, Belle, Mulan, Snow White, Aurora, Jasmine, Pocahontas, Tiana, Rapunzel, Merida, and Moana — form a sisterhood on the Oh My Disney website. However, it turns out the princesses all know each other in real life as well. "We actually have a text group, so that's how we stay together," Benson revealed at the Phoenix Fan Fusion Convention, calling the group of Disney voice actresses, "my Princess Posse." 
Benson's friendship with Paige O'Hara (Belle from "Beauty and the Beast") actually goes all the way back to 1981, when Paige and Benson's husband Ray were acting in a production of "Oklahoma!" together (via Mouse Planet). Later, both Benson and O'Hara auditioned for the role of Belle, and Benson was thrilled when her friend got the part, telling Mouse Planet that "it was really great to have two old Broadway girls in the Disney Legends family."
Benson also shares a friendship with Linda Larkin, who provided the speaking voice of Princess Jasmine from the "Aladdin" movies and animated series. She keeps in contact with all the Disney Princess voice actors through Zoom, various conventions, and special Disney events.
Ironically, the voice actors all recorded their parts separately for "Ralph Breaks the Internet," which prevented them from actually meeting the one time their animated counterparts got to share the screen. Even so, Benson loves the Disney Princess scene and hopes the princesses get their own movie one day.
She comes from a family of singers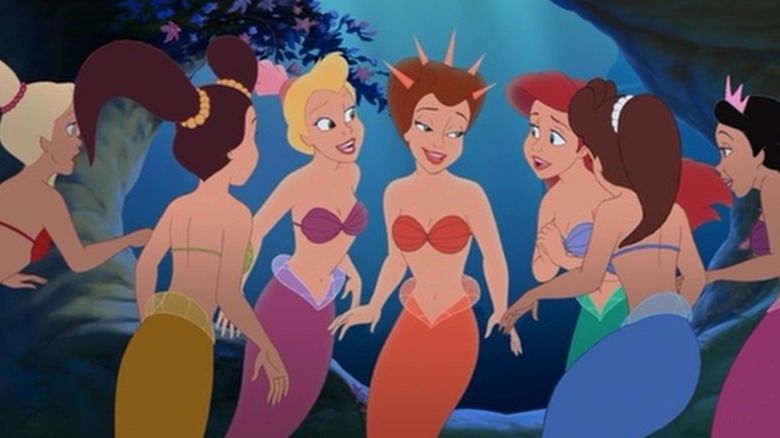 Buena Vista Pictures Distribution
When asked what she has in common with Ariel, Benson is quick to point out that both she and the Little Mermaid are independent, possess a rebellious streak, and are very tenacious when going after what they want (via Mouse Planet). But there's something else she has in common with Ariel — a very musical family. While her formal music training didn't begin until college, Benson's entire family seems to be gifted with song.
"I think I came out of the womb singing," she told the audience at the Phoenix Fan Fusion Convention, adding that her mother, father, sister and brother all have beautiful voices. Her brother had a garage band, while her sister taught Benson to play the guitar at the age of nine when they sang for church.
Most recently, Benson completed an autobiography, "Part of My World," where she shares more stories of her early life living in New York, working on Broadway, and voicing multiple iconic animated characters.
She keeps a supply of Kleenex during public appearances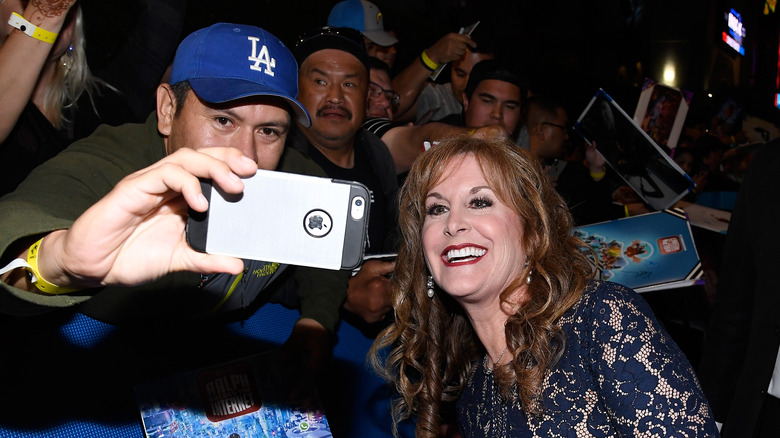 Kevork Djansezian/Getty Images
Coming face-to-face with a Disney Legend can evoke a lot of emotions. It's not uncommon for Benson's fans to get tongue-tied or even start crying when they meet her. That's why Benson always keeps Kleenex at her table when she's doing meet and greets.
In Benson's own words, however, it's not simply meeting her that causes fans to get emotional. "It is not strange to get emotional," she reassured her fans at the Phoenix Fan Fusion Convention. "Because you're triggered — and it's not me that's causing the trigger. It's when you make the connection with me at the table, you're reliving your memories. And those memories can be positive, they can be negative, they can remind you of people who have passed on. [They] can remind you of a season of your life that was sweet or painful."
Benson always takes her relationship with her fans seriously, listening to their stories and letting them know they don't have to apologize for their tears. Upon hearing one fan at the 2022 Phoenix Fan Fusion tell her that he used to listen to cassette recordings of her singing to help him fall asleep, Benson obliged his request to share one of her most popular songs, treating the entire audience to a live performance of "Part of Your World."
She would love to meet Barbara Streisand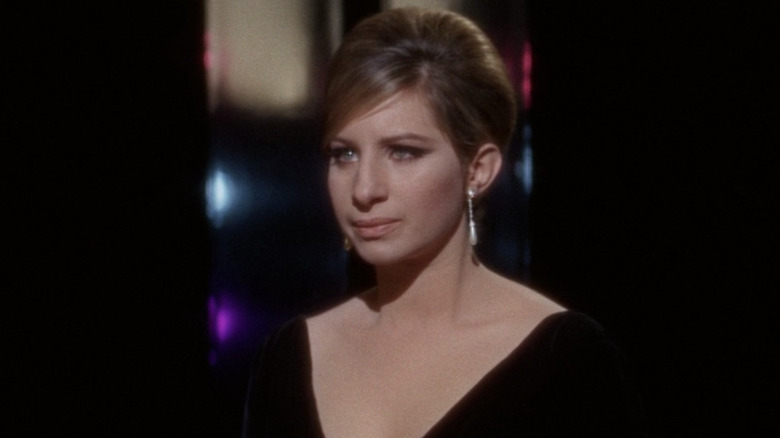 Columbia Pictures
Fans may get tongue-tied around Jodi Benson, but what famous star could cause the Little Mermaid to lose her voice again (in a good way)? During the 2022 Phoenix Fan Fusion panel, Benson revealed that legendary singer and actress Barbra Streisand would easily get her starstruck.
"If I ever, ever in my lifetime have an opportunity to meet Barbara Streisand, I would probably fall into a puddle," she disclosed. "That's the one person I grew up with and memorized everything that she ever sang. And I'm just a huge, huge fan. So, if you have any connections to Barbara and make that happen, that would be amazing. I would probably not be able to speak."
Given that Streisand has been entertaining audiences for over six decades with films such as her Academy Award-winning turn as Fanny Brice in "Funny Girl" (1968) and her multiple Grammy-winning albums, it's easy to see how meeting her would be an overwhelming experience. Then again, after learning about the amazing impact Benson has made with people all around the world, perhaps even Streisand herself might get a little starstruck if she got to meet the woman behind the iconic voice of Ariel.