The Duo The Boys Fans Want To See Share More Scenes In Season 3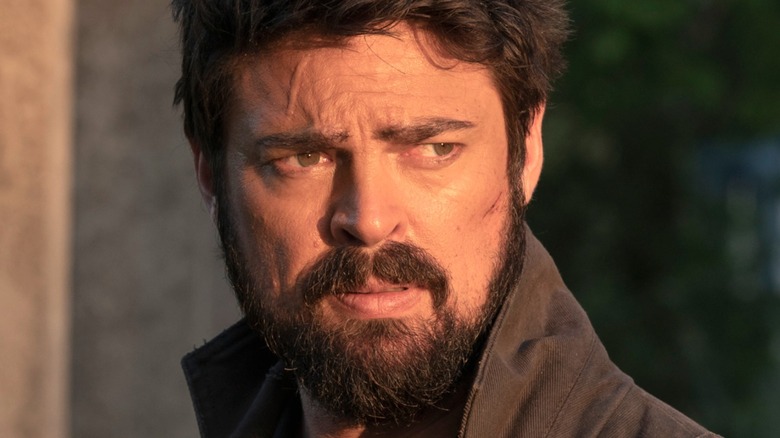 Panagiotis Pantazidis/Amazon Studios
The first three episodes of "The Boys" Season 3 premiered to Amazon Prime Video on June 3, marking the series' return to the streaming service for the first time since the conclusion of Season 2 in October of 2020 (via IMDb). As is to be expected on a show like "The Boys," Season 3 introduces viewers to a number of new superpowered characters, like the Ant-Man-esque Termite, portrayed by actor Brett Geddes. Numerous critics also had good things to say about new regular cast member Jensen Ackles of "Supernatural" fame, who portrays a hero named Soldier Boy.
Of course, Season 3 introduces plenty of new developments into the storylines of existing characters too. Stormfront (Aya Cash), for example, is heavily impacted by key events near the end of Season 2, making her role considerably different than in the previous season.
While Stormfront may now appear in a decidedly limited capacity, a new dynamic that has emerged between two other longtime characters is a hit with fans, and something a number of viewers have shared that they would like to see more of as Season 3 continues.
Fans want more of Maeve and Butcher
Shortly after the premiere of "The Boys" Season 3, user supplementarypill started a thread on the official subreddit for the series titled, "I'm only on the first episode but I'm really liking the dynamic they've kind of got going on," containing a series of screenshots of a conversation between Queen Maeve (Dominique McElligott) and Billy Butcher (Karl Urban). In the attached comments section, a number of users likewise shared their enthusiasm for this pairing. User JoeTheSifu, for example, replied "I love this new relationship. I look forward to seeing them work together, platonic or otherwise."
On Twitter too, various users have praised the duo. User @butcherscanary, for instance, tweeted, "i can't believe maeve and butcher are actually interacting this season it's all i've ever wanted" and received 35 likes. Similarly, user @wondermishx wrote, "Maeve and Butcher are the duo I didn't know I needed."
Butcher in particular was already a popular character prior to this development. One Screen Rant writer even ranked him as the single best cast member after the conclusion of Season 2. In an interview with Men's Journal, Urban himself described Butcher as a type of role that's "very fun to play... the characters who dare to do and say things we would never personally do and say in real life." This new storyline in which Butcher works together with Maeve, then, marks a new chapter for Butcher, and one that appears to be a hit among fans.