Who Plays Termite On The Boys Season 3?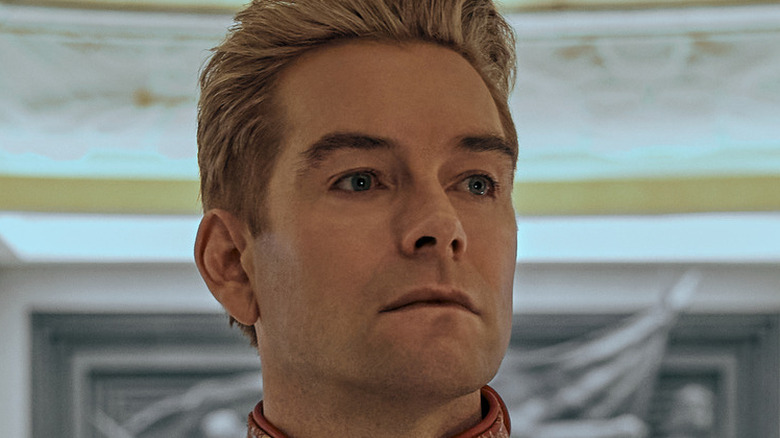 Amazon Studios
Contains spoilers for "The Boys" Season 3, Episode 1
Viewers of "The Boys" were first introduced to Termite in an installment of the "Vought News Network: Seven on 7 with Cameron Coleman" fake news show from January 2022. During the broadcast, the anchor announces, "Vought's tiny, fun-loving superhero, Termite, known for his ability to shrink to the size of a bug, has a new movie out on Vought+ — a romantic comedy, titled 'Pocket Romance.'" 
In addition to his movie career, Termite also just so happens to be on the list of supes that Hughie (Jack Quaid) and the Federal Bureau of Superhuman Affairs (FBSA), as well as Butcher (Karl Urban) and Frenchie (Tomer Kapon), are all keeping tabs on. Unfortunately, things go terribly wrong after the premiere of "Pocket Romance," when Termite and his lover decide to get frisky after snorting some drugs together, and things get messy when the drugs affect Termite's ability to stay tiny. Termite's appearance starts Season 3 off in a dramatic, gory fashion. While his story on the show seems to be wrapped up by the end of the first episode, look for him to make a brief appearance again later in the season. 
If you enjoyed his diminutive work on the show, here's what you need to know about the actor who plays the new supe Termite on "The Boys."
Canadian actor Brett Geddes plays Termite
Canadian actor Brett Geddes plays the role of Termite in Season 3 of "The Boys," and if you have questions about who he is and where you've seen him, you're likely not alone. Based on his small handful of credits outside of his appearance on "The Boys," it appears that Geddes is still a bit of an up-and-coming talent. But there are a few places you may have seen him before he popped up on Vought+.
Geddes' debut in the film and television industry was in the Canadian children's series "Overruled!" in which he makes a guest appearance as a character named Shane. Next, he would guest star in the Canadian television movie "Fakers," playing an unnamed school bully. A couple of years later, he would guest star as Declan in Season 4, Episode 4 of "Warehouse 13," a show which also stars Aaron Ashmore, twin brother of future "The Boys" superhero Lamplighter (Shawn Ashmore).
Geddes' most recent role before being shrunk down to play Termite was in Lifetime's "Candy Cane Christmas" in 2020, in which he played the supporting part of Adam Grand. And per his Instagram page — in which he describes himself as an "actor, athlete, [and] dork" — it looks like when he's not on set, Geddes enjoys working out and spending time in the great outdoors. 
Although he may not have many credits to his name as of now, after his role as Termite in the highly anticipated Season 3 of "The Boys," don't be surprised if Geddes' star blows up.