How The Rum Diary Eerily Foreshadowed The Johnny Depp-Amber Heard Drama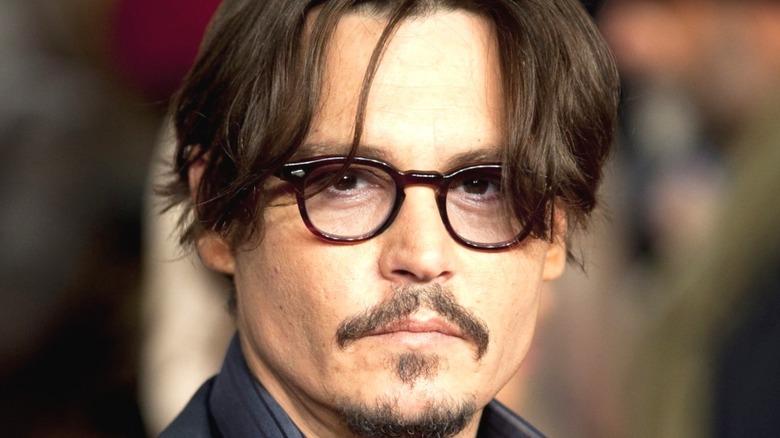 John Phillips/Getty Images
The Johnny Depp and Amber Heard abuse scandal has been grabbing headlines for years now, with the former couple's recently wrapped up defamation trial being the latest chapter in their dramatic relationship saga. As things continue to play out, people online have been looking back at both Depp and Heard's previous work in Hollywood and anything else that could paint either of them — or their relationship, in general — in a bad light. And of course, Internet users have found it.
In 2011, both Depp and Heard starred in the Hunter S. Thompson adaptation "The Rum Diary," which is reportedly how the pair met. According to The Daily Beast, Depp turned down other big-time stars to be his female lead, including Scarlett Johansson and Keira Knightley, just so he could act alongside Heard. She later called the film shoot "the best experience ever." Throughout the movie, though, there are a number of things that some people feel eerily foreshadow Depp and Heard's abuse scandal, and the scenes kept on being mentioned online throughout the recent defamation trial.
Depp's lines in The Rum Diary forecast a bumpy road
At several different points throughout Bruce Robinson's "The Rum Diary," Johnny Depp's character, Paul Kemp, says things that foreshadow a tumultuous relationship with Amber Heard's Chenault. In real life, Depp has alleged that Heard was the aggressor in their relationship and abuse scandal, while she has alleged the same about him (via The New York Times).
"Oh god. Why did she have to happen?" Kemp asks himself after meeting Chenault. "Just when I was doing so good without her." In the movie, Chenault is engaged to another character, Aaron Eckhart's Hal Sanderson, who ends up breaking things off with her. Viewers learn at the conclusion of the film that Kemp later marries Chenault. In another scene that keeps getting shared online, Kemp describes their relationship by saying, "From the moment we met, l knew there was going to be something between us." Then there's the movie's now-infamous "turd" line, which Internet users have likened to Depp's claims that Heard defecated in his bed, which she denies (via Entertainment Weekly). "What am I signing?" Kemp asks Eckhart's Sanderson during the scene. "Just a confidentiality agreement, affirmation of trust," Sanderson says. To which another character replies, "Just so we're all sitting in the same Jacuzzi. In case a turd floats up." 
Lastly, there's a moment where the ex-couple is in a 1950s Corvette convertible, and Heard's Chenault sparks up a game of chicken between the two by pushing Kemp's leg down on the gas while he's driving. "I bet you scream before I do," Chenault says, right before the car nearly launches into the ocean. "Come for the madness, stay for a drink," reads a headline in the movie's trailer, which features the scene. 
The Rum Diary's alcohol-fueled story
It wouldn't be "The Rum Diary" without some alcohol, and that's what was flowing both in the film and on set, as Johnny Depp admitted to Reuters in 2011. Johnny Depp and Amber Heard have each talked about alcohol playing a major role in their relationship, with both of them allegedly drinking heavily, much like their characters do in the 2011 film. During their defamation saga, Heard referred to Depp's drinking as being part of a larger substance abuse problem. Depp admitted to partaking in drugs and alcohol but said it was due to what he and Heard were going through behind closed doors (via NBC News). Heard alleged that Depp abused and sexually assaulted her on multiple occasions while he was intoxicated. "He wouldn't remember, or he would deny it," Heard alleged (via PBS). "There was no one to back me up."
On June 1, 2022, a Virginia civil jury ruled in favor of Depp and all three counts of the libel lawsuit he filed against Heard (via US News/Associated Press). Depp had previously lost a U.K. libel case against The Sun in 2020 after failing to prove to a judge that he wasn't a "wife-beater" as the paper had claimed in a report outlining Heard's abuse claims (via BBC). The U.S. jury, however, found that Heard made false and defamatory statements about Depp in the 2018 Washington Post op-ed he sued over, and did so with "actual malice." The jurors awarded Depp more than $10 million in damages as a result. Heard's legal team has said she cannot afford to pay the damages and plans to file an appeal (via Los Angeles Times).
If you or someone you know is dealing with domestic abuse, you can call the National Domestic Violence Hotline at 1−800−799−7233. You can also find more information, resources, and support at their website.