Dolph Lundgren Reveals What Amber Heard Was Really Like On The Aquaman 2 Set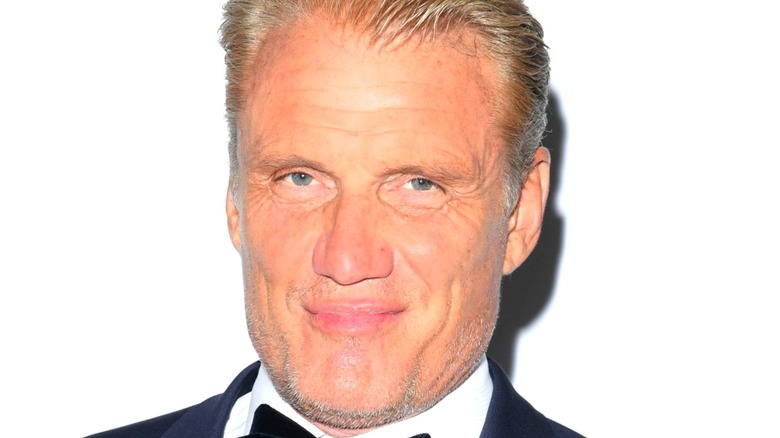 Daniele Venturelli/Getty
The subject of "Aquaman and the Lost Kingdom" has been in the news in recent weeks. Not because it is a highly anticipated sequel, but because of the media firestorm surrounding Amber Heard and Johnny Depp's very public defamation trial. At the time of reporting, there is a Change.org petition to remove Heard entirely from the "Aquaman" sequel, which has 4.4 million signatures and counting — a result of a particular portion of the fandom opting to reveal their feelings about this case through this action. In mid-May, Vanity Fair reported on Heard, who claimed her break-up with Depp caused her role in the James Wan-directed feature to be significantly reduced to around 10 minutes of screen time. The trial has seen all manner of character witnesses take the stand. As we see here, the news about how Heard's professional life has been sincerely impacted by what's gone on in her personal life has been a major unfolding narrative.
The plot of 2018's "Aquaman" involves Orm (Patrick Wilson), the brother of Aquaman (Jason Momoa), attempting to subjugate and assimilate other factions of the ocean in a bid to bring a war to the surface world. His first ally is King Nereus (Dolph Lundgren), leader of the Kingdom of Xebel. Orm gains his patronage after he orchestrates a false flag attack that convinces Nereus to join his cause, but by the end of the movie, Orm's machinations are revealed, and Aquaman becomes King of Atlantis. Nereus' daughter is the water-manipulating Mera (Heard), who is a staunch proponent of Aquaman's ascension to the throne and potential love interest.
With "Aquaman and the Lost Kingdom" on the horizon, Lundgren was asked what it's been like working with his fictional daughter on set, and it definitely looks like he has a rather strong opinion.
Lundgren enjoyed working with Heard on Aquaman 2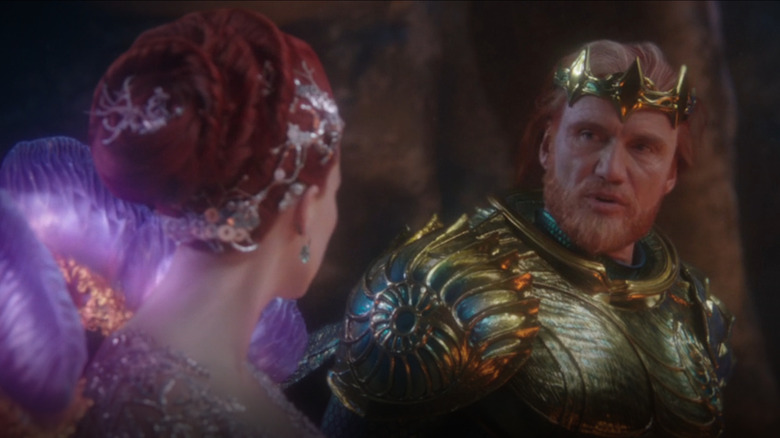 Warner Bros. Pictures
As reported by The Independent on June 1, 2022, Dolph Lundgren spoke to Redline Steel CEO Colin Wayne about "Aquaman and the Lost Kingdom" and his experience working on it. In doing so, he highlighted what it was like working with Amber Heard on set. Without bringing up the legal battle between her and Johnny Depp, or the verdict it spawned, the actor shared his honest feelings about how she conducted herself when the cameras weren't rolling. 
"She was great. I worked with her on the first 'Aquaman,' now the second one. We shot last fall in London. She's terrific. I had a great experience with her." Lundgren added, "She's very kind, nice to the crew, nice to everybody, just down to Earth. She had her newborn baby with her on set with the nanny, which was kind of cute." Coincidentally, as reported by The Direct, Heard's role in the second "Aquaman" movie is reportedly smaller because she spends some of the movie pregnant with Aquaman's son and, due to this, is unable to join Aquaman in his escapades.
Judging by Lundgren's comments, it seems as if he enjoyed working with Heard during the production of both DCEU "Aquaman" movies. That strong of a connection goes a long way on the silver screen, especially when the characters in question are family, like Mera and King Nereus.
Lundgren isn't the only one of Heard's Aquaman co-stars with good things to say about her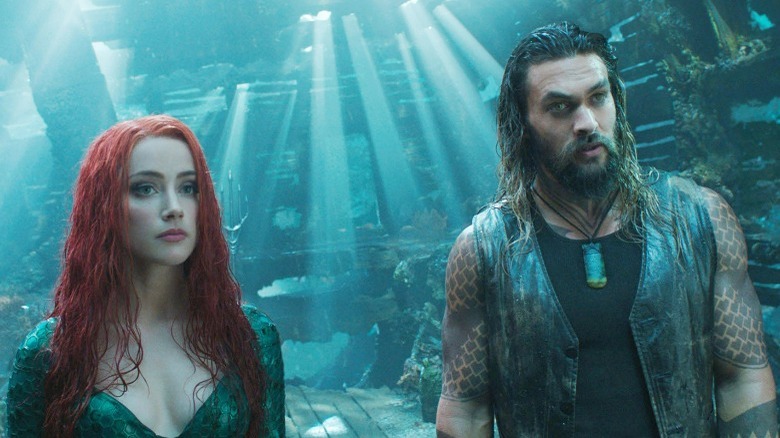 Warner Bros. Pictures
It's great that Amber Heard and her fictional father, Dolph Lundgren, got along just fine on the set of "Aquaman" and its sequel, but he's not the only one from the franchise with good things to say about her. Take, for instance, the centerpiece of the DCEU series, Jason Momoa, who reportedly fought to ensure Heard wasn't removed from "Aquaman and the Lost Kingdom" due to skepticism toward her chemistry with him (via Vanity Fair). At the same time, when the Johnny Depp-Amber Heard trial reached a verdict, Momoa made headlines for remaining neutral instead of picking a side (via The New York Post).
While Momoa's pleas to Warner Bros., along with those of director James Wan, seem to have worked, Mera's screentime didn't make it out of the negotiation process unscathed. As previously mentioned, Heard has made claims that appear to imply that her role in "Aquaman and the Lost Kingdom" was impacted to some degree due to public concerns regarding her relationship with Johnny Depp. No matter what, at least Heard's supporters can rest assured that Heard earned herself at least a few fans during the production of "Aquaman and the Lost Kingdom" in the form of both Dolph Lundgren and Jason Momoa.