What Does The Johnny Depp-Amber Heard Verdict Mean For The Pirates Of The Caribbean Franchise?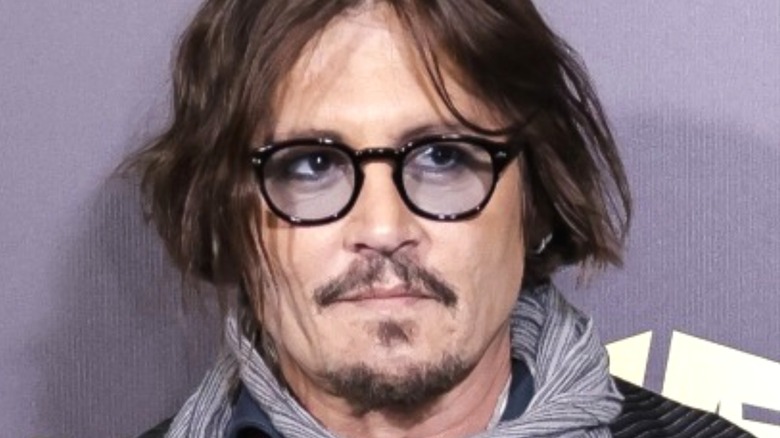 Srdjan Stevanovic/Getty
Finally, after three days of deliberation, the jury hearing Johnny Depp and Amber Heard's competing defamation lawsuits has reached a verdict.
To briefly recap, Heard and Depp were married from 2015 to 2017, and Heard alleges that Depp was abusive to her during this time. In 2018, Heard identified herself as a "public figure representing domestic abuse" in an essay for The Washington Post. Depp characterized the allegations as a hoax and claimed that Heard had been the one abusing him (via Variety). Depp then claimed that the allegation caused him to lose out on lucrative acting roles. In late 2018, Depp sued Heard in Virginia for defamation, seeking $100 million in damages (via CNN). The impact on Depp's career is central to his lawsuit. Under questioning from his own lawyer, Depp claimed that Disney dropped him from the "Pirates of the Caribbean" franchise after Heard's essay was published (via Variety). 
Heard responded with a countersuit over Depp's hoax allegations, claiming that Depp orchestrated a campaign to get her fired from "Aquaman" and from her job as a L'Oreal spokesperson (via The Washington Post).
Depp already lost a similar defamation lawsuit in the United Kingdom in November 2020, and an appeal over that decision the following March (via ABC News). However, on June 1, 2022, the American jury sided with Depp on all three counts of defamation, awarding him $15 million in compensatory and punitive damages. The jury also upheld one of Heard's claims of defamation, awarding her $2 million in compensatory damages. 
Now that the verdict is in, here's how it could affect Depp's role in the "Pirates of the Caribbean" franchise going forward.
Johnny Depp's victory could open the door for Jack Sparrow's return
Currently, there are two "Pirates of the Caribbean" scripts in development, which would make the sixth and seventh installments in the franchise.
Producer Jerry Bruckheimer spoke about Johnny Depp's future as Jack Sparrow weeks before the verdict was reached. When asked if Disney was planning to cast Depp in the sixth film, Bruckheimer responded "not at this point." As it turns out, though, there might not be a need for Depp in "Pirates of the Caribbean 6" anyway. Bruckheimer also revealed that the script is centered on a female lead, with Margot Robbie in mind. That would seem to eliminate the need for Jack Sparrow to factor into the story. 
On the other hand, the seventh film isn't centered around Robbie's possible character, which could leave room for Jack Sparrow to return in some capacity (via CNN). Bruckheimer added that "the future is yet to be decided." So, Bruckheimer was already leaving the door open for a possible Depp return before the verdict was reached.
Script specifics aside, the biggest question is whether Disney wants to work with Depp again or not. The trial has undoubtedly tarnished Depp's reputation. Still, Bruckheimer's comments don't explicitly rule out Depp's potential return. Therefore, there's no guarantee Depp will ever play Jack Sparrow again, but it's more likely today than it was yesterday.
Does Depp even want to play Jack Sparrow again?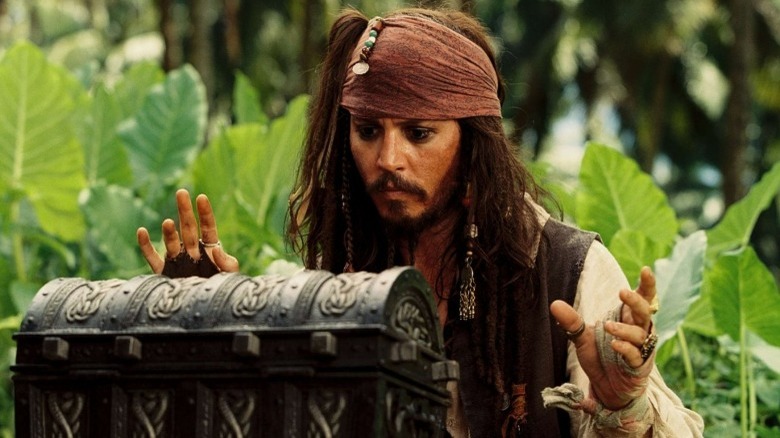 Disney
At the same time, it's important to consider that Disney is only half of the equation. Johnny Depp may not even want to come back as Jack Sparrow after all that he's gone through and how his relationship with the Walt Disney Company has shifted in recent years. In fact, during the trial, Depp confirmed previous testimony that his connection with the company has changed so drastically that he wouldn't return to the role no matter how much Disney offered (via Entertainment Weekly).
"There was a deep and distinct sense of feeling betrayed by the people that I've worked hard for. People that I delivered a character to that they initially despised, but I stuck to my guns with the character, and it seemed to work," Depp said, doubling down on the claim that not even $300 million and a million alpacas could entice him to portray Captain Jack under the Disney banner again. While this could be pure hyperbole, considering the circumstances, Depp's likely serious for the time being.
Time will tell when the next "Pirates of the Caribbean" project will sail into theaters, but as things stand at the time of the Johnny Depp-Amber Heard verdict, don't expect to see Captain Jack Sparrow back in action when it does.
If you or someone you know is dealing with domestic abuse, you can call the National Domestic Violence Hotline at 1−800−799−7233. You can also find more information, resources, and support at their website.