The Detail That Has New Amsterdam Fans Scratching Their Heads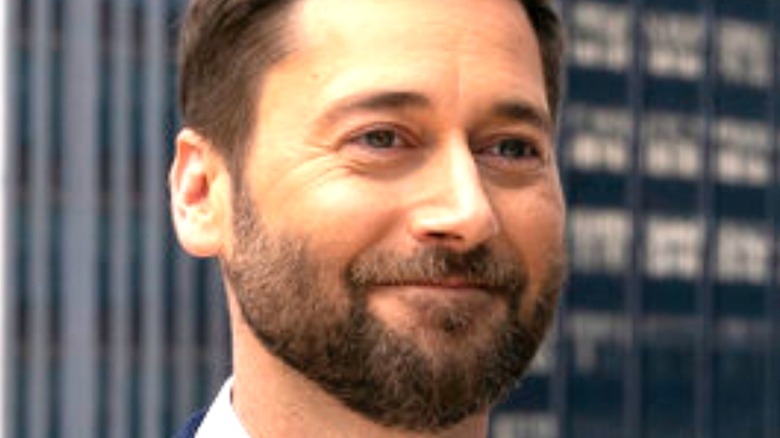 Ralph Bavaro/NBC
Like its fellow NBC drama "ER," "New Amsterdam" is loosely based on the real experiences of an actual medical professional. The series was originally adapted from the memoirs of former Bellevue Hospital supervisor Dr. Eric Manheimer. However, the show's writers naturally have had to inject some fictional drama and romantic tension into the storylines.
For one, there's the "will they-won't they" love story between New Amsterdam Medical Director Dr. Max Goodwin (Ryan Eggold) and Oncology Department Head Dr. Helen Sharpe (Freema Agyeman), as well as Dr. Lauren Bloom's (Janet Montgomery) relationship with Leyla Shinwari (Shiva Kalaiselvan). Then there's the tragic death of Max's wife Georgia (Lisa O'Hare) after she gives birth to their child, Luna. Poor Max even goes through throat cancer in the first season, though according to TV Insider, this is directly based on Manheimer's own previous diagnosis and recovery.
Fans of the show are pretty used to heart-wrenching plot twists and major story changes by now. But they were understandably confused by a detail that just doesn't make sense.
Redditors were shocked by how quickly Helen recovered from a stroke
After Helen is drugged and suffers a major stroke in the Season 4 episode "Unfinished Business," the character is unable to speak. "New Amsterdam" Executive Producer Peter Horton warned TV Line that Helen may not get her voice back. "[It] might take a week, might take two years, may never happen," he said. "And that's the stakes of that story."
Yet somehow, after only a few episodes, Helen has seemingly fully recovered from aphasia, as well as the other effects of her stroke, and is back in London.
r/NewAmsterdamTV subreddit user u/Browsing2C wrote in her post's headline, "Really? Are there 2 different time lines [sic]??" Other commenters similarly couldn't believe how quickly Helen went through rehabilitation. u/OKGuitar3773 wrote, "Like sir, she could barely say thank you two minutes ago. But we get it! They are rushing to flush out this storyline ..."
One user, u/strummer1221, thought that at least a month had passed on the show between episodes, yet agreed that "Helen's recovery was wayyy rushed. It honestly feels like the whole stroke thing was completely pointless." Helen's stroke storyline should have been a major obstacle for Max and Helen as a couple. Instead, it feels like a minor setback at best.
The show's decline was blamed for this plotline
To some fans of "New Amsterdam," the rapid pace of Helen's stroke and recovery is indicative of a show that's abandoned realism for big dramatic storylines and poor writing over the past few seasons. Original poster u/Browsing2C blamed the rapid renewal by NBC in 2020 for three seasons: "The first couple season [sic] were great. It was an amazing show. And then it wasn't. Something changed after it was renewed for 3 seasons at one time. They got lazy."
u/LoreMaster00 pointed out too that the show often produced episodes ahead of time before taking long programming breaks, "so they couldn't get feedback from the viewers on what was being well received vs bad [sic] received by the audiance [sic], hence ***** storylines like Floyd's open relationship going on so long." Devotees will just have to see if the fifth and final season of "New Amsterdam" will bring the trials and tribulations of the New Amsterdam staff to a satisfying close.