Max And Helen's Best Moments On New Amsterdam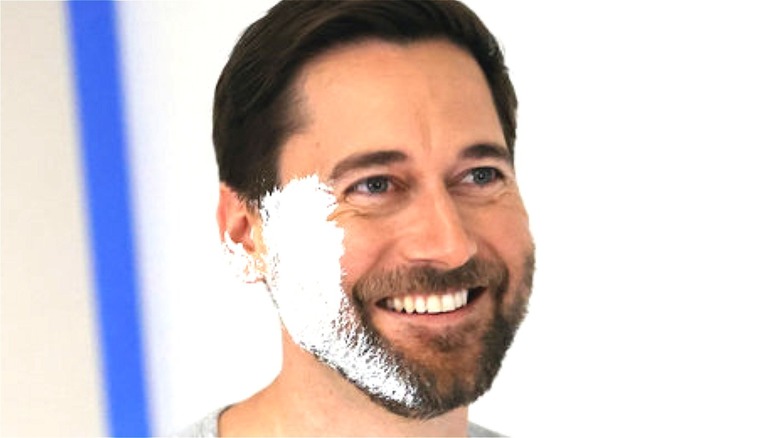 Will Hart/NBC
Over the course of four seasons, the main "will they or won't they?" couple of the NBC medical drama "New Amsterdam" turns out to be the unlikely pairing of Dr. Max Goodwin (Ryan Eggold) and Dr. Helen Sharpe (Freema Agyeman). Max and Helen appear to be more of a mismatch compared to Dr. Lauren Bloom (Janet Montgomery) and Leyla Shinwari (Shiva Kalaiselvan). While Max is optimistic and acts according to his ideals, Helen is very practical, and the chief of oncology is also more cynical about the system they work in.
Yet the pair grow close once Helen starts helping Max with his cancer treatment and sees that his goodness isn't an act. Even after the death of Max's wife, Georgia (Lisa O'Hare), the two remain friends, despite having burgeoning feelings for one another. Max and Helen finally become a couple at the end of Season 3 and have remained together since. While Season 4 has given fans plenty of great "Sharpwin" moments already, here are the best from the entire series so far.
After butting heads, Helen and Max find connection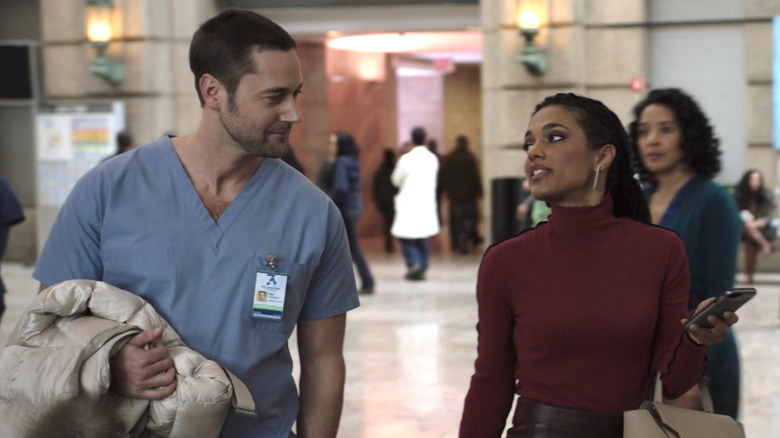 NBC
When Max first meets Helen in the pilot of "New Amsterdam," the two immediately clash over the hospital's direction. Helen has gotten used to being the face of New Amsterdam in the media and not performing as much surgery, whereas Max asks that she return to her duties as chief of oncology. Originally, the confident and blunt Helen dresses him down for this request, causing the already impressed doctor to joke that "I like her... If she comes back, let's keep her."
But later, Helen chooses to take his advice and comes back to work. When Max asks why, she tells him, "Because of you. People were excited, Max. For the first time in a long time, people are excited again. I want to be excited too." Her reply foreshadows Helen's developing feelings for the chief of medicine, but it also demonstrates why they form a bond in the first place. Both Max and Helen really do care about the hospital, and this common goal helps bring them together over the course of the series.
Helen gives up half her department for Max's cancer treatment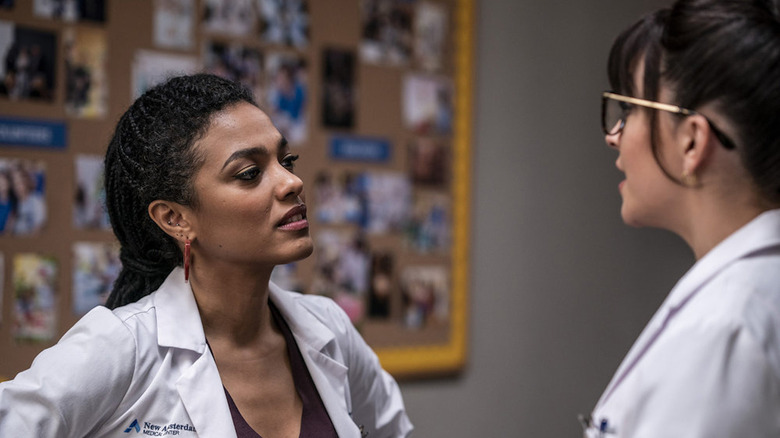 NBCUniversal Television Distribution
The "Sharpwin" relationship starts developing as early as Season 2, even with the loss of Max's wife, but the 16th episode of the season, "Perspectives," really demonstrates how much Max impacts Helen and her work.
After Dr. Castro (Ana Villanfane) resigns, Helen brings her back and gives her half of the oncology department staff, all so the doctor will continue to treat Max's cancer. When the puzzled Max later asks why she does it, Helen reveals the truth: "For God's sake, Max, I did it for you. Everything I ever do, I do it for you." Both characters leave the rest unsaid, but the confession, as well as their fraught glances at each other, speaks volumes. 
Helen has now dedicated herself to Max and is clearly falling in love with him, whether or not she admits it out loud. Unfortunately, Max isn't ready to move on from Georgia at this point, but the moment is a step in the right direction.
Max decides to stay with her and go to England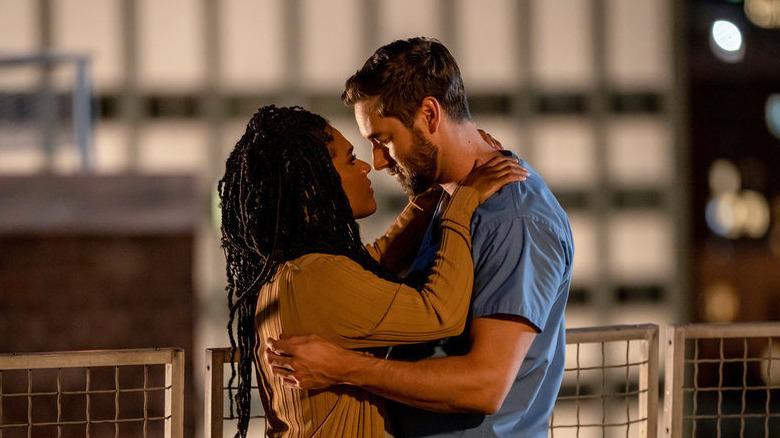 NBCUniversal Television Distribution
Season 4's storyline featuring Helen and Max as a romantic couple makes the main characters happier, but it also creates dramatic tension in "New Amsterdam," as Helen plans to leave the hospital and return for London for good. Will Max stay on as chief of medicine in New York and lose her? Or will Helen decide to stay in the States for her new beau?
The ending of "More Joy," the Season 4 premiere, seems to answer the question for the moment. Max meets Helen on the hospital roof and explains that he's been wanting more joy in his life, which means being with her: "That's you. You're my joy." Max declares that he has decided to go to England with Helen and to leave his life in New York behind, including the hospital.
It's a pivotal decision that hasn't been set in stone as of the newest episode, but this scene speaks to how much Max loves Helen, in that he's willing to give up everything to be with her. The early Season 4 moment is one of the most heartfelt scenes in an already very romantic episode.
A chemical spill brings the pair closer together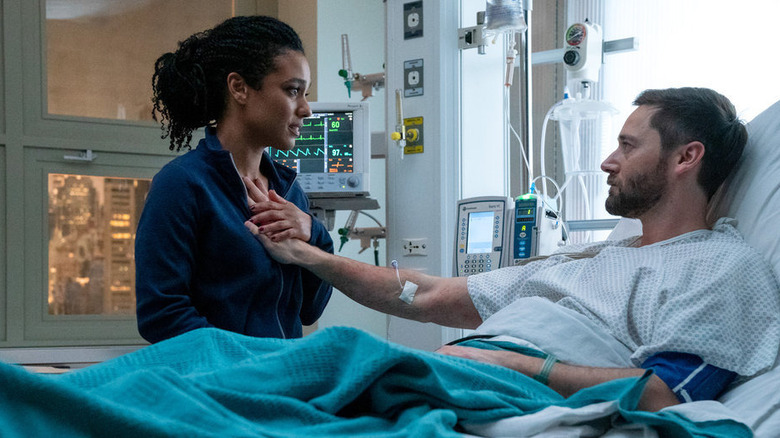 NBCUniversal Television Distribution
In the Season 3 episode "Things Fall Apart," a chemical spill occurs in the hospital which affects numerous doctors and patients with existing health issues. Max tracks down the source in order to prevent any further damage, but as he tries to stop the pipes from bursting he becomes covered in the dangerous substance.
Helen rescues Max from the boiler room even as he protests that she should leave him to go get help. Instead, Helen saves Max, undresses him, and places the now extremely sick, helpless medical chief under a decontamination shower. As the barely conscious doctor lies beneath the running water, Helen holds him to her chest, weeping in fear of losing Max for good. She later denies she was there with him, but Max remembers. He tells her, "What matters... more than anything... you."
This isn't necessarily the type of the shower scene "New Amsterdam" fans thought might happen with the couple, but Helen cradling Max is still an incredibly intimate, heartwrenching moment that illustrates their mutual devotion to each other.
In Death Begins In Radiology, Max loses his wedding ring and gains new love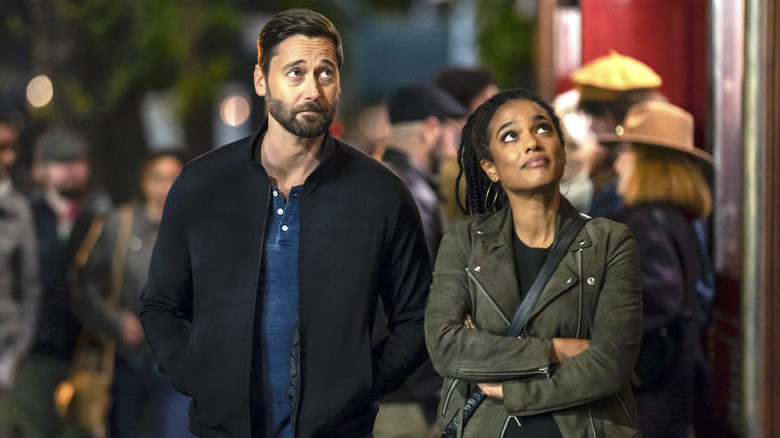 NBCUniversal Television Distribution
The single best Helen and Max scene is arguably the ending of the "New Amsterdam" Season 3 finale. Throughout the episode, Max frets over losing his wedding ring, checking for it everywhere. Only after Dr. Floyd Reynolds (Jocko Sims) suggests to Max that he is feeling displaced guilt over wanting to move on after Georgia's death, Max finally admits that the ring was the last piece of his marriage left. After overcoming this emotional obstacle, Max is at last able to take the next step forward.
"Sharpwin" fans collectively held their breath near the climax of the episode during Helen and Max's walk. Max seems so focused on the ring that he shuts down any momentum he has with Helen after their voicemails. But, like a scene straight out of "Love Actually," Max then drops off Helen at her apartment and realizes his mistake. Slipping off his ring for good, Max bangs on Helen's door. Once she answers, he kisses her. Helen invites him in and closes the door, ending the season and beginning their new relationship. It's a swooning, very romantic scene, and a moment Helen and Max shippers can treasure forever.