What My 600-Lb Life Fans Have To Say About Bettie Jo's Husband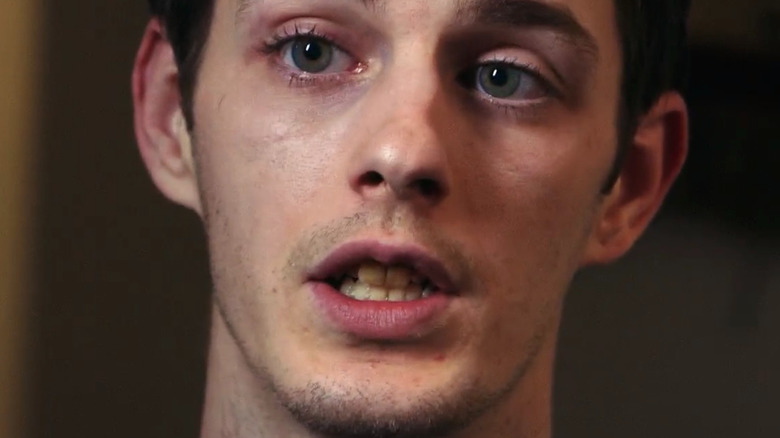 TLC
TLC's "My 600-lb Life" chronicles the journeys taken by individuals struggling with obesity who seek the help of Dr. Younan Nowzaradan, also known as Dr. Now. Under Dr. Now's strict diet and exercise plans, the show's participants must make drastic changes to their lifestyles to qualify for weight loss surgery. Oftentimes, the battle faced by Dr. Now's patients sees them not only having to fight the exterior challenges of their weight, but also the deep-rooted psychological trauma often linked to their over-eating habits. It is not only up to the people losing weight to take part in this fight but those in their life as well to stand by their side and help break their habits. And while a good majority of these people want to help, there are others whose motives are questionable at best.
A prime example of this is that of Bettie Jo Elmore, who appeared in Season 3 of the series. At just 24 years of age, Bettie Jo was 654 pounds when she met with Dr. Now. Housebound, she was taken care of by her husband, Josh Elmore. At first, it seems as though Josh is simply a caring hubby who wants to do what he must to take care of his wife's needs. But as things go on, it's revealed that his motives might not be as pure as one would hope.
Why Josh was scared to see his wife lose weight
Sensitive subject matter ahead.
Along with meeting Dr. Now, the couple visits therapist Santhi Periasamy. Josh brings up his worries about what might happen when Bettie Jo loses weight given her progress. "I used to take care of her, used to be her caregiver," he says. "But now, she's able to move around and stuff and in a way, that really scares me because I don't want her to leave me." 
We then learn of Bettie Jo's traumatic past, where she was sexually assaulted. She finds sexual interactions to be uncomfortable and lacks intimacy with her husband as a result. When asked by Periasamy about the protective aspect of her weight, Bettie Jo mentions that she sees her size as a way to deter any form of sex, as she is never in the mood for it. At the mention of this, Josh storms out of the room in frustration. 
Thankfully, the couple would make progress. In their "Where Are They Now?" episode, it's revealed that Bettie Jo was down to 400 pounds. Despite dealing with depression and a mass growing on her spine, she and Josh gave birth to a healthy baby boy, Preston Elmore, in 2016 (via Instagram). But while Bettie Jo Elmore is certainly another great success story for the show, some fans aren't so positive about Josh's involvement.
If you or anyone you know has been a victim of sexual assault, help is available. Visit the Rape, Abuse & Incest National Network website or contact RAINN's National Helpline at 1-800-656-HOPE (4673).
Fans think Josh is a horrible husband
While Josh Elmore is far from the first enabler that "My 600-lb Life" fans have criticized, his behavior has nevertheless spurred passionate discussions. A post by Redditor u/a_little_saturn titled "Bettie Jo's horrible husband" brought up the problematic aspects of their relationship. The original poster found it mind-blowing that Josh not only enables Bettie Jo's eating habits but encourages them, only out of fear of being broken up with. Fans continued the heated discussion in the thread.  
u/Klopez808 wrote, "Their relationship is juvenile and toxic. He needs her to be overweight and dependent on him or he has no self worth." Another user, u/Whatabesson, cautioned, "She's in an abusive relationship but doesn't love herself enough to ditch that loser, who is trying to kill her by feeding her to death." They concluded their remark by suggesting there's no hope for Bettie Jo if she stays with Josh.
Several commenters on TLC's YouTube video featuring their therapy visit also raised concerns about Josh's behavior. User Siobhan Simpson commented on Josh's immaturity. "He has the maturity level of an 8 year old," they wrote. "Sitting playing with a toy, can't even hold a conversation and storms out when the conversation isn't how he wants it. Controlling weirdo if you ask me." 
User Nunya Bidness brought it all together, opining, "His only 'claim to fame' is helping her and taking care of her. What he fails to realize is that there is more to marriage besides him feeling needed in that capacity. He's basically making this all about him and not thinking about the damage her weight is not only doing to her mental health, but her physical one."  
Thankfully, their story seems to have a happy ending. But during their turbulent time on the show, it felt as though there was no hope in sight.