Who Is The British Actor In The New T-Mobile Commercial?
Rich Polk/Getty
If T-Mobile happens to see a sudden uptick in new subscribers, it might just have something to do with their new, Matt Bomer-meets-Jamie Dornan spokesperson. In a recent ad campaign (via YouTube), the cell phone provider sympathizes with the objections of Verizon and AT&T users — that is, people who are unhappy with fancily-worded cost increases – before luring them in with a potential $1,000 rebate for switching over. It may not sound all that compelling, but as any halfway decent marketing team knows, if you mix big bold typeface with free money, a debonair British actor, and just a touch of self-aware humor ... well, your commercial is likely to win over some viewers. 
So that's exactly what they did, and at the end of his spiel, the aforementioned British actor says, "And you should listen to me, I'm a British actor." Fair enough. But before we all start tearing up our current phone plans and subjecting ourselves to the inevitable fine print explanation about why we won't actually be getting $1,000, let's take a moment to figure out just who exactly this clearly trustworthy, noble, and exceptionally well-informed actor is. Because if you think he looks familiar, it's because you may have seen him in some of your favorite TV shows and movies.
T-Mobile enlisted Ben Barnes for its new commercial
The face of T-Mobile's new ad campaign is none other than longtime film and international television star Ben Barnes. After kicking off his career in 2006 with a one-episode arc in the British daytime drama "Doctors," Barnes quickly made the leap to the silver screen. In 2007, he starred as the young Dunstan Thorn in director Matthew Vaughn's Neil Gaiman adaptation "Stardust" (which also had a role for fellow young British thespian Henry Cavill, as well as future Daredevil Charlie Cox). Just one year later, he came back to the world of fantasy by joining the "Chronicles of Narnia" franchise as the titular protagonist in Andrew Adamson's "The Chronicles of Narnia: Prince Caspian," and came back for its 2010 sequel, "The Chronicles of Narnia: The Voyage of the Dawn Treader." 
Between 2008 and 2014, Barnes starred alongside Hollywood heavy hitters Jessica Biel, Colin Firth, Robert De Niro and Diane Keaton, and Katherine Heigl (the last of these twice), in the films "Easy Virtue," "Dorian Gray," "The Big Wedding," and "Jackie & Ryan," respectively, before landing the lead of Tom Ward in Sergei Bodrov's "Seventh Son." 
Despite the impressive list of motion pictures, what finally made Barnes break into more mainstream recognition was his jump to television.
Barnes has starred in some prominent TV shows, from The Punisher to Westworld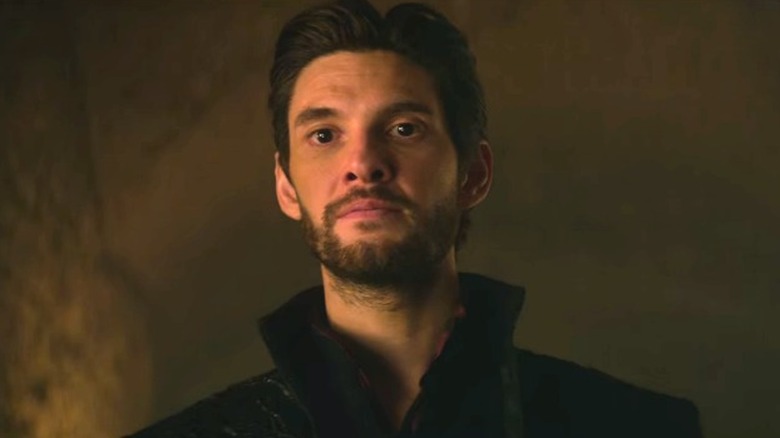 Netflix
In 2015, the England-born Barnes crossed the pond to play the lead role of U.S. founding father Sam Adams in the History Channel miniseries, "Sons of Liberty." From there, he moved on to a very particular version of the Wild West, playing the hedonistic Logan Delos in Lisa Joy and Jonathan Nolan's Emmy-awarded "Westworld," before spending 2017 to 2019 in the all-consuming Marvel Cinematic Universe, where he played Billy Russo (aka Jigsaw) in Netflix's "The Punisher." It was a different take from how the character is portrayed in the comics, with Barnes telling Collider, "He's had his head very much traumatized, in the same way that veterans receive these head traumas. And psychological trauma as well. So he's dealing with those things very much in a similar way that veterans deal with coming back from war."
Like so many of us during the pandemic-induced shutdown and life pause of the last couple years, Barnes spent lockdown engaging in a different passion. In his case, he created a music video (via YouTube) and a five-song EP titled "Songs for You," as Deadline reports. 
For many, though, the actor's most prominent and recognizable role came with the debut of Netflix's "Shadow and Bone." In Eric Heisserer's adaptation of author Leigh Bardugo's young adult fantasy series, Barnes plays the mysterious and alternately fearsome and swoon-worthy General Kirigan. Unlike some of its contemporaries (see: Amazon's attempt at "The Wheel of Time"), "Shadow and Bone" has managed, thus far, to impress audiences and critics alike (via Rotten Tomatoes). 
Given the series' success — and its upcoming second season – it seems audiences won't have to continually replay a T-Mobile commercial to get their fix of the provider's newest spokesperson.