Top Gun: Maverick Just Smashed A Major Box Office Record
"Top Gun: Maverick" landed in theaters on Friday, May 27, and has already cruised to groundbreaking new heights — with it reportedly making a whopping $126 million domestically in its first weekend (via Forbes). On Memorial Day, May 30, the Tom Cruise tour-de-force officially made history at the box office and nabbed a major Hollywood milestone which, after the pandemic and all its reported setbacks, seemed impossible.
Initially announced in 2010 by Paramount Pictures, "Top Gun: Maverick" was a long-awaited project that became infamous for hitting production snags (via The Washington Post). First, there was the tragic death of legendary "Top Gun" director Tony Scott in 2012, which put the entire project on hold for years. Then, there were the reported pushbacks related to filming issues with some of the "Maverick" action scenes, causing the release date to move from July 2019 to June 2020 (via Variety). 
Of course, the COVID-19 pandemic led to even more scheduling conflicts and production issues. Needless to say, it's been a long time coming for Cruise and the "Top Gun: Maverick" gang. However, judging from the reviews and the notable milestone the movie just accomplished at the box office, all the waiting seems to have paid off. This is the record broken by "Top Gun: Maverick."
Top Gun: Maverick breaks Memorial Day weekend record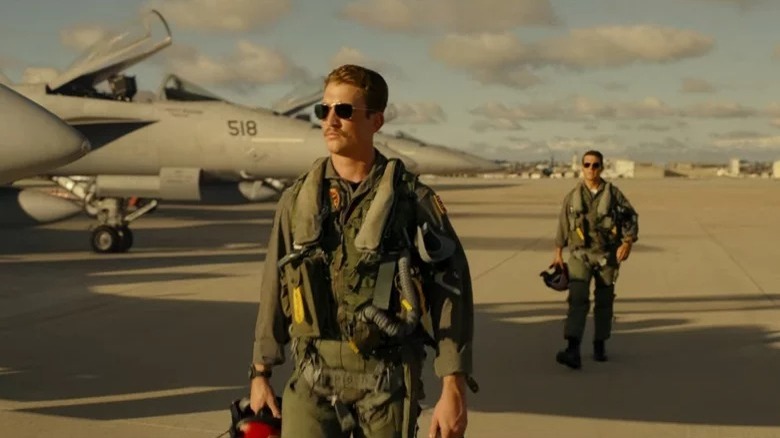 Paramount Pictures
According to Variety, "Top Gun: Maverick" officially has the biggest Memorial Day weekend box-office haul in Hollywood history with $156 million in ticket sales. It managed to make just a few million more than the previous titleholder — Disney's "Pirates of the Caribbean: At World's End" — which raked in $153 million over the holiday weekend in 2007 (via Box Office Mojo). 
Initial projections from movie insiders at Paramount and Skydance had the hotly-anticipated sequel bringing in around $151 million, but things reportedly began to change on Sunday when numbers came in from around the country showing a three-day total of $126 million instead of the $124 million that was originally predicted (via Variety). What has helped, largely, is the fact that "Top Gun: Maverick" is getting the widest theatrical release of all time — with 4,732 cinemas throughout North America showing it. 
In addition to it being the largest Memorial Day weekend debut, the film is also Tom Cruise's biggest movie premiere in his entire 40-year acting career and the first to ever skyrocket past $100 million in a single weekend (per Variety). His next highest-grossing film was "War of the Worlds," which brought in $64 million after its debut in 2005 (via Box Office Mojo).
By this point, it seems obvious: Audiences simply feel the need... the need for speedily heading to the nearest cinema to watch "Top Gun: Maverick."