Who Plays Aamir In Disney+'s Ms. Marvel?
Marvel Studios has continued to expand their cinematic universe on Disney+ with shows like "WandaVision," "Hawkeye," "The Falcon and the Winter Soldier," and "Moon Knight." The next superhero series, "Ms. Marvel," is set to star Iman Vellani as Kamala Khan, a Pakistani-American teenager and Marvel's first Muslim superhero (via Variety). The show will follow Khan as her family-oriented life in New Jersey is turned upside down when she gains supernatural abilities. In an effort to emulate the heroes she looks up to, Khan adopts the identity of Ms. Marvel, a moniker inspired by her idol Carol Danvers (Brie Larson).
The first trailer shows that Kamala seems to have cosmic powers similar to Captain Marvel and Monica Rambeau (Teyonah Parris), so viewers will have to wait and see whether or not her shapeshifting abilities in the comics, which more closely align with the likes of Ant-Man and Mr. Fantastic, play into the narrative. Interestingly, in an interview with Empire Magazine, Marvel Studios boss Kevin Feige confirmed that her powers will be somewhat different in live-action form. 
Of course, like all characters in the MCU, "Ms. Marvel" will also explore the character's struggle to balance her work and family life. Because of her young age, Kamala's immediate family will play a key role in the series, even more so than with most other MCU characters. This is the actor who plays Kamala's brother, Aamir.
Ms. Marvel's Aamir is portrayed by Saagar Shaikh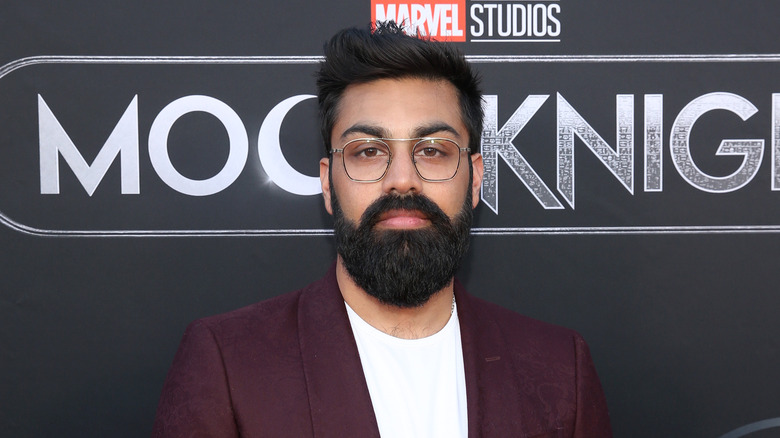 Jesse Grant/Getty Images
Saagar Shaikh is a Pakistani-American from San Antonio, Texas, who decided to become an actor after earning a business management degree from the University of Texas at San Antonio (via San Antonio Current). Like many other actors in "Ms. Marvel," you may have seen him before. Since 2012, he has appeared in several short films and television shows, including a recurring part on "Unfair & Ugly" and various roles on "Just Giggle It," although his role on "Ms. Marvel" is his most prominent to date (via IMDb). Of course, the MCU is always introducing new characters, but it will be interesting to see a fresh face in lieu of the big-name actors that typically populate the cast of Marvel projects.
Shaikh spoke with ScreenRant at the red carpet premiere of "Moon Knight," where he expressed excitement at the opportunity to be a part of Kamala Khan's live-action debut. He continued to elaborate on the role his character plays in the narrative. He said, "[Aamir] wants to be [Kamala's] guide, he wants to be the shoulder she can lean on, he wants to be the one that she looks up to while also looking up to her."
The most dedicated Marvel Comics aficionados will know that Aamir isn't just Kamala's supportive brother in the comics; he also has his own powers, which allow him to create force fields. While it would be awesome to see a new set of super-siblings in the MCU, viewers will simply have to tune in to see how Aamir's story evolves throughout the series.
"Ms. Marvel" will debut exclusively on Disney+ on June 8.