Javicia Leslie Makes A Bold Batwoman Comparison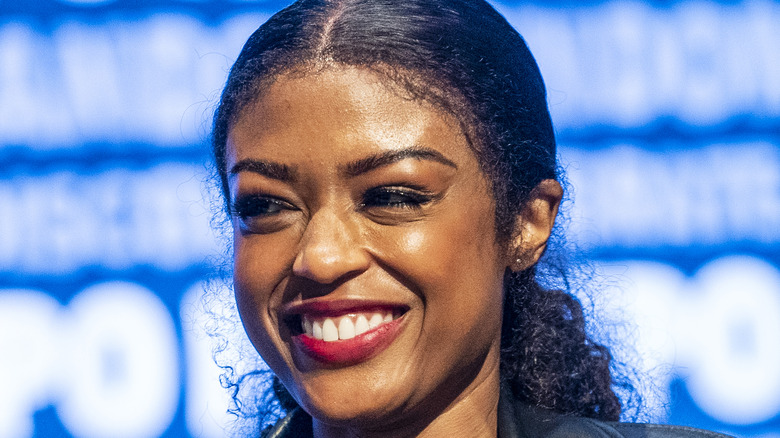 Erika Goldring/Getty Images
Javicia Leslie's groundbreaking run on The CW's "Batwoman" series may have been short-lived, but it's one that won't be forgotten any time soon. Not only did "The Family Business" and "God Friended Me" star get two full seasons on the show as Caped Crusader Ryan Wilder following Ruby Rose's exit in 2020, but she also got to serve as DC's first-ever bisexual Batwoman, as well as the first Black woman in the role (via NBC News). "It was really important for this Batwoman to empower the individuals she represents," Leslie told NBC News in June 2021.
On the show, her Ryan Wilder character is bullied for being part of the LGBTQ+ community. She also deals with struggles related to being in the foster care system and being an unhoused individual, along with being incarcerated, according to NBC News. "What I love is that she's not only strong enough to keep going, but she's also an advocate and fights for her community," Leslie explained. "I think that subconsciously it plants seeds of empowerment in our community ... seeds of power, strength, and toughness."
Following the cancellation of "Batwoman" in April 2022, Leslie has had some time to look back and reflect on her time as the DC hero. In doing so, she made a powerful connection between her CW series and a massively popular MCU movie.
Leslie believes Batwoman had the same cultural impact as Black Panther
According to Javicia Leslie, the cultural impact that her inclusion in The CW's "Batwoman" had on people is akin to what Hollywood saw in 2018 with the release of "Black Panther." She explained in an interview with Digital Spy, "The cultural movement that came after 'Black Panther,' what that movie showed was how there is a space for Black superheroes and Black comics. And so coming on the heels of that as Batwoman, we also showed that there's a space for it in television. There's a space for it to exist once a week, every week, and there's a community for it." 
In Leslie's eyes, her Ryan Wilder character ultimately did the same thing for Hollywood and the show's viewers that "Black Panther" did for its audiences – and that's inspiring. The "Batwoman" alum remarked how her character is a multi-faceted one and went on to explain why that's important: "It allows the community not to have to look like her. It's just all about her. [...] So the doors that were opened from 'Batwoman' were really doors to show the higher-ups — the bigwigs — that there is a space for Black superheroes. There's a space for women superheroes. There's a space for gay superheroes. There's a space for all of us. And let's continue to show that diversity."
With two CW shows still left standing — "The Flash" and "Superman & Lois" — many fans have wondered if Leslie would be open to possibly returning as Batwoman in one of them, should the network be interested. And, of course, her answer was exactly what you'd expect it to be. She confirmed that if her schedule is open, she's not opposed to returning to the streets of Gotham.