How Greg Tarzan Davis Almost Drowned While Making Top Gun: Maverick - Exclusive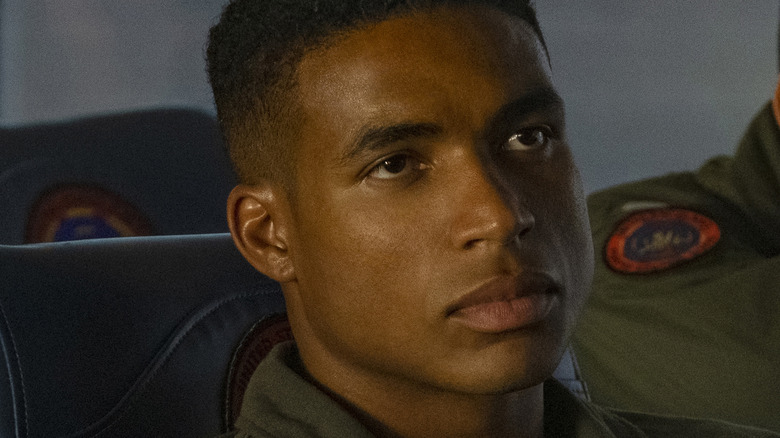 Paramount
When Greg Tarzan Davis signed up to play a young pilot named Javy "Coyote" Machado in "Top Gun: Maverick," he knew he would learn what it was like to fly in an F/A-18 jet. What he didn't expect was that he would also have to learn how to swim.
Born in New Orleans, Davis was an elementary school teacher for several years until he decided to switch professions and follow his dream of acting. He moved to Los Angeles and scored his first big-screen opportunity opposite Harrison Ford in "The Call of the Wild." His recent work includes a recurring role on "Grey's Anatomy" as Dr. Jordan Wright, and a post-"Maverick" re-teaming with Tom Cruise on "Mission: Impossible — Dead Reckoning Part One," due out in 2023.
In order to play "Coyote," one of a select group of pilots who are assigned to the elite Fighter Weapons School at Miramar base in California, Davis — along with fellow actors like Miles Teller, Monica Barbaro, Glen Powell and Lewis Pullman — had to undergo an extensive three-month course in flying designed and supervised by Cruise himself, who was already a seasoned pilot.
Part of that curriculum included survival techniques, such as learning how to evacuate from a jet should it land in the ocean and end up underwater. The only problem for Davis? He didn't know how to swim, and shared with Looper in an exclusive interview that he "almost drowned ... multiple times," in thanks, he says, to one of his fellow actors.
Greg Tarzan Davis got more than he bargained for making 'Top Gun: Maverick'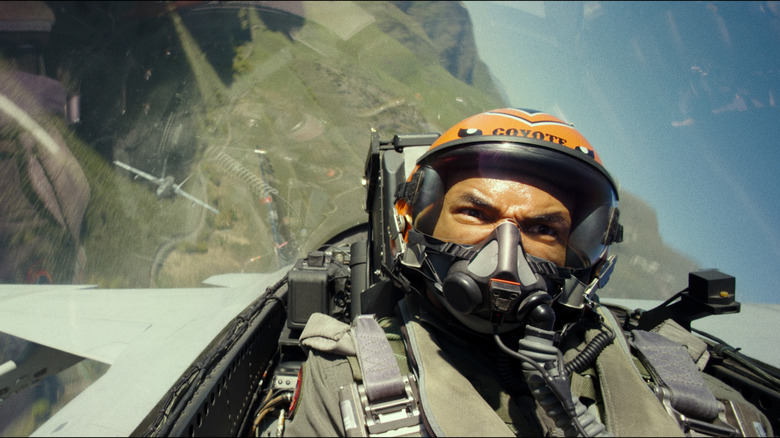 Paramount
None of his previous experience prepared Greg Tarzan Davis for the rigorous training he had to go through to play Coyote in "Top Gun: Maverick," but it was having to get in the water that really caught the actor by surprise.
"We had to do the water training. I didn't know that was a part of the process at the time, but to get in the F-18 you have to be able to do the water qualifications," Davis explained to Looper. Despite the fact that the actors had an Olympic swim coach taking them through the process, Davis says he learned the hard way just how difficult it can be to get out of a disabled fighter jet while underwater, with little visibility and/or few ways to exit.
"We're strapped in, right? And some of us have goggles," Davis recalled. "I was learning how to swim, and I almost drowned because of [actor] Lewis [Pullman] multiple times," he added, jokingly. "Lewis is sitting by a window, goggles on, so he can see. I'm blindfolded, so I'm going, I'm going [makes motions of swimming and feeling around with eyes closed]. I'm like, 'What the ... Lewis, are you still in here? I need to go through the window!' So he almost caused me to drown."
Davis is joking, of course — sort of — and we have no doubt that the actors were never put in serious danger during their training. But the anecdote only underscores the sense of realism that permeates every frame of "Top Gun: Maverick." When you see Davis in the cockpit of the F/A-18 later in the movie, that's really him up there — not bad for a guy who couldn't even swim when he started.
"Top Gun: Maverick" is in theaters now.