The Ed Sheeran Music Video You Likely Didn't Realize Starred Ray Liotta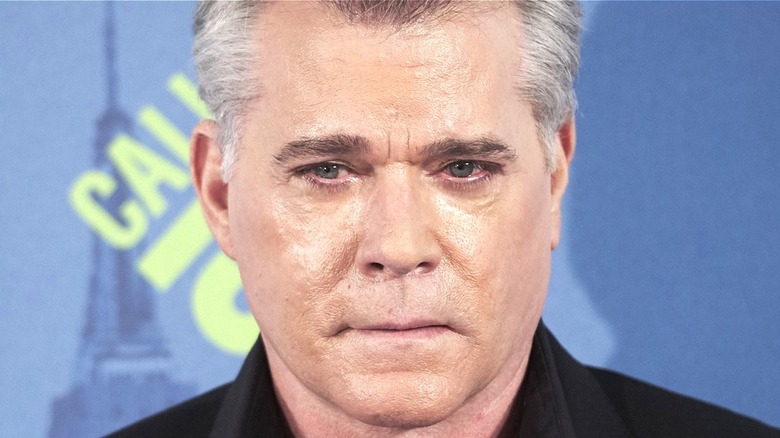 Carlos Alvarez/Getty
Ray Liotta has left behind an impressive legacy as an actor. The star tragically died in his sleep at the age of 67. He died in the Dominican Republic, where he was hard at work filming the upcoming thriller "Dangerous Waters." 
Perhaps best known for appearing in Martin Scorsese's "Goodfellas," Liotta didn't let the mob film define his career. The actor appeared in a bevy of interesting projects, including the baseball film "Field of Dreams," the medical procedural "ER" (which nabbed him an Emmy), and as a fictional version of himself in the animated "Bee Movie."
With such an impressive and varied filmography, it's easy to overlook some of Liotta's smaller performances. That's why we're here to remind you about (and possibly direct you to) one of the star's best appearances — in a music video for a song by Grammy-winning pop star Ed Sheeran.
Ray Liotta joined Ed Sheeran and Rudimental for the Bloodstream music video
In early 2015, pop sensation Ed Sheeran teamed up with British band Rudimental to release a remixed version of "Bloodstream," which appeared on Sheeran's second studio album "x." To celebrate the release of his latest single, the artist tapped Ray Liotta to appear in the music video as a washed up rock star who reflects on his legacy and loneliness in his large, empty home. Per Genius, the song details Sheeran's use of drugs and the emotions he experiences under the influence. Coupled with the music video, one can speculate that the song also relates to the singer's search for meaning in fame and wealth.
In the "Bloodstream" music video, Liotta's fictional character mopes around his home, drinking copious amounts of alcohol, and looking back on how he masked his loneliness with sexual encounters. As the music video wraps up, the "Hannibal" actor finds himself destroying his records, memorabilia, and guitar, ultimately sitting alone in his large living room.
Watching the video after Liotta's passing is quite heartbreaking, as one can't help but wonder how much the actor related to the song and the visuals. Nevertheless, his appearance in "Bloodstream" is another evocative and involved performance that proves Liotta was more than just the guy from "Goodfellas."