The Mike Myers Cameo You Likely Missed In Inglourious Basterds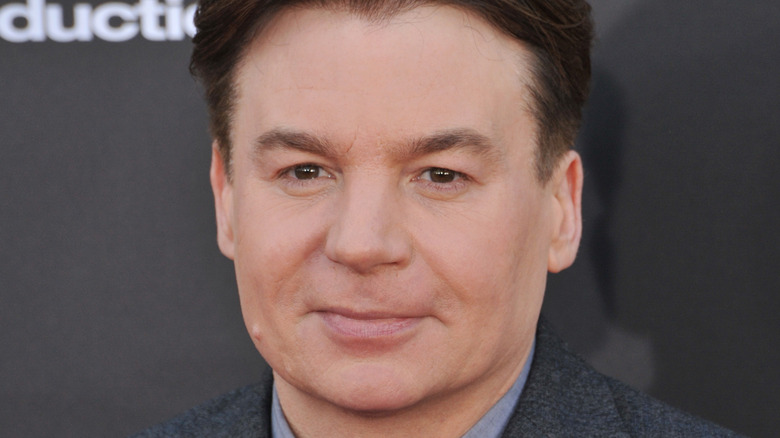 Featureflash Photo Agency/Shutterstock
It's practically impossible to pick a favorite film by the Oscar-winning writer and director Quentin Tarantino. From his influential 1992 directorial debut "Reservoir Dogs" to his most recent 2019 acclaimed hit "Once Upon a Time... In Hollywood," it seems as though everything Tarantino touches turns into gold.
However, one of his most acclaimed directorial efforts is his sixth film, "Inglourious Basterds." Taking place in Nazi-occupied France during World War II, the film sees a vengeful theater owner and a band of Jewish US soldiers converge to take out Nazi leaders. The film was a smash hit upon its release, earning over $300 million (via The Numbers). It would be Tarantino's highest-grossing film before being overtaken by "Django Unchained" in 2012 (via Box Office Mojo). The film was a critical darling as well, with an 89% on Rotten Tomatoes. It won countless accolades including an Academy Award, a BAFTA, and a Cannes Film Festival Award, primarily for the breakout performance by Christoph Waltz as Colonel Hans Landa (per IMDb).
But Waltz was not the only noteworthy performance in the film, of course. "Inglourious Basterds" is populated by A-listers from Brad Pitt to Michael Fassbender and Diane Kruger, all delivering A+ performances under the guiding eye of Tarantino. However, in the mix of megastars, there are some surprisingly notable names that may have gotten lost in the ensemble. One of these is the "Austin Powers" and "Shrek" star Mike Myers, who you likely will have missed during a first-time watch.
Mike Myers helped get The Basterds to their destination
In "Inglourious Basterds," Mike Myers plays British General Ed Fenech. He meets with Michael Fassbender's Lieutenant Archie Hicox to deliver information regarding The Basterds' plans to infiltrate the German propaganda film premiere and take out the Nazi leaders in attendance. Appearing in only a five-minute sequence and placed under a lot of makeup, it's easy to miss Myer's appearance. Yet, he fits into Quentin Tarantino's hyper-realized world like a glove.
Before the film's release, fans poked fun at the casting choice. In a 2008 article on FirstShowing, Alex Billington commented, "I really couldn't have been more satisfied with the casting on ['Inglourious Basterds'] until now. Quentin Tarantino has passed on Adam Sandler and picked up Mike Myers instead... I really hope this isn't a role that I'm going to hate." Similarly, Rodrigo Perez from The Playlist wrote, "What an oddball he is in casting. Shouldn't he have hired Myers ten years from now when he was doing 'The Love Guru 4?'" poking fun at Tarantino's reputation for resurrecting careers of forgotten actors such as John Travolta and David Carradine. 
Myers, on the other hand, was more than thrilled to be a part of Tarantino's vision. In an interview on Rob Lowe's podcast, Myers revealed, "[Tarantino] said he's doing a movie about World War II — would [I] want to play a British General? And I was like, 'Yeah of course I want to play a British general!'"