Why Dr. M'Benga From Star Trek: Strange New Worlds Looks So Familiar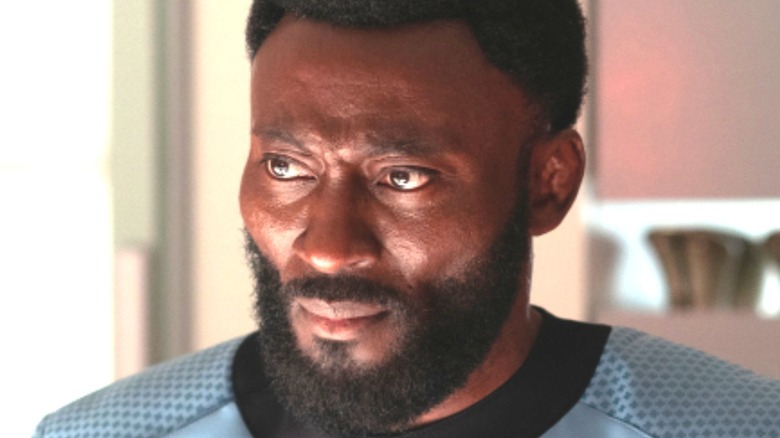 Marni Grossman/Paramount+
When "Star Trek: Discovery" premiered in 2017, it ended the franchise's 12-year television drought and opened the floodgates to a world of new "Star Trek" stories, with showrunner Alex Kurtzman establishing the Star Trek Universe and launching the series "Picard," "Short Treks," "Lower Decks," and "Prodigy" all in a few short years. "Star Trek: Strange New Worlds" is the latest entry in the long-running franchise. The series, which premiered on May 5 on Paramount+, ties together Trekkies old and new, bringing back franchise favorites like Captain Christopher Pike (Anson Mount), Spock (Ethan Peck), and Number One (Rebecca Romijn), while also introducing new characters in the spirit of boldly going where no one has gone before.
Dr. M'Benga was introduced in "Star Trek: The Original Series," where he appeared in the 1968 episode "A Private Little War" and the 1969 episode "That Which Survives." Originally played by Booker Bradshaw, M'Benga is a physician who serves as a medical officer on the Starship Enterprise. For "Star Trek: Strange New Worlds," M'Benga received the coveted update from guest character to series regular, with a fleshed-out backstory and a new actor to portray him: Babs Olusanmokun. Here's where you may have seen the actor before.
Babs Olusanmokun got his start on Law & Order: Criminal Intent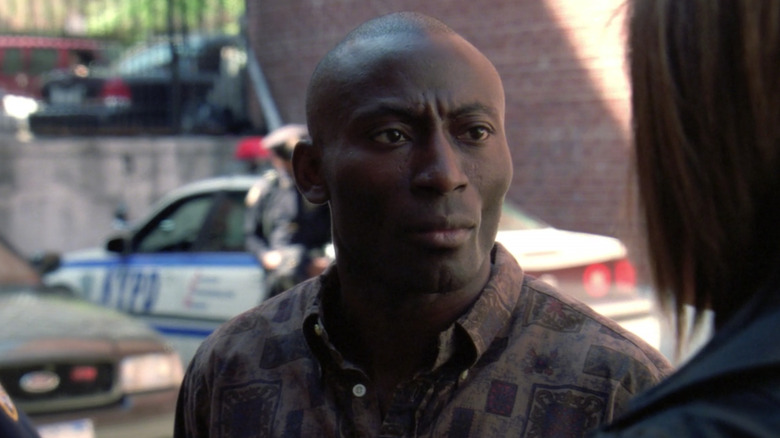 NBC
Like so many working actors, Babs Olusanmokun got his start on the "Law & Order" franchise, making his first television appearance in a 2006 episode of "Criminal Intent." Over the next four years, the actor would appear in four episodes of the spin-off as three different characters, including a two-parter in Season 9 in which he plays an assassin. Olusanmokun wouldn't limit his talents to "Criminal Intent." He can also be seen in a 2008 episode of "Special Victims Unit," in which he plays a Gambian cab driver named Mr. Marong.
Beyond the world of "Law & Order," Olusanmokun spent much of the next decade racking up single episode credits in various British and American crime procedurals and dramas, including "The Blacklist" and "Gotham." He appeared in a 2007 episode of "Veronica Mars" that highlighted the organization Invisible Children, Inc. He also got to put on his villain cap in a Season 2 episode of "Blue Bloods," in which he plays a menacing shooter named Phantom.
Olusanmokun played Kunta Kinte's father on Roots
In 2016, History debuted a remake of the acclaimed miniseries "Roots." Based on Alex Haley's novel "Roots: The Saga of an American Family," the 1977 miniseries adaptation quickly became a cultural touchstone. Its finale drew a groundbreaking 100 million viewers, a feat that wouldn't be topped until the "M*A*S*H" finale in 1983, and it remains one of the most-watched series finales of all time (via BBC). Although the 2016 remake didn't attract the same kind of national attention, it did receive near-universal praise and culled together the talents of Malachi Kirby, Forest Whitaker, Regé-Jean Page, Anna Paquin, and Laurence Fishburne (via Metacritic).
In the remake, Babs Olusanmokun plays Omoro Kinte, the father of Kunta Kinte (Malachi Kirby) and patrilineal specter to generations of his descendants. Indeed, an early speech of Omoro's to Kunta echoes throughout the entire miniseries: "You must always honor your ancestors. Your name is your spirit. Your name is your shield." In later episodes, Omoro appears in dreamlike visions, at one point appearing in front of his granddaughter, Kizzy (Anika Noni Rose), who he never met. Still, his words travel through her as she invokes a Gambian naming ritual: "Behold the only thing that is greater than you."
Olusanmokun electrified audiences on Black Mirror
In the aftermath of "Roots," Babs Olusanmokun would make a number of single-episode appearances that were notable despite their brevity. One role for which he is perhaps best known is a 2017 episode of "Black Mirror." The Season 4 finale, titled "Black Museum," includes Easter eggs from the series' previous 18 episodes in an effort to bring the anthology together. "Black Museum," however, is decidedly a horror episode, and explores unsettling medical technologies in the form of authentic criminological artifacts. Olusanmokun plays Clayton, a hologram condemned to repeatedly relive his execution by electric chair for museum spectators. This being an episode of "Black Mirror," twists and turns abound.
Olusanmokun also appeared in one episode of "The Night Of," the HBO crime drama starring Riz Ahmed, John Turturro, and Michael K. Williams. Like "Black Mirror," Olusanmokun's character Marvin is entrenched in the horrors of prison, albeit with a less sci-fi-inflected tone.
Olusanmokun made his MCU debut on The Defenders
Babs Olusanmokun got his beefiest bad guy role yet in Marvel's "The Defenders." Following the individual successes of "Daredevil," "Jessica Jones," "Luke Cage," and "Iron Fist," Netflix had the heroes join forces for "The Defenders." The eight-episode miniseries sees the motley crew of heroes join forces to defeat The Hand, an underground villain organization led by Alexandra (Sigourney Weaver). Upon making the jump from Netflix to Disney+, the entire slate of "Defenders" shows was rebranded as "The Defenders Saga," allowing fans new and old to revisit the sometimes vulgar, always bingeable characters.
For Olusanmokun, the series marked his first outing in the MCU, making him part of a rarified group of actors to appear in both DC ("Gotham") and Marvel titles. In "The Defenders," Olusanmokun plays Sowande, one of the Hand's five "fingers." When Sowande starts recruiting Harlem teens to do his bidding, it draws the attention of Luke Cage. Before long, the man known as White Hat loses his head and becomes the first finger to fall.
Olusanmokun showed off his jiu-jitsu skills in Dune
Over the course of Bas Olusanmokun's career, the actor has had various minor roles on the big screen, including Alex Ross Perry's "Listen Up Philip" and "Deceit" (also known as "Where Is Kyra?"), starring Michelle Pfeiffer and Kiefer Sutherland. In 2021, Olusanmokun had a small part in Guy Ritchie's heist thriller "Wrath of Man" as Moggy, one of Jason Statham's henchmen. That same year, Olusanmokun landed his biggest film role to date in "Dune."
As the pugnacious Fremen warrior Jamis, Olusanmokun plays an integral role in the climactic fight scene with Paul Atreides (Timothée Chalamet). While Paul may have received training from Gurney Halleck (Josh Brolin) and Duncan Idaho (Jason Momoa), Olusanmokun is a real-life black belt in Brazilian jiu-jitsu (via BJJ Tribes). Olusanmokun's accelerating acting career is especially meaningful to those who follow his championship-winning fighting. "I used to train under Babs," writes u/Israfel on the r/bjj subreddit. "I remember him sharing how difficult it was to get breakout roles as an actor so it's been great hearing about his success!"