Best Miniseries Of All Time Ranked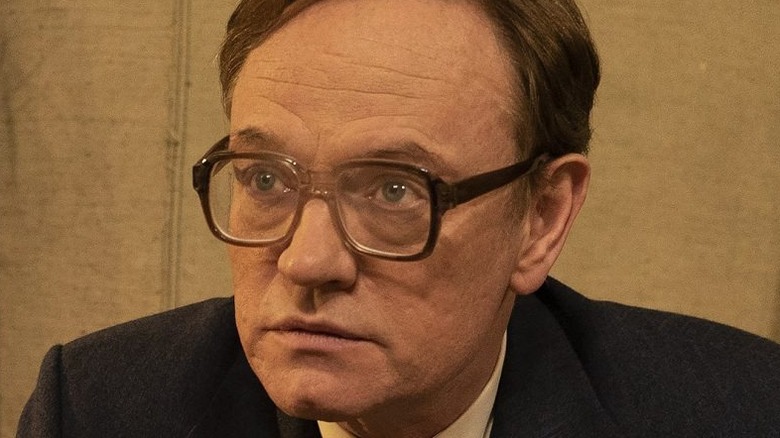 HBO
A good miniseries might just be the ultimate form of television entertainment. A miniseries has more time to work with than a single movie, meaning storylines, characters, and plot arcs have more room to develop and deepen. Yet a miniseries also demands less of you than a full, multi-season TV show does. Moreover, a conventional show might take ages to get interesting, in addition to running the risk of losing its luster well before an ending you feel obligated to reach. Sometimes, a solid handful of episodes and a definitive ending is all you need to make great TV. The best miniseries function as perfect units of rainy-weekend binge-worthiness, boasting solid budgets, satisfying finales, and plenty of Monday-morning discussion fodder.
There's no shortage of solid miniseries worth your time out there, which means competition for the title of "best ever" is fierce. Which series are in the running? Get a bowl of popcorn and your comfiest pajamas, because we've assembled the best of the best. This is our ranking of the best miniseries of all time.
12. Generation War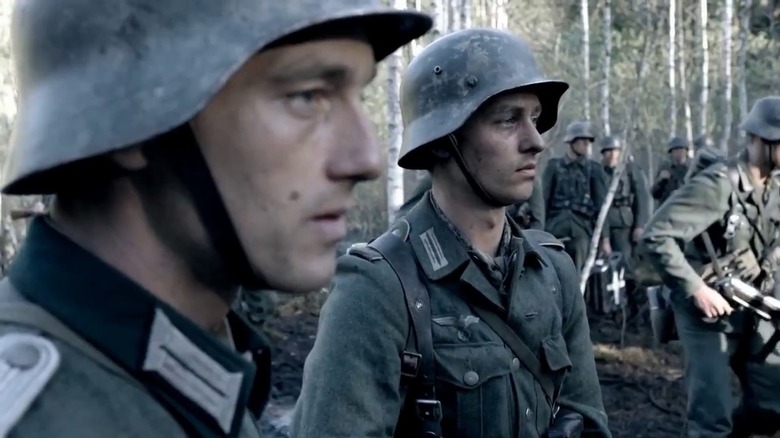 ZDF
Known in German as "Unsere Mutter, Unsere Vater" ("Our Mothers, Our Fathers"), this 2013 miniseries follows five German friends as they navigate the hardships of life during World War II. One is a proud Wehrmacht soldier, who grows disillusioned with the war as it progresses. His younger brother, in contrast, starts the war as a coward, then becomes a ruthless killer. Their Jewish friend escapes the Holocaust and takes up arms with the Polish resistance. Another friend becomes a nurse, though she struggles to confront the carnage of war. The last of their number is an aspiring singer, whose career is both enabled and ruined by the German officer she's seeing. 
"Generation War" is a powerful, well-acted series that tries its best to avoid condemning or absolving its characters. It mostly succeeds, though many criticisms have been lobbed at the series: Some viewers feel it lets certain characters off too lightly, doesn't focus enough on the full horror of the Holocaust, improperly portrays regular Germans as victims of Nazism rather than willing participants in it, and inaccurately depicts the Polish resistance. 
Ultimately, "Generation War" serves as a noble attempt to portray the experiences of everyday people during Germany's darkest years. How well it succeeds is up to the viewer.
11. The Pacific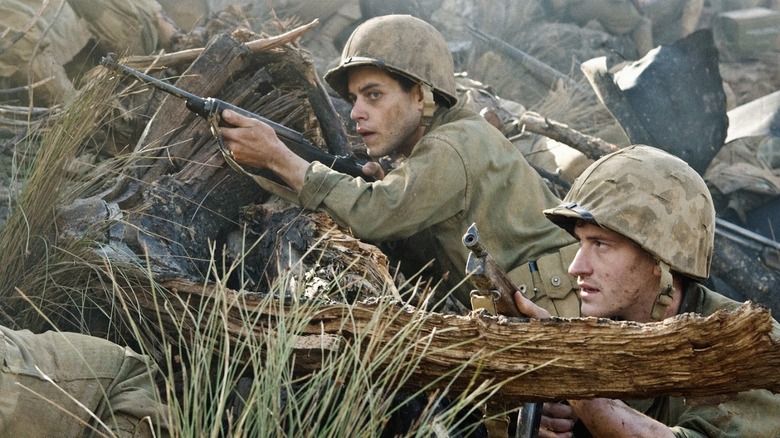 HBO
HBO's 2010 series "The Pacific" had big shoes to fill as a companion piece to 2001's much-lauded "Band of Brothers." But while this second series is less essential than the first, it still holds up wonderfully. "The Pacific" follows three real US Marines as they make their way through the Pacific Theater of World War II: Eugene Sledge, a mortarman who fights in some of the war's final island-hopping battles, Robert Leckie, a machine-gunner who cuts his teeth with the rest of the Corps at Guadalcanal, and John Basilone, who ends up being remembered as one of greatest heroes of the war.
Needless to say, the series is not for the faint of heart. It does not demonize the Japanese, nor entirely lionize the Americans. It simply shows the war for what it was: A brutal, terrifying slog across tiny spits of land in the Pacific. Soldiers on both sides endure malaria, jungle rot, terrible weather, scarce food, homesickness, and the ever-present threat of the enemy, lying in wait in the shadows of the jungle. These are the kind of conditions that can turn any man into a monster — and some men into legends.
Admittedly, focusing on so many characters who cross paths infrequently and insignificantly slows the series down. But "The Pacific" is still well worth a watch for anyone interested in an unvarnished look at life at war.
10. Generation Kill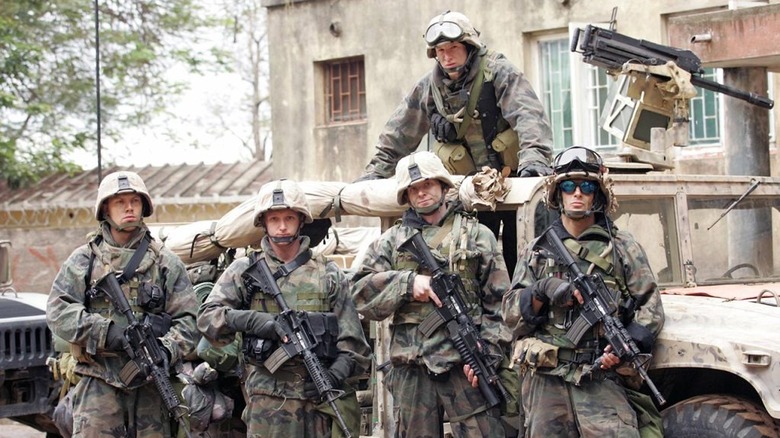 HBO
2008's "Generation Kill," created by "The Wire" masterminds David Simon and Ed Burns and based on Evan Wright's 2004 book of the same name, is undoubtedly the most authentic and well-researched dramatization of the 2003 invasion of Iraq ever put to screen. The seven-part series follows the soldiers of the 1st Reconnaissance Battalion through the days leading up to Operation: Iraqi Freedom, the lopsided, one-month conflict itself, and the immediate aftermath. In the end, the soldiers' gung-ho, "get some" attitude melts as they realize the magnitude of the thankless, daunting task of nation-building stretching out before them.
In this way, "Generation Kill" reflects the evolution of American attitudes back home: Little by little, confidence gives way to uncertainty. When Saddam Hussein's defeat doesn't lead to a burst of stable democracy, the realization that a terrible, historic mistake has been made, from which there is no easy exit and no good way forward, sets in. "Generation Kill" captures that horror, which many viewers remember first-hand, in full.
9. John Adams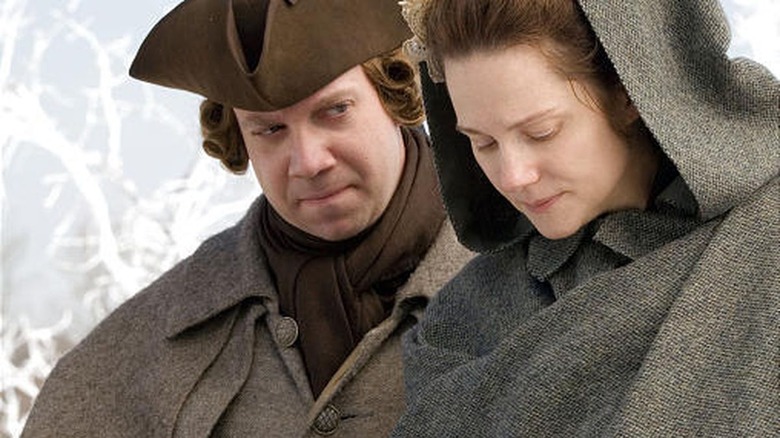 HBO
Paul Giamatti's career is wide-ranging: You might know him from "Sideways," "Saving Private Ryan," "12 Years a Slave," "Straight Outta Compton," or one of a thousand other projects. But his crowning achievement has to be his performance in the titular role in 2008's "John Adams," which explores the Founding Father's career with insight, compassion, and verve.
"John Adams" begins in the pre-Revolutionary War days, when there are only hushed whispers of rebellion against the English king circulating. The war soon erupts, of course, eventually giving way to the formation of the American government and Adams' ascendance to the White House. Adams is less well known than George Washington or Thomas Jefferson, but this excellent series shows us why he's one of the most fascinating and important figures in American history. 
Giamatti is perfectly cast as the cantankerous Adams. His performance is splendidly paired with Laura Linney 's terrific turn as his wife Abigail, a woman as brilliant as she is formidable. Tom Wilkinson shines as Benjamin Franklin, while David Morse nails both George Washington's intimidating physical stature and his soft-spoken, tight-lipped nature. Unsurprisingly, "John Adams" cleaned up during awards season, nabbing four Golden Globes and an incredible 13 Emmys. The latter feat still stands as a miniseries record. 
8. Roots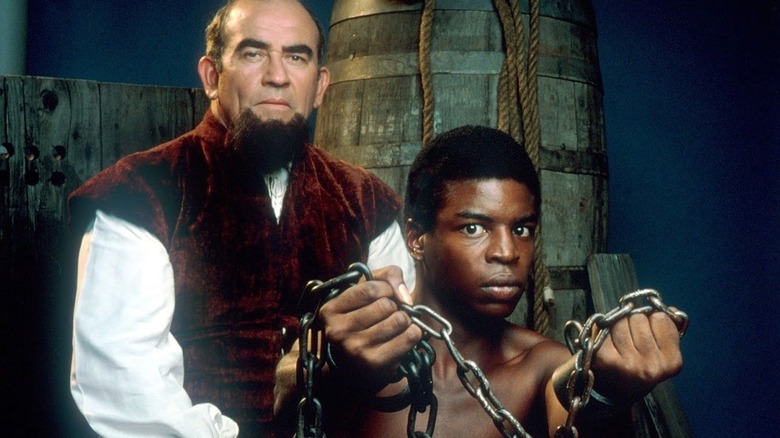 ABC
1977's "Roots," based on Alex Haley's 1976 novel of the same name, begins with the story of Kunta Kinte, a Mandinka man of the 18th century who is captured by slavers, shipped across the Atlantic, and sold to a Virginia plantation owner. He fails to escape, but he does father children who carry on his struggle for freedom. They live long enough to experience emancipation, the Civil War, the rise of the Ku Klux Klan, and everything that follows. This truly is, as the subtitle of Haley's novel puts it, the "saga of an American family." 
If you didn't know any better, you'd probably think such a production couldn't have been possible until the 21st century. Miniseries hadn't yet made much of a splash when "Roots" premiered, after all. Moreover, it's easy to assume such deep subject matter was reserved for movies of the era. But no: "Roots" debuted in the '70s, and was, in fact, a colossal hit, becoming the very first blockbuster miniseries.
Really, calling "Roots" a "hit" might be underselling it. Each new episode was an event — we're talking scheduled, essential viewing. The finale drew a groundbreaking 100 million viewers, which still puts it in the top five TV finales ever. The influence of "Roots" remains apparent in the entertainment landscape, especially in the continuing success of the miniseries format.
7. Watchmen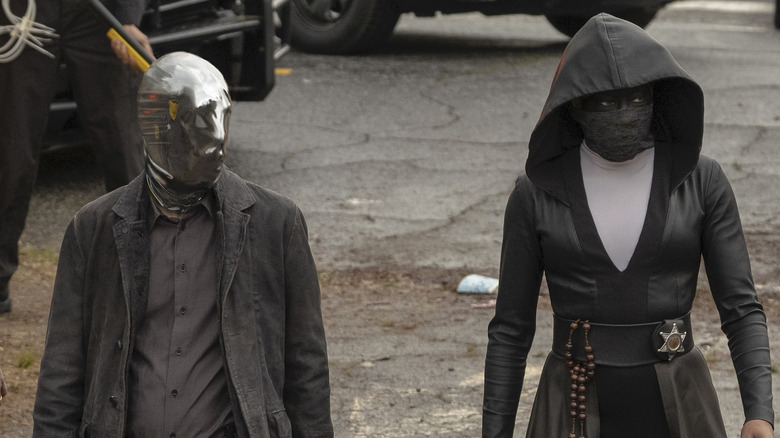 HBO
This 2019 miniseries, based on the celebrated DC Comics series of the same name, takes its famous source material in a dazzling new direction. A sequel set more than three decades after the events of the original story, "Watchmen" focuses on a group of heroes, cops, and vigilantes navigating racist violence, ugly history, and jaw-dropping scientific advancement in Tulsa, Oklahoma. Notably, critics and historians alike have praised the series for highlighting the 1921 Tulsa race massacre, a tragically overlooked episode of racist violence in American history.
"Watchmen" was an award season darling, picking up a head-turning 26 Emmy nominations and 11 wins. Regina King, who plays series protagonist Sister Night, and Yahya Abdul-Mateen II, who plays her husband, took home two of those trophies for their astonishingly good performances as two of the most unique superheroes you'll ever encounter. If you haven't seen "Watchmen" yet, do it soon, whether you're a devoted fan of the original comic or a total newbie. It's unlike anything you've ever seen.
6. Pride and Prejudice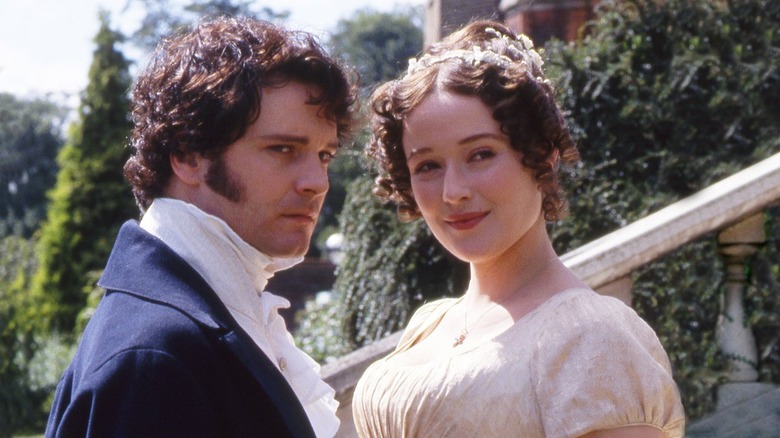 BBC
Before there was "Downton Abbey," there was 1995's "Pride and Prejudice," a six-part miniseries based on Jane Austen's beloved 1813 novel of the same name. Jennifer Ehle stars as Elizabeth Bennet, the story's iconic protagonist, who learns the difference between superficial politeness and true goodness during her courtship with the aloof Mr. Darcy. As Mr. Darcy, Colin Firth delivers one of his greatest-ever performances. Simply put, this series does everything right. It captures the spirit and legacy of the novel while still making the story its own within a different medium. The casting is phenomenal, the writing and direction are on point, and the costume and set design are still something to marvel, many years later.
Unsurprisingly, "Pride and Prejudice" earned award nominations hand over fist. It didn't win as many as you might think, but the series was nonetheless instrumental in stoking "Austen-mania," that '90s-to-'00s explosion of popular interest in one of the 19th century's greatest writers. Though plenty of new adaptations have come along since, this  take on Elizabeth, Darcy, and their fascinating world still sparkles like the day it first aired.
5. The Queen's Gambit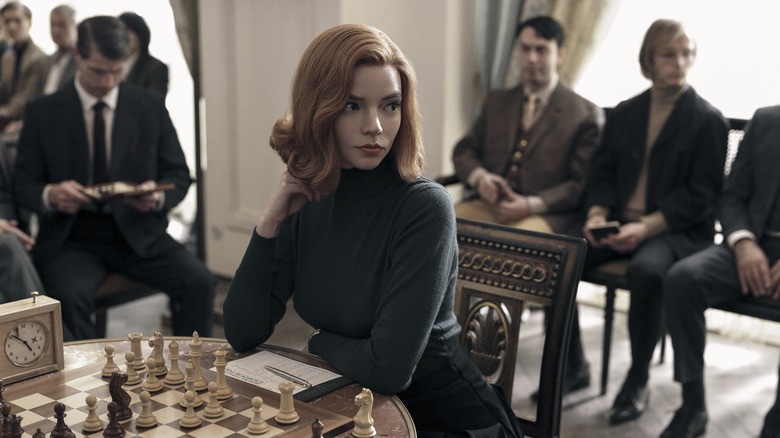 Netflix
Based on Walter Tevis' 1983 novel of the same name, Netflix's smash-hit 2020 miniseries "The Queen's Gambit" centers around Elizabeth Harmon (Anya Taylor-Joy), an orphaned chess prodigy struggling to balance substance abuse, young womanhood, and her brilliant career. Taylor-Joy shines in the lead role, the writing and direction is superb, and the supporting cast elevates the series even further. There is plenty to be uncomfortable about here, but that's part of the show's design. Orphaned girls in the 1950s and '60s had few options and suffered frequent abuse, a fact spotlighted here by the powerful tranquilizers Harmon is given from a very young age. Harmon's struggle with addiction forms one of the series' primary storylines: It constantly threatens to undermine her success, especially once she starts competing on the international stage.
The show absolutely nails the game of chess, as well as the folks who play it and the culture they share. The 2020 lockdown had already led to increased interest in board games, but "The Queen's Gambit"' led to an explosion of new chess players. Unsurprisingly, the chess community loves the show as a result (with a few caveats).
4. When They See Us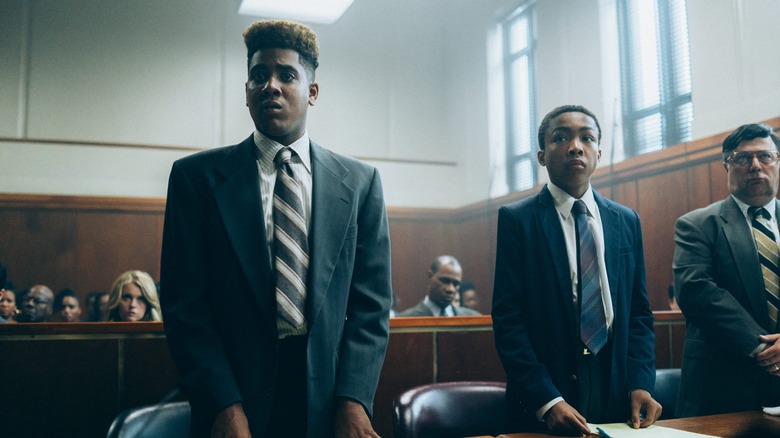 Netflix
If you're not familiar with the story of the "Central Park Five," we regret to inform you that theirs' is an utterly infuriating story. In a nutshell, five Black teenagers from New York City were wrongfully convicted for the 1989 assault of a white female jogger in Central Park. Infamously, future U.S. president Donald Trump took out a full-page ad in multiple city newspapers, calling for a return of the death penalty in the wake of the crime. The five men's convictions were vacated in 2002, but the horrifying injustice of their experience will resonate for decades to come.
Years later, Ava DuVernay created, co-wrote, and directed 2019's "When They See Us," which premiered on Netflix to universal critical acclaim. The miniseries is powerfully written, acted, scored, and directed. The series received 11 Emmy Award nominations: Jharrel Jerome, who plays Korey Wise, deservedly took home the trophy for Outstanding Lead Actor in a Limited Series or Movie. "When They See Us" isn't comfortable viewing, but it's not supposed to be. What it is, without question, is essential.
3. Chernobyl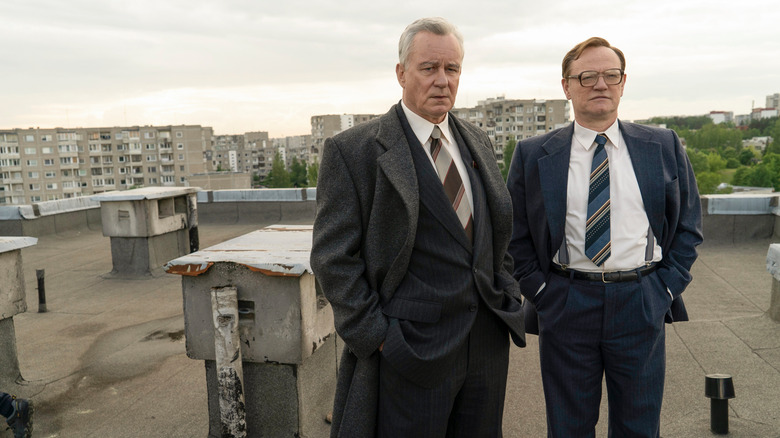 HBO
Who would've guessed that the man behind "Scary Movie 3" would end up giving us one of the most powerful and well-crafted drama series of the 2010s? That's exactly what screenwriter Craig Mazin did with 2019's "Chernobyl." This searing miniseries follows Valery Legasov, a Russian scientist sent to aid cleanup efforts following the infamous 1986 Chernobyl disaster. As his work grinds on, he is forced to either bite his tongue and nod along to the official state narrative, or risk everything to save lives by speaking truth to power.
There are inaccuracies in the series, as has been noted by multiple critics. But many of the shortcuts used by the series are put to good narrative use, acknowledged in the end credits, and don't detract from the power this haunting, relentless, beautifully shot series possesses. "Chernobyl" comes to a simple and devastating conclusion: When political considerations supersede science, people will die. Both the looming threat of climate change and the Covid-19 pandemic, which took the world by storm months after the show's release, painfully underscore this message, making "Chernobyl" an even more essential watch now than when it was released.
2. Band of Brothers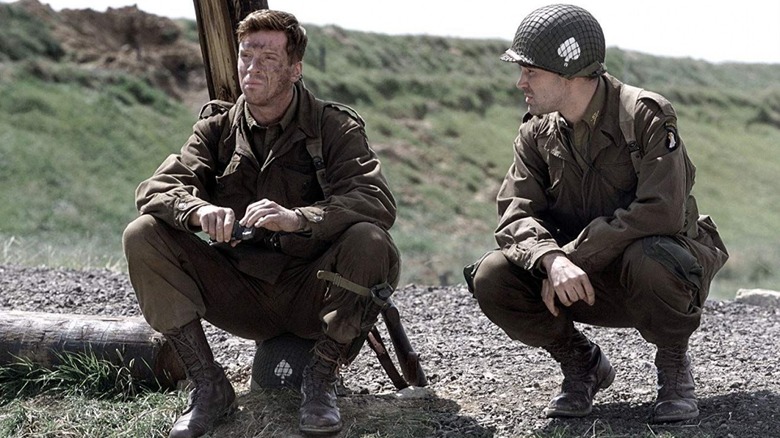 HBO
2001's "Band of Brothers" turned the men of the 101st Airborne Division's Easy Company into some of the most famous soldiers of World War II. This HBO miniseries does their stories justice — and then some. We're with them as they train in the States, as they land in Normandy, as they're surrounded in Belgium, and as they invade Germany to help bring down Hitler's Reich. Simply put, it's an incredible story, incredibly told.
Damian Lewis leads the cast as Major Richard "Dick" Winters, who's about the best field officer a soldier could ask to serve under. Ron Livingston, Donnie Wahlberg, and David Schwimmer round out an A-list cast that also includes bit roles from not-yet-superstars Tom Hardy and Jimmy Fallon, among others. The writing, action sequences, attention to detail, historical accuracy, cinematography, and direction are simply as good as TV has ever been. And that's not even mentioning the unskippable opening sequence, which is a beautiful work of art in and of itself. In short, "Band of Brothers" is an endlessly rewatchable tribute to the men who triumphed over Nazi tyranny at huge cost.
1. Planet Earth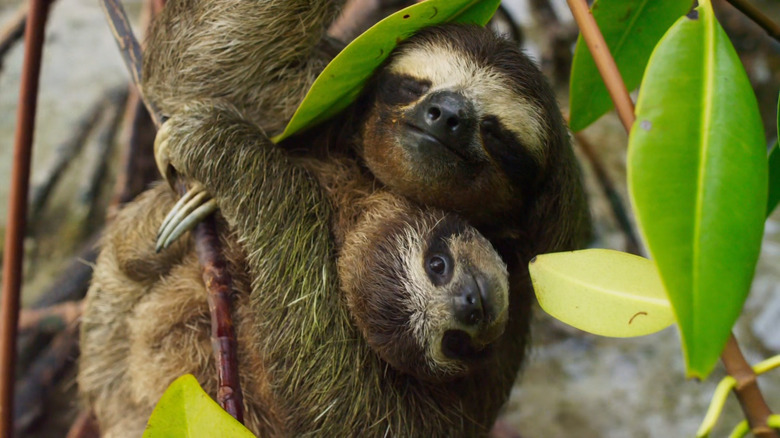 BBC
There are plenty of nature documentaries, but there's only one "Planet Earth." Both the original 2006 BBC miniseries and the 2016 follow-up focus on one specific ecosystem per episode, telling the stories of real animals living their lives on the planet we share. It sounds rather standard, and structurally, it may well be. But focused and fact-based storytelling, the gentle passion of narrator David Attenborough, and some of the most gorgeous high definition footage ever filmed combine to fill the viewer with an unparalleled sense of wonder. From the comfort of your couch, you'll get to experience dark caves, ocean depths, hot desert sands, and even cities, where multiple species make their home in the shadow of humanity.
Underpinning it all, though, is a sense of profound loss. Like every responsible natural history museum, zoo, or nature documentary, "Planet Earth" never lets you forget that we're in danger of losing all this natural majesty if we don't act quickly to reverse the effects of pollution, deforestation, and climate change. "Planet Earth" is somehow simultaneously able at lock you to your couch, where the series' visuals wash over you in waves, and inspire you to act. It's a balance few other series have ever achieved.