What You Probably Never Knew About Jon Favreau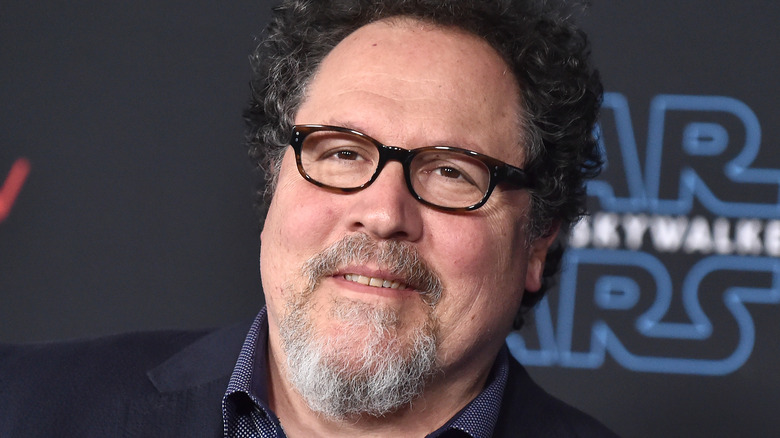 DFree/Shutterstock
Jon Favreau is one of the most influential players in the entertainment industry. He's made Disney billions of dollars with films like "Iron Man" and "The Lion King." He helped launch the company's streaming service, Disney+, with "The Mandalorian." His modern Christmas classic "Elf" just gets better with age. And he still finds the time to work on passion projects whenever the mood strikes. Favreau is a rarity in Hollywood: a Jack of all trades with humble beginnings who has succeeded in equal measure at nearly everything he's tried.
However, Favreau has always preferred to flex his creative muscles rather than merely occupy the spotlight. This multi-hyphenate increasingly works not just behind the camera but in the board room, overseeing the big picture of enormous franchises as they move forward (particularly concerning the technology they increasingly depend upon). Despite his formidable clout, not every moviegoer or TV watcher necessarily recognizes his face. This means that while audiences have likely heard of Jon Favreau, and they might even know something about the actor-writer-director-producer, they certainly don't know his whole story. These are all the unexpected twists and surprising details from Jon Favreau's life.
He made movies with his toys
"Zathura: A Space Adventure" is one of the only films that can be considered a flop in Jon Favreau's directing catalog, but it wasn't a complete disaster, and strangely, it sort of predicts his career trajectory. The movie is about a science fiction board game that makes things happen in real life, which mirrors Favreau's experiences from childhood fan to franchise filmmaker. Favreau explained to USA Today that he made stop-motion shorts using his toys and his father's 8mm camera in his youth. A few decades later, he'd been handed the reins to "Iron Man" (in which he also appeared as Harold "Happy" Hogan), which meant he was essentially playing with human action figures with a budget of $180 million. 
Perhaps Favreau's past as an amateur animator inspired his doomed Quibi series, "Micro Mayhem." He teamed up with Seth Green to pitch the show in which participants would produce stop-motion action movies — all 10 minutes or less in runtime — using miniature diecast cars. Unfortunately for "Micro Mayhem," the startup network Quibi crashed and burned just months after it debuted. 
On a "happier" note, a new generation of Hollywood hopefuls can make iPhone movies with their own toy version of Jon Favreau. He can be purchased as his MCU character in the form of a Funko POP! or a six-inch collectible figure that comes in a two-pack with Iron Man Mark 21.
His mom died when he was 12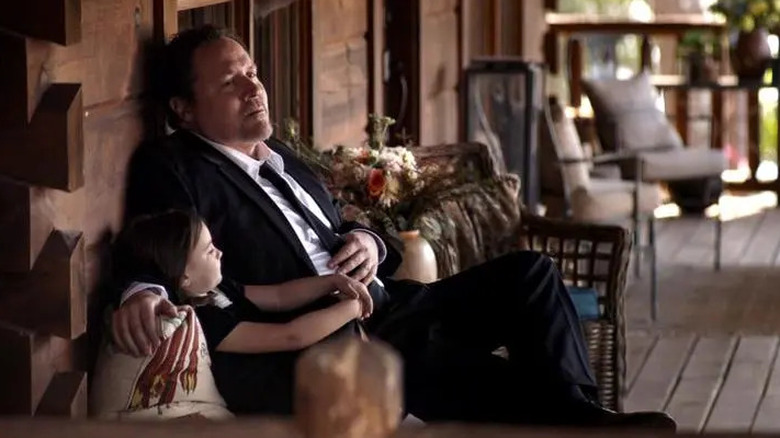 Marvel Studios
Jon Favreau was raised in Queens, New York, the only son of two teachers. His mom taught elementary-aged students, and his dad worked in special education. His parents divorced, but things got even worse when Jon was just 12-years-old. His mother, Madeleine, died of leukemia, leaving his father, Charles, to bring him up as a single parent through his teen years. 
Madeleine's death happened around the same time that young Jon was becoming more interested in popular culture, especially movies and TV shows that involved deeper and more complex topics. Favreau has theorized that he was pulled toward stories that began with a sense of sadness and loneliness but evolved into tales of love and community. Those types of series and films helped him process his grief. He explained to ABC News, "There's nothing like a movie ... or a story to help make you feel that there's a path to all of this — that makes sense." 
From "Elf" to "Chef" to his involvement with the Marvel Cinematic Universe and "Star Wars," Favreau has made stories about finding peace and togetherness after misfortune and isolation a running thread throughout almost all of his work. 
He went to a school for the gifted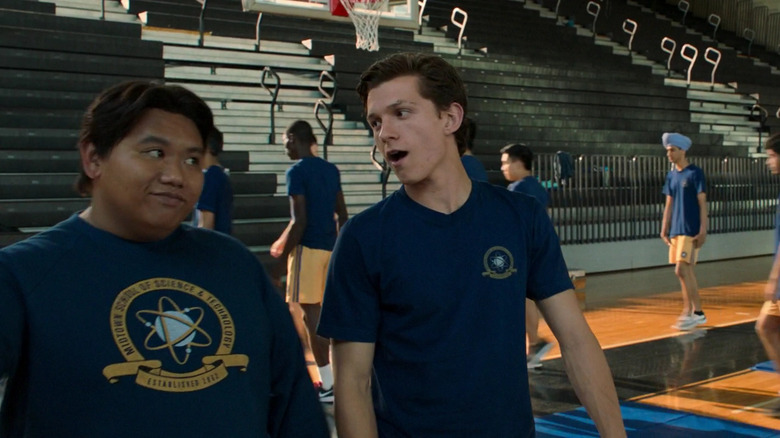 Sony Pictures Releasing
Favreau attended the prestigious Bronx High School of Science and graduated in 1984. He told People that he barely got by, but he had to be pretty smart to be admitted. The Bronx School is a public magnet for those who excel academically, especially in the sciences, and prospective students must first pass the Specialized High Schools Admissions Test. It's incredibly competitive, and the school counts eight Nobel Prize winners amongst its alumni. Only about 800 kids out of nearly 30,000 applicants, or about three percent, are accepted every year. 
Favreau's education (and slightly dismissive attitude about it) give him and Spider-Man something in common (besides the fact that they both hail from Queens). The Midtown School of Science and Technology, which Peter Parker attends in the most recent trilogy, is based on Favreau's alma mater, as noted by The Verge. Tom Holland even researched his role by going to class for a few days. Producers wanted Midtown to feel like a high-pressure STEM academy where Peter wasn't necessarily the sharpest tack. That made it seem more plausible that he'd do things like skip the Academic Decathlon in order to save the world. It also made it easier to him to fit in when all the other students around him were ambitious nerds, too. Finally, Midtown's thoroughly brainy study body allowed for Peter to find his man in the chair, Ned. 
Favreau can attest to the accuracy of the culture at the fictional Midtown. He teased during an appearance on "Jimmy Kimmel Live" that even the geeks at the Bronx School thought he was a geek. 
He worked on Wall Street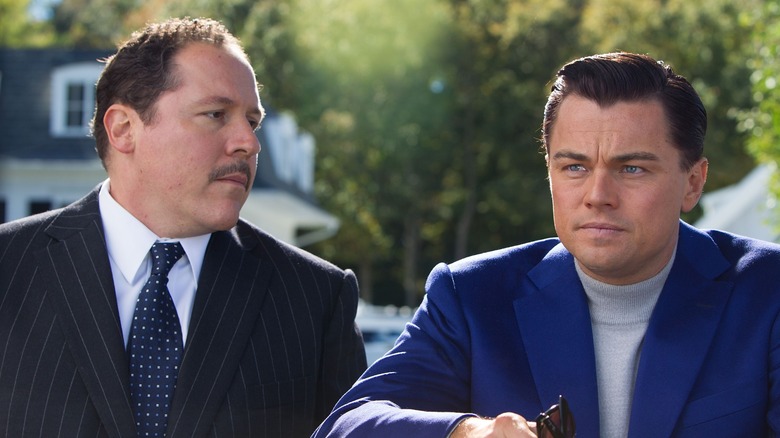 Paramount Pictures
Jon Favreau had a small part in Martin Scorsese's 2013 Oscar nominee, "The Wolf of Wall Street," as a securities lawyer, but in the late '80s, he really did work in the finance world for about a year before he tried to strike it rich in the entertainment industry. After graduating from the Bronx School, Favreau went to Queens College off and on between 1984 and 1987. He acted in plays and took playwrighting classes, finding that he liked how the structure of writing scripts combined the left and right sides of his brain. However, he dropped out not many credits shy of achieving his diploma. 
Before he left New York for Los Angeles by way of Chicago, Favreau took a job on Wall Street with the firm Bear Stearns. He didn't actually handle global investment bank and securities trading firm accounts. Instead, Favreau handled phone calls for the facilities management department. In an interview with GQ, he explains that it was his job to listen to complaints if, say, the air conditioning went out. Favreau couldn't draw much inspiration for "The Wolf of Wall Street" from his time spent at the Bear Stearns offices. He says that, though there was partying, and it did make an impression on him, it was mostly professional. At least nobody swallowed a goldfish. 
He moved to Chicago to be a comedian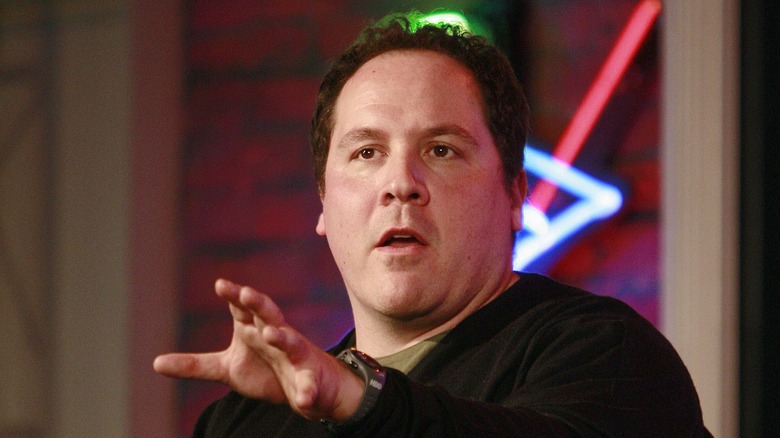 Riccardo S. Savi/Getty Images
Afraid that he'd end up with a job and a life that he didn't enjoy, Favreau quit his Wall Street gig, hopped on a motorcycle and eventually found his way to Chicago, where he decided to commit himself to what he really wanted to do: comedy. As he explained to the Chicago Tribune, Favreau had stopped at ImprovOlympic to take in a show and happened to catch Chris Farley and Mike Myers in performance. Favreau was chosen as an on-stage volunteer participant for a sketch in which Farley acted out his day. The now-famous producer-writer-director-actor was so impressed with what the ImprovOlympic troupe could do that he signed up to be a student and stayed on for four years, washing dishes and selling T-shirts in exchange for tuition-free classes. 
He studied under improv masters Charna Halpern and Del Close. In addition to Favreau, Farley, and Myers, the Chicago improv scene helped propel Tina Fey, Amy Poehler, Adam McKay, Tim Meadows, Stephen Colbert, Rachel Dratch, Cecily Strong, Seth Meyers, Vanessa Bayer, and Bob Odenkirk to fame. As his peers auditioned for "Saturday Night Live" or started their own theaters like Upright Citizens Brigade, Favreau entertained the idea of following in their footsteps. Back in Los Angeles, he signed up for stage time at Second City but was never given the opportunity to test his mettle. Ultimately, he thinks that's just as well, as he didn't have quite as much experience as some of his contemporaries.
He made his screen debut with Rudy
A few years after Favreau had left Queens, he landed his first credited role in a feature film. The former Wall Street receptionist and amateur improv comedian was cast in the 1993 sports biopic "Rudy." Favreau played D-Bob, a teaching assistant who helps the title character (Sean Astin) discover that he's struggling academically because of undiagnosed dyslexia. D-Bob remains one of Rudy's most loyal supporters throughout the movie and is remembered for the moment at which he tears up when the undersized underdog Rudy takes the field. 
"Rudy" not only gave Favreau the break he was looking for — it also introduced him to Vince Vaughn, who would become a lifelong friend and a crucial collaborator on his next project. Vaughn played a student named Jamie who antagonizes Rudy, but everybody got along fine on set. Working on a real movie set also piqued Favreau's interest in the work that went on behind the camera. He was impressed with how the film's director, David Anspaugh, could simultaneously worry about everyone on the set yet remain calm and focused enough to get the job done, per Entertainment Weekly. Favreau credits his experience making "Rudy" with teaching him a lot about directing. 
He broke through with Swingers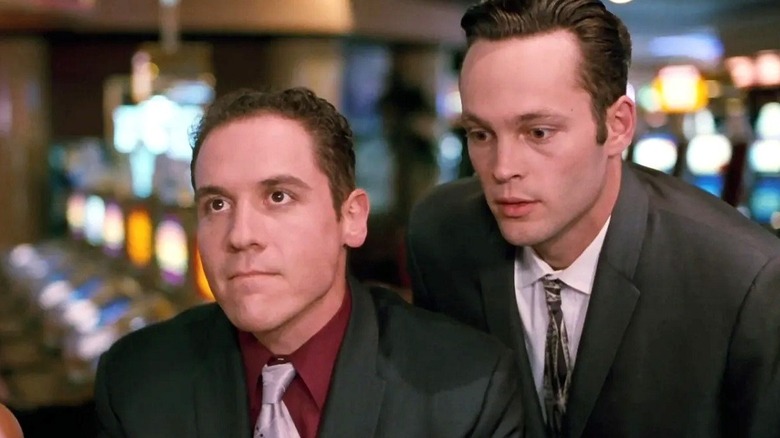 Miramax Films
As popular as "Rudy" was, it didn't make Jon Favreau a star. Favreau and Vaughn, as well as director Doug Liman, would do that for themselves with their next venture, a shoestring budget independent film called "Swingers." 
The 1996 buddy comedy takes place during a point in pop culture when swing — the music, the dance, the clothes, the attitude — are back in style. An actor, who's moved from New York to Los Angeles, is having trouble getting over his girlfriend. Other aspiring actors take him clubbing and to Las Vegas to try and coax him back to the scene. That might sound suspiciously autobiographical, especially as Favreau had broken up with a girlfriend before making "Swingers," but he insists the film's events are entirely fictionalized. Anyway, "Swingers" is more about the vibe than the plot. Without it, we wouldn't have phrases like, "you're so money" or "Vegas, Baby!"
Favreau wrote the script in about two weeks, and Liman was able to help raise about $250,000 to finance the movie, so long as he got to direct. Favreau cast himself and used his car to save money, and while some producers wanted them to consider bigger names, he and Liman went with his new friend, Vaughn, for his co-star. "Swingers" became a hit with critics and audiences, especially on home video. Liman would go on to kick off the "The Bourne Identity" franchise, Vaughn would star in movies like "Old School" and "Wedding Crashers," while Favreau would become one of the most bankable writers, directors, and producers in all of Hollywood. 
He was Monica's boyfriend on Friends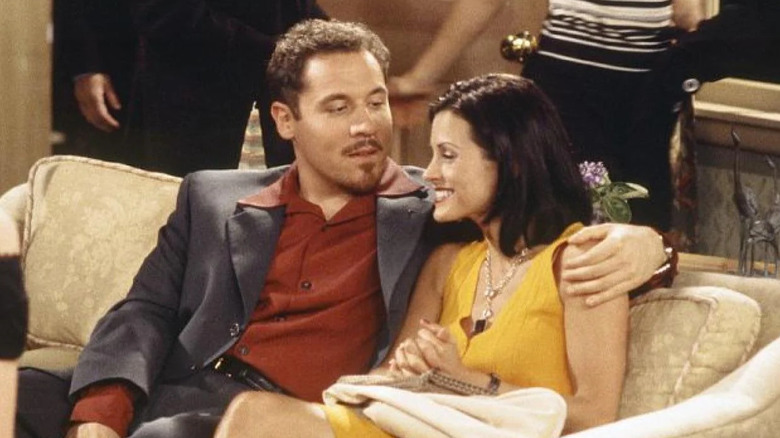 Walt Disney Studios Motion Pictures
Though "Swingers" performed far better than anyone expected, its audience was still small compared to that of "Friends," which in 1996 was on its way to becoming one of the biggest shows of all time. Favreau plays Pete Becker, a nice guy who Monica meets when she's down on her luck and working as a waitress. Pete turns out to be a tech millionaire who has the potential to change Monica's life. He leaves her a $20,000 tip and takes her out for pizza (to Rome). Monica feels uncomfortable about the money, but as she genuinely likes Pete, she continues the relationship (for six episodes at least, at the end of Season 3). 
Pete and Monica call it quits when, as a result of a comedic misunderstanding, Monica thinks Pete's about to propose because she finds a receipt for a very expensive ring. It turns out, Pete's obsessed with Ultimate Fighting and has built himself a ring with which to train and compete. Monica tries to be supportive, but as Pete isn't very good at UFC-style combat, she decides she can't watch him get his butt kicked over and over again. However, Favreau's performance as Pete was well-liked by fans, many of whom were seeing him on screen for the first time. Interestingly, Favreau could've become familiar to "Friends" viewers a few years earlier if he'd wanted. He was offered the role of Chandler Bing but turned it down. 
He directed an episode of The Office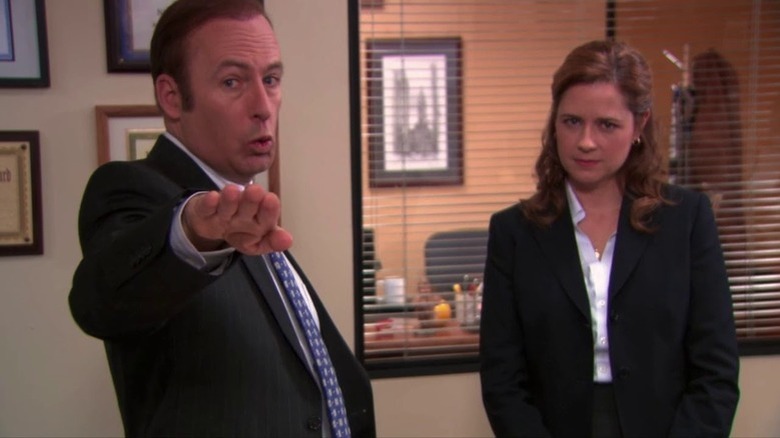 Long after his stint on "Friends," Favreau would be involved with another iconic sitcom. He directed one of the last episodes of "The Office." The Season 9 episode "Moving On," is an unusually tender chapter in the mockumentary about the fictional Dunder Mifflin, which makes sense, as Favreau brings a witty sense of humor as well as a deep sense of humanity to most of his projects. 
Michael Scott has left for Colorado at this point and Bob Odenkirk wants to be his replacement. Pam is struck by how much his character, Mark, reminds her of her former boss. Meanwhile, Jim is trying to balance his job at the paper company with his side work in sports management as he prepares to interview for a new position in Philadelphia. The most touching storyline involves Dwight and Angela, who can't be together as Angela is still married to the Senator (Dwight is still unaware that he's the father of Angela's child). When Angela finds out how sickly Dwight's aunt is, she gives her a bath, after which the two share a stolen kiss. 
Favreau's coworkers at Marvel and "Star Wars," J.J. Abrams and Joss Whedon, each directed episodes of "The Office" too. 
He has a cooking show on Netflix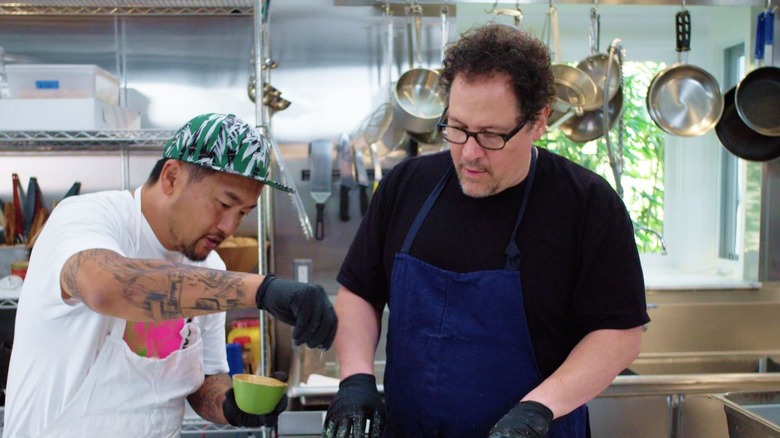 Netflix
Jon Favreau launched the MCU with "Iron Man," turned animated classics "The Jungle Book" and "The Lion King" into live-action hits, and is one of the visionaries behind the Disney+ "Star Wars" shows. In between all those major projects, with their astronomical budgets and heavy reliance on CGI, Favreau wanted to do something more intimate.
He came up with 2014's "Chef," a charming film about a divorced dad who trades his chic restaurant job for a food truck. Favreau wanted to make a movie about food; the only problem was that he didn't know how to cook. To remedy this, he enlisted the help of Roy Choi, the prominent chef behind a renowned Korean-Mexican taco truck. The two hit it off, and their friendship endured after "Chef" wrapped. 
Next, Favreau and Choi created "The Chef Show," which airs on Netflix. Choi had come by to make some food with Favreau as he was reprising his role as Happy Hogan during the third and fourth "Avengers" movies. The two filmed some raw footage of the cooking process, and Favreau realized he had enough material to make a docuseries. "The Chef Show" features recipe segments combined with guest appearances by some of the director-turned-foodie's famous friends. Seth Rogan, Scarlett Johansson, Robert Downey Jr., Tom Holland, and Gwyneth Paltrow show up to make pasta, buttermilk biscuits, and chocolate lava cake among a host of other mouthwatering meals. 
Favreau has another food-centric series on IFC called "Dinner for Five" in the early 2000s, but that only involves celebrities chatting and eating, not cooking. 
He acts and produces more than he writes and directs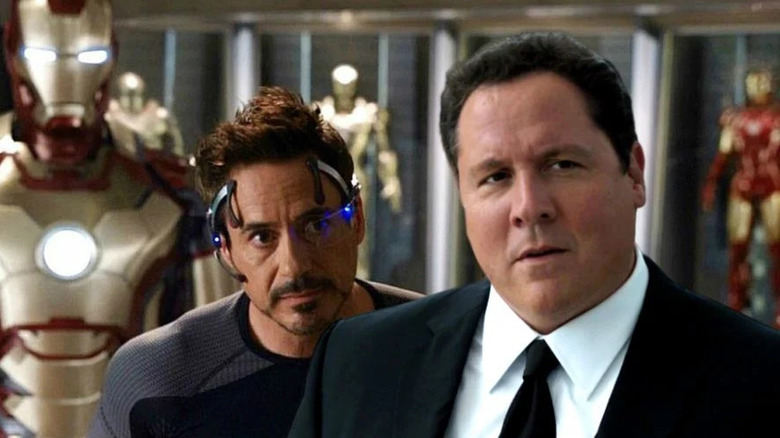 Marvel Studios
Since his directing credits are so high-profile, most think of Jon Favreau first and foremost as a director. However, Favreau started as an actor, at least professionally. With that in mind, maybe it isn't surprising that Favreau has far more acting credits to his name than anything else. These include several cameos, as well as multiple outings as Happy Hogan, but they also include roles in films like "Very Bad Things," "Deep Impact," and "Daredevil," as well as a long list of TV appearances and voiceover work. 
Favreau is credited over two dozen times as a director but only a little over 10 times as a writer, which reveals that he doesn't always direct his scripts. For example, he wrote the screenplays for "Swingers" and "Couples Retreat" but didn't direct, while he directed "Cowboys & Aliens," as well as four major hits for Disney, but didn't write those screenplays. In fact, he's only served as writer and director for two films, 2001's "Made" and 2014's "Chef."  
If anything, Favreau is more of a producer and showrunner nowadays. Among his more than 30 producing credits are several MCU films, live-action Disney adaptations, and a "Star Wars" TV series. Disney has put their stock in Favreau as one of the few creative visionaries they trust to steer their multibillion-dollar intellectual properties in the right direction. Along with Dave Filoni and Robert Rodriguez, Favreau shepherded "The Mandalorian" and "The Book of Boba Fett" onto Disney+ and is also executive producing the upcoming series, "Ahsoka" and "The Rangers of the New Republic."
He voices three Star Wars characters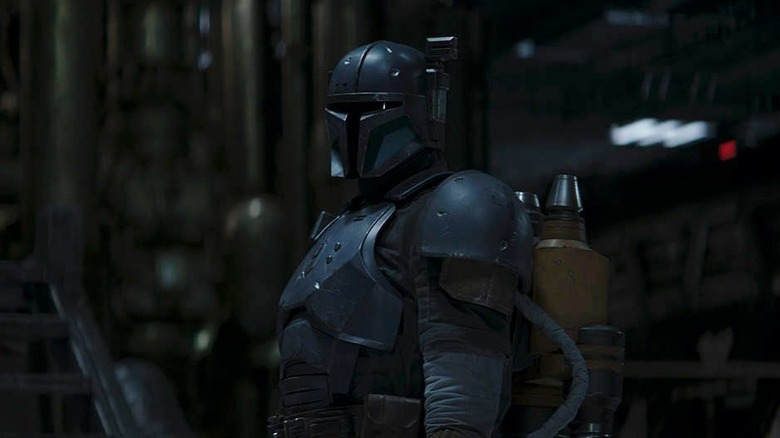 Disney+
Lately, Jon Favreau has been spending most of his time in the "Star Wars" universe. He's not only producing four "Star Wars" TV series but he's also credited as having written most of the episodes in the first two seasons of "The Mandalorian" and all seven episodes of the first season of "The Book of Boba Fett." He also directed "Chapter 9: The Marshal" of "The Mandalorian." However, that's not where his involvement with "Star Wars" ends. 
Most actors would be thrilled to play a single galactic character, but Favreau has lent his voice to three separate "Star Wars" personalities. In "Star Wars: The Clone Wars," Favreau provided the vocals for Pre Vizsla, a Mandalorian warrior and the leader of the terrorist cell known as Death Watch. He appears in six episodes between 2010 and 2013. Most recently, he was the voice of Paz Vizsla in "The Mandalorian" and "The Book of Boba Fett." This seems reasonable, not only because Favreau was heavily involved in the production of both series, but because Paz Vizsla belongs to the same clan as Pre Vizsla (both are descendants of Tarre Vizsla, a Mandalorian Jedi who forged the Darksaber). 
Finally, Favreau plays Rio Durant, the Ardennian pilot who was a member of Tobias Beckett's gang in "Solo: A Star Wars Story." He explained on the red carpet at the premiere that he's been friends with director Ron Howard for a while and was excited to voice the good-natured, four-armed, all-digital alien character. 
He cameos or co-stars in most of his projects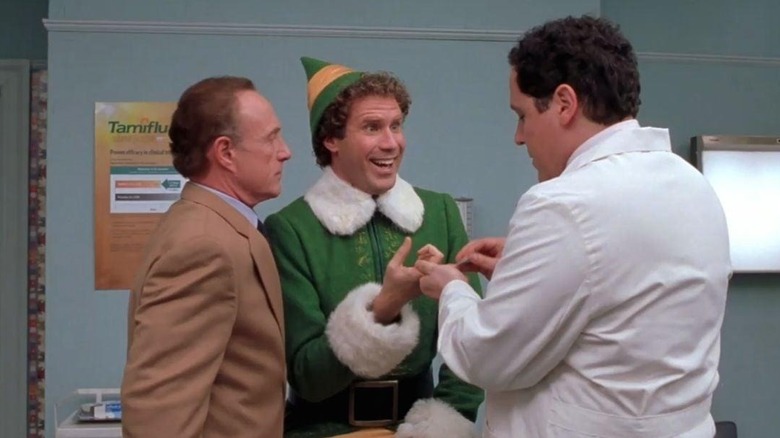 New Line Cinema
There are directors who frequently pop up in their films with Easter egg-like cameos (Alfred Hitchcock, Peter Jackson, and M. Night Shyamalan, to name just a few), and there are directors who often assign themselves the lead role (Kenneth Branagh, Clint Eastwood, and Denzel Washington, for example). Jon Favreau does both, depending on the needs of the project. 
Perhaps out of budgetary necessity and a writer's familiarity with the protagonist, he's chosen to star in his independent films, "Swingers," "Made," and "Chef." He gave himself a supporting role in the "Iron Man" movies — Tony Stark's right-hand man, Happy Hogan — that's blossomed into a recurring character in the Marvel Cinematic Universe. However, he's also content to fade into the background or fill small parts that only require him to work as an actor for one scene. The writer-director-producer regularly provides vocals for minor characters in his films and TV shows. For instance, he voiced a pygmy hog in 2016's "The Jungle Book" and Mr. Narwhal in 2003's "Elf." Favreau also plays the doctor who administers Buddy's paternity test. 
He attributes his creativity to Dungeons & Dragons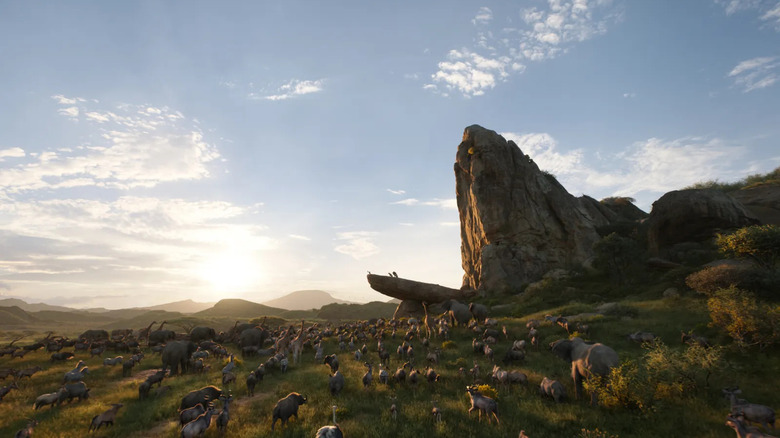 Walt Disney Studios Motion Pictures
Jon Favreau was a nerd before being a nerd was at least semi-cool, and in a way, he can thank his early geekdom for his incredible success. For instance, Favreau began playing "Dungeons & Dragons" while still in school. He joked with the Los Angeles Times that "D&D" clubs were "one of the few groups that even comic-book fans look down on."  The Marvel director admitted he might not have fessed up to his involvement with "D&D" so readily before, though he's hardly the only actor or filmmaker that partakes. Vince Vaughn, Vin Diesel, Patton Oswalt, Joe Manganiello, and Stephen Colbert all enjoy a roll of the dice.  
"D&D" (and most tabletop roleplaying games) is played collaboratively as groups of people (all inhabiting fantastical characters they've created) make choices together to complete a cohesive story, designed by a dungeon master who places or removes obstacles in their way. Favreau told Jimmy Kimmel he played as a halfling, a Hobbit-like humanoid. It's like live-action choose your own adventure, which made the game table the perfect place for Favreau to hone his abilities as a storyteller. 
Favreau told the Los Angeles Times that the roleplaying game "gave me a really strong background in imagination, storytelling, understanding how to create tone and a sense of balance. You're creating this modular, mythic environment where people can play in it." The worldbuilding skills he learned from "D&D" helped him make everything from the retro North Pole in "Elf" to the CGI savanna in "The Lion King" to the extraterrestrial environments of "The Mandalorian" seem tangible and plausible, as impossible and highly stylized as they all are. 
He's a family man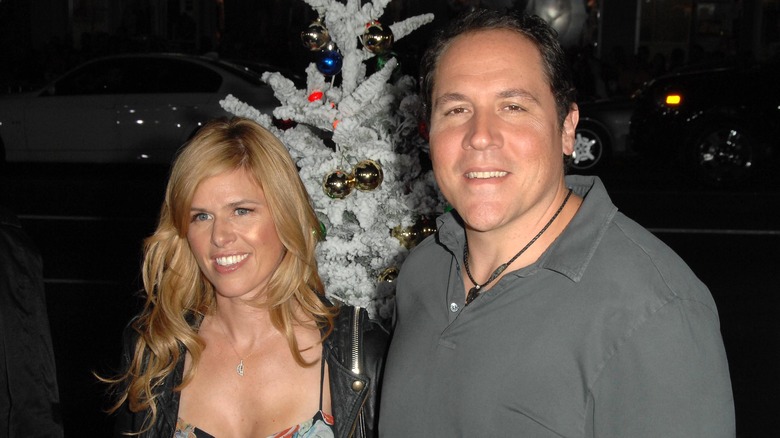 s_bukley/Shutterstock
In keeping with his reputation as one of the nicest and most down-to-earth people in Hollywood, Jon Favreau can boast about his happy family of five and one of the town's longest-lasting marriages (via People). Though his breakout film was about an out-of-work actor who was unlucky in love, around the same time he was making "Swingers," Favreau met the woman who would become his wife, Joya Tillem. The two crossed paths in 1995 and married in 2000. They're still going strong today, more than 20 years later. 
Tillem studied internal medicine at Georgetown University and works as a physician at Cedars-Sinai hospital and UCLA Medical Center in Los Angeles. The couple has three children: Max, Madeleine (named after Favreau's late mother), and Brighton Rose. Though the many hats he wears as a filmmaker keep him busy, he finds time to bond with his children over common interests. He and his daughter, Madeleine, enjoy taste tasting noodles together. His children also came with him to the set of "The Jungle Book," where they voiced some of the minor characters. However, on the whole, the Favreau family prefers to stay out of the public eye so that the kids — now in their teens and twenties — can have as normal a childhood as possible.