The Entire Scream Timeline Explained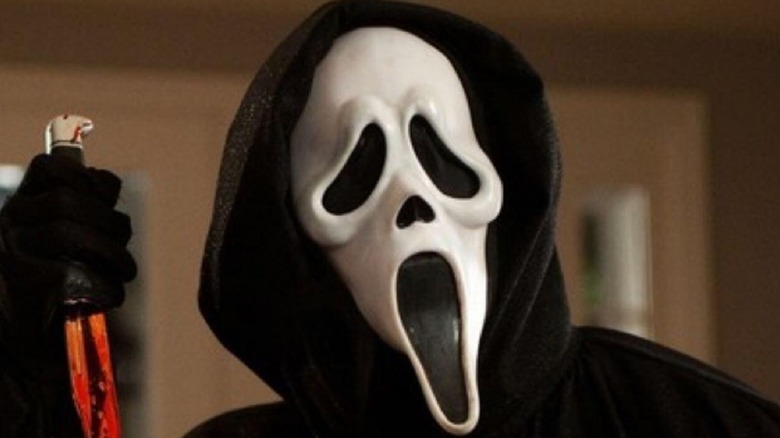 Dimension Films
The "Scream" movies weave a very complicated timeline. The first film, which debuted to much fanfare in 1996, introduces audiences to the town of Woodsboro, California, and the Prescott family at the center of the grisly action. From the very first jaw-dropping reveal, the story hinges on some serious timeline hopping. The film then spawned four sequels (plus a TV show that wasn't closely connected) and promises to continue going strong. 
In each installment, new aspects of the town, people, and timeline are revealed, and backstories are sometimes recontextualized. Often, it's a forgotten or hidden piece of history that informs the killer's (or killers') motives for going berserk in their small town, which creates complex story mythology. So, to streamline the most important series of events here's a chronological breakdown of the "Scream" characters' history, going all the way back to the beginning and continuing through to the next generation of Ghostface killers to examine how it all ties together.
Beware the many "Scream" spoilers ahead!
The tragedy of Rina Reynolds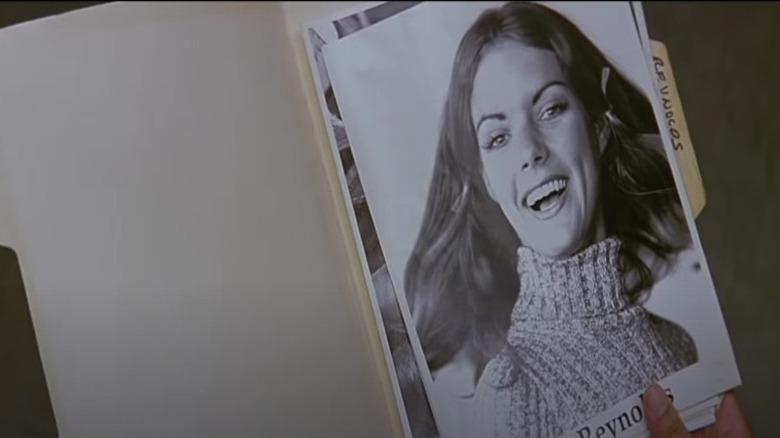 Dimension Films
"Scream 3" reveals a great deal about the history of Maureen Prescott (Lynn McRee), whose murder would serve as a catalyst for many things to come. As a young woman, Maureen wanted to leave her hometown of Woodsboro behind for a life amongst the movie stars in Hollywood. She relocated and changed her name to Rina Reynolds. While there, she met a sleazy movie producer named John Milton (Lance Henriksen), who put her in three of his crummy horror movies: "Amazombies," "Space Psycho," and "Creature from the San Andreas Fault."
Milton was notorious for his Hollywood parties where aspiring actresses would meet other show business people in the hopes of getting film roles. As is the case with so many young hopefuls, she was repeatedly abused and taken advantage of by the men — resulting in a pregnancy. After giving birth to a son, and giving him up for adoption, she went back to Woodsboro to get her life back on track. She married a man named Neil Prescott, and the couple had a daughter named Sidney (Neve Campbell). Maureen's son, Roman Bridger (Scott Foley), eventually grew up and found her. Thinking she would be happy, he was shocked to find that she wanted nothing to do with him. 
If you or anyone you know has been a victim of sexual assault, help is available. Visit the Rape, Abuse & Incest National Network website or contact RAINN's National Helpline at 1-800-656-HOPE (4673).
The framing of Cotton Weary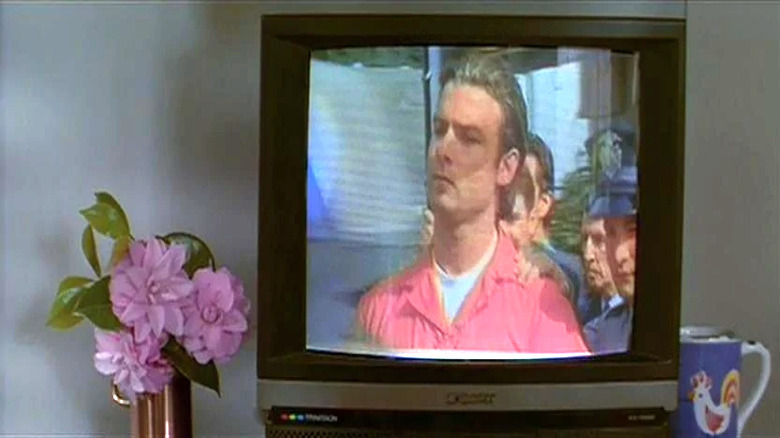 Dimension Films
Scorned by his biological mother's rejection, Roman then stalked Maureen, filming her secret rendezvous with men like Cotton Weary (Liev Schreiber) and Hank Loomis. He then showed the footage to Hank's son Billy (Skeet Ulrich), and the two hatched a plan.
As revealed in the stunning final act of "Scream," Maureen had a life that her daughter never knew about. In Sidney's idealized eyes, her mother could do no wrong; however, to her boyfriend Billy, Maureen Prescott was a homewrecker. His father's affair with Maureen resulted in his mother Nancy Loomis (Laurie Metcalf) abandoning the family, and he was furious about it. With the help of his best friend and lapdog Stu Macher (Matthew Lillard), the two planned Maureen's murder.
One night, Maureen and a very drunk Cotton Weary had a romantic encounter in Prescott's home. Still inebriated, Cotton left the house and forgot his coat. Billy and Stu then brutally murdered Maureen, with one of them wearing Cotton's coat. When Sidney saw the attacker leaving the house in Cotton's bloody coat, she was convinced Cotton was the killer.
The nightmare year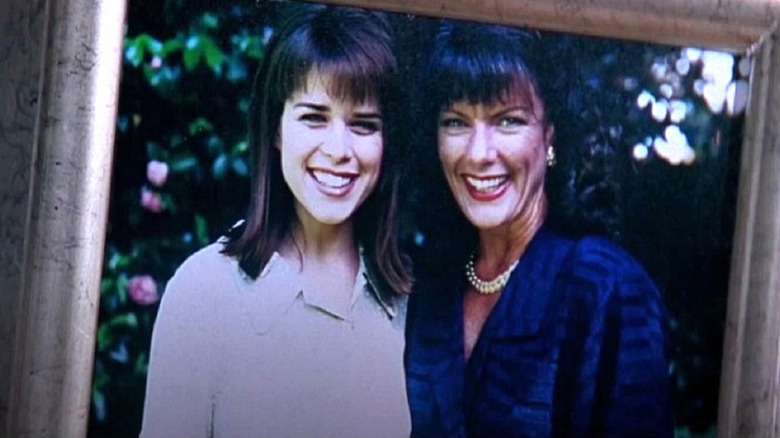 Dimension Films
The murder of Maureen Prescott became a mid-'90s true-crime phenomenon. Cotton Weary was put on trial, and the nation watched with bated breath to find out the ruling. The star witness in the case was Sidney herself. Her testimony is what got Weary convicted and sent to jail with the death penalty. During the trial, a tabloid reporter named Gale Weathers (Courtney Cox) did several stories about Sidney, calling her a liar. She thought that the grieving teenage girl had misidentified the murderer.
She learned during her investigation into the case that Cotton Weary's story never changed. He admitted to sleeping with Maureen and leaving his coat behind, but that's it. Sidney refuses to believe her mother would have willingly had anything to do with Weary. In Gale's mind, this has blinded Sidney to the possibility that she might have made a mistake. Gale writes a book on the trial as a way to cash in on the controversy and make a name for herself — intertwining her life with Sidney and the people around her for the next few decades.
The appearance of Ghostface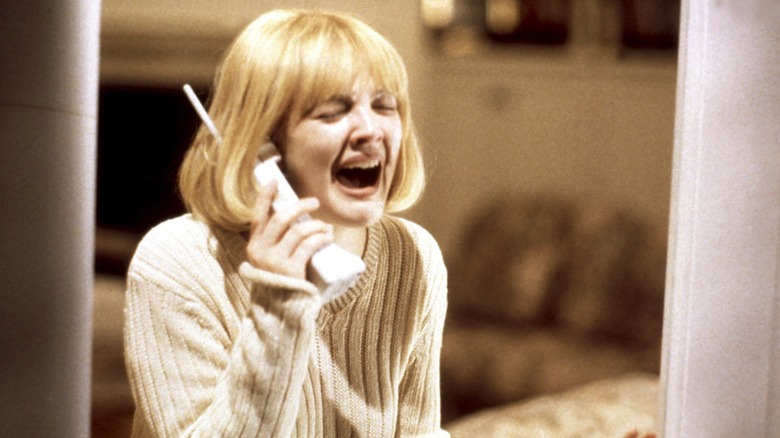 Dimension Films
A year after Maureen's murder, a killer in a ghost mask murders Casey Becker (Drew Barrymore) and her boyfriend Steven Orth in the iconic cold open to "Scream." The shocking deaths reignite the controversy surrounding Maureen's death, and news organizations again descend on the town of Woodsboro. Shaken by the crime, Sidney becomes increasingly distant from her boyfriend Billy. They used to have a fairly intense romance, but the fire has burned out since her mother's murder. During this time, he cheats on her with a girl named Christina Carpenter.
The murders continue as the horror movie-obsessed killer taunts Sidney and goes after her friends. Deputy Dwight "Dewey" Riley (David Arquette) is the older brother of Sid's best friend Tatum (Rose McGowan) and the officer in charge of looking after her. He meets Gale Weathers, and the two hit it off. Tired of allowing her fear to control her, Sidney agrees to attend a party at Stu Macher's house where Tatum is killed as she and Billy steal away to the bedroom together. 
The killer then stabs Billy and comes after Sidney — this is a ruse, however, as Billy fakes the attack. He and Stu have been running around Woodsboro committing the murders, with plans to frame Sidney's father, and Billy admits to killing Maureen. With the help of Gale, Sidney kills Stu and Billy, and they thus survive the first of many encounters with demented serial killers that are to come.
Stab and the Woodsboro murders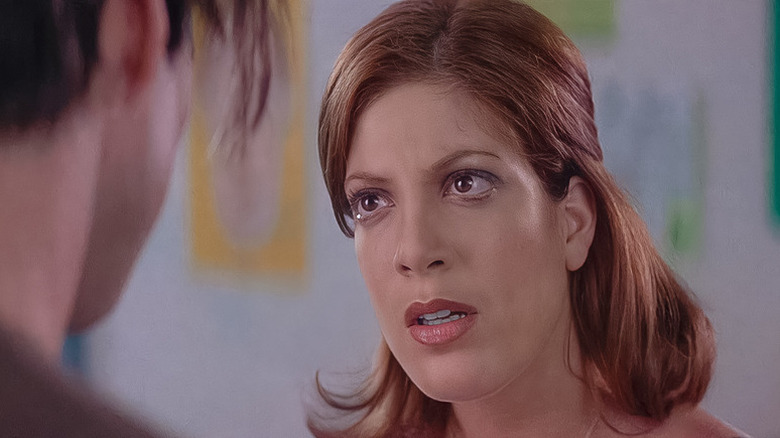 Dimension Films
Shortly after the first murder spree, Gale writes a book about it titled "The Woodsboro Murders." The rights to the book are snapped up by Hollywood and producer John Milton is brought on to produce a film adaptation called "Stab" with Robert Rodriguez directing in "Scream 2." As Sidney predicts, Tori Spelling is cast to play her. Meanwhile, Luke Wilson is cast as Billy, and Heather Graham portrays Casey Becker.
Sidney graduates from high school and enrolls in Windsor College, where she starts to date a guy named Derek Feldman (Jerry O'Connell). Her dorky film-buff friend Randy Meeks (Jamie Kennedy), who also survived the events in the first film (and has always had a crush on her), enrolls there as well. Before this, however, Randy has a brief (but ill-advised, per his rules) affair with a fellow video store clerk named Karen Kolcheck.
Also around this time, Billy's mother Nancy is reeling over the death of her son and plotting her revenge. She changes her appearance and name and reemerges as Debbie Salt. She has also connected with another movie-obsessed young man with homicidal tendencies named Mickey Altieri (Timothy Olyphant). He enrolls at the same college as a film student, and the evil pair plot their very own sequel.
Life imitating art, imitating life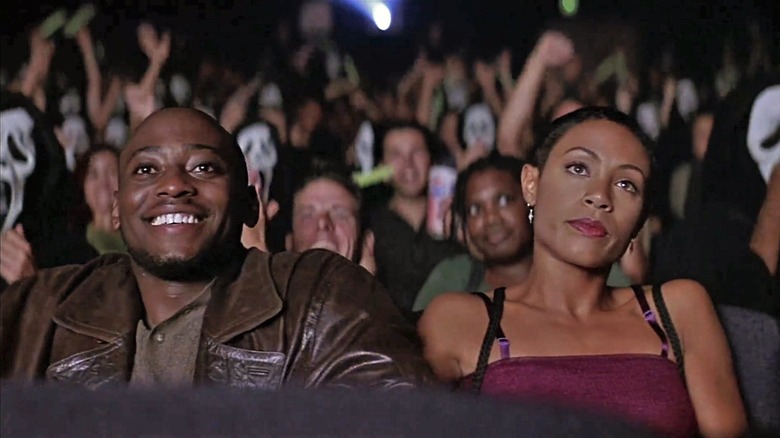 Dimension Films
During a sneak preview for "Stab," Maureen Evans (Jada Pinkett Smith) and her boyfriend Phil Stevens (Omar Epps) are murdered in the theater. Their tragic deaths raise suspicions that a copycat killer may be on the loose. The media, including Gale Weathers, descend on the Windsor college campus. Aside from all the vultures, a wounded Dewey has also shown up to keep looking after Sidney.
Cotton Weary, released from prison, is doing a media tour and he wants to get Sidney to do an interview with him and Diane Sawyer, but she's less than keen. At the urging of her roommate Hallie (Elise Neal), Sidney attends a sorority party, but the killer strikes again and actually comes after Sidney as well. Randy records a video in his dorm before getting a call from the killer and is murdered by them in Gale's van in broad daylight.
Dewey and Gale's romance reignites as they investigate the murders. He's stabbed but survives. Derek is abducted by his frat brothers for giving Sidney his Greek letters and is hung up on the stage where Sidney has been rehearsing "Agamemnon." This turns out to be the site of her final showdown with Mickey (who kills Derek) and Billy's mother. Nancy admits she just wanted revenge for her boy. Gale eventually ends Mickey's killing spree, and after Sidney agrees to the Diane Sawyer interview, Cotton helps kill Nancy and end this whole thing.
The Stab franchise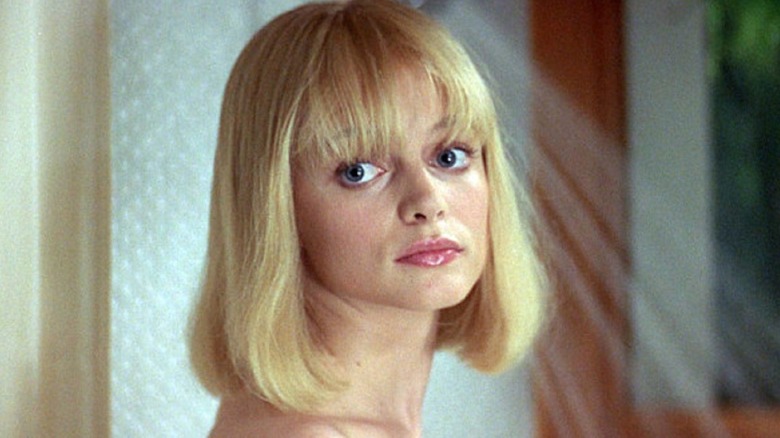 Dimension Films
Despite the murders linked with the release of the first "Stab" film — or perhaps because of them — the film is successful enough to warrant a sequel. Again, producer John Milton is attached. "Stab 2," adapting the events that occurred in Windsor College, is released and also becomes a hit. With no more murders going on, the studio decides to take the franchise in a completely fictionalized direction.
They hire young filmmaker Roman Bridger to be its director in the events of "Scream 3." During this time, Roman also starts planning a murderous rampage of his own. Not only did Sidney get the mother he felt was denied him, but she also has the fame he wants as well. He intends to kick off a series of murders that will get Sidney's attention and bring her to Hollywood where he can finally confront her, reveal his master plan, and finally end her life.
Meanwhile, Cotton Weary gets his own talk show, Gale begins giving lecturing tours about being a journalist, Dewey is brought onto the film as a technical advisor, and Sidney moves into the mountains with her dog and her father, where she works remotely as a counselor.
Return to Woodsboro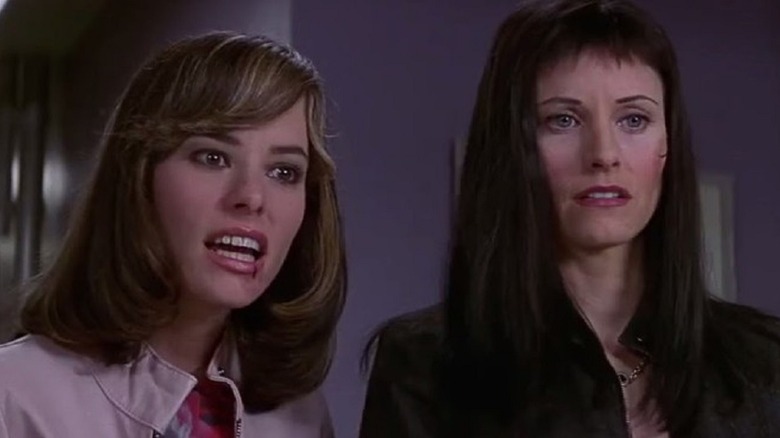 Dimension Films
Using a voice-changing device that allows him to sound like anyone he wants, Roman tricks Cotton and his girlfriend into turning against each other in the harrowing open to "Scream 3." He kills them both, and the double-murders result in the production of "Stab 3: Return to Woodsboro" getting closed down and bringing Sidney to town. With nothing to do, Jennifer Jolie (Parker Posey), who is playing Gale in the new "Stab," cozies up to Dewey and trails the real Gale as research. The two become a kind of reluctant buddy act investigating the murders.
The truth that Maureen used to act for John Milton comes out (thanks to some exposition from Carrie Fisher). Randy's sister Martha Meeks (Heather Matarazzo) arrives with a video Randy recorded at college. The video shows him explaining the rules of a trilogy, warning them that all bets are off in the final chapter. Several of the "Stab 3" cast members are killed, and everyone winds up back at John Milton's house where Sidney learns about her long-lost and very angry brother.
Fed up with serial killers blaming everyone else for their problems, Sidney tells Roman to get his ridiculous rambling over with, but he's killed with a fatal shot to the head by Dewey. Gale and Dewey get engaged, and Sidney decides she will no longer allow the past to dictate her future.
Life goes on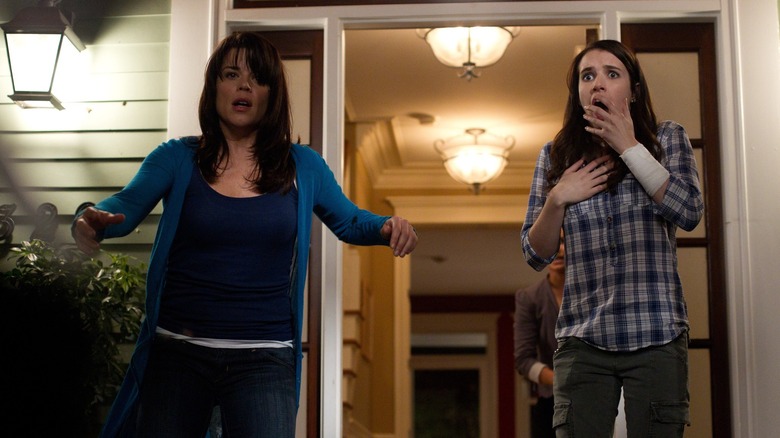 Dimension Films
As Sidney moves on from her trauma, the "Stab" films continue, and in "Scream 4," we see the very meta beginning of the seventh installment, which opens with two women (played by Kristen Bell and Anna Paquin) watching the opening of the sixth film with two girls being killed (played by Lucy Hale and Shenae Grimes) – this would suggest that "Stab 7" is actually "Stab 8," but that gets a bit muddied. Meanwhile, Woodsboro teens Jenny Randall (Aimee Teegarden) and Marnie Cooper (Britt Robertson) are murdered while watching the latest "Stab" flick. 
Gale and Dewey get married and move to Woodsboro. She tries to keep her career going but finds it difficult. Sidney writes a book about her experiences, finally telling her own story. Although she's been able to successfully take charge of her destiny and forge her own path, her aunt Kathleen Roberts (her mother's sister) and cousin Jill (Emma Roberts) are living in her shadow.
Jill in particular is struggling under the pressure of being related to Sidney Prescott. She wants her own fame and notoriety. In this modern world of public living and underachievers getting million-dollar deals to let people film their every move, Jill sees an opportunity. She manipulates a Randy-like horror nerd named Charlie Walker (Rory Culkin) into helping her recreate the original "Stab," but this time she will become the star.
The road to fame and fortune
Dimension Films
Sidney returns home to promote her book at the same time that a new murder spree is popping off. Dewey and Gale's marriage is straining because she feels stifled while he appears to be thriving as Woodsboro's new sheriff. Plus, his deputy Judy Hicks (Marley Shelton) seems to have a thing for him.
The "Stab" movies have become a strange badge of honor for Woodsboro, and as the annual Stab-a-Thon movie festival approaches, the murders ratchet up with everyone displaying signs that they might have the motive and opportunity to carry out the killings. The new batch of kids discuss how reboots and remakes in the 21st century have changed horror and that everything old is new again, but the rules have changed. They theorize that whoever is doing this is likely trying to reboot the franchise in reality.
Kirby (Hayden Panettiere) hosts a party at her house similar to the one Stu had several years earlier. She ends up getting stabbed by Charlie, who chastises her for never giving him the time of day before, but her death is not confirmed. Charlie and Jill then confront Sidney, explaining that their plan is to recreate the original Woodsboro murders so they can become famous. However, Jill betrays Charlie and stabs Sidney before torturing herself to gain the public's sympathy. She tastes fame briefly before learning Sidney is still alive. Then, there's a showdown in the hospital, but Sidney takes her out.
Stab gets rebooted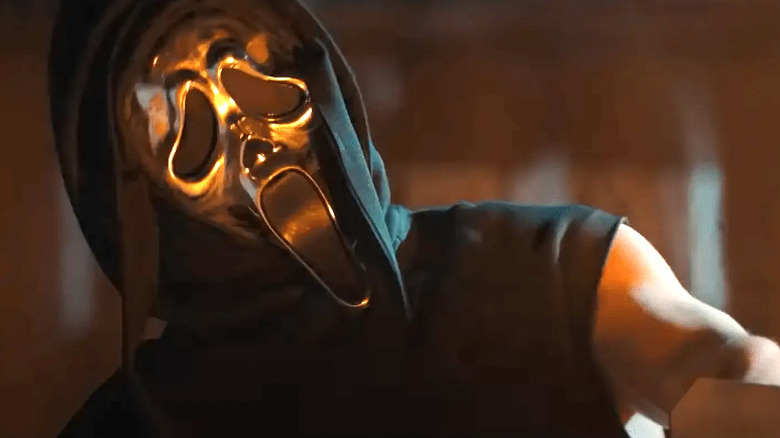 Paramount Pictures
Years later, "Scream 5" picks up with Dewey and Gale now divorced. He is retired from the force and she has started hosting a morning show. Sidney married Mark Kincaid, a cop who helped her survive the attack by Roman Bridger, and she is now a mother. For her, it seems as though life has finally settled down some.
For Samantha Carpenter (Melissa Barrera), however, things are spiraling out of control. She has discovered that her mother Christina Carpenter slept with Billy Loomis in high school and became pregnant. She kept the baby and told her boyfriend that it was his. The couple were married and had a second child named Tara (Jenna Ortega). This truth tore their family apart, as Sam started doing drugs, hallucinating that her dead father is speaking to her, and she abandoned her half-sister without any explanation. She moved to Modesto.
Then, an eighth "Stab" film from Rian Johnson simply titled "Stab" was released. It follows the trend of both being a sequel and a reboot (kind of like "Halloween" in 2018), and fans are not happy at all. A fan named Richie Kirsch (Jack Quaid) meets another fan and Woodsboro resident named Amber Freeman (Mikey Madison) online and they both agree that the only good "Stab" films are the ones based on actual events. So they decide to provide some new real-life fodder for the film series to go back to its roots. To achieve this, Richie finds Sam, and the two strike up a romance.  
The ghost of Billy Loomis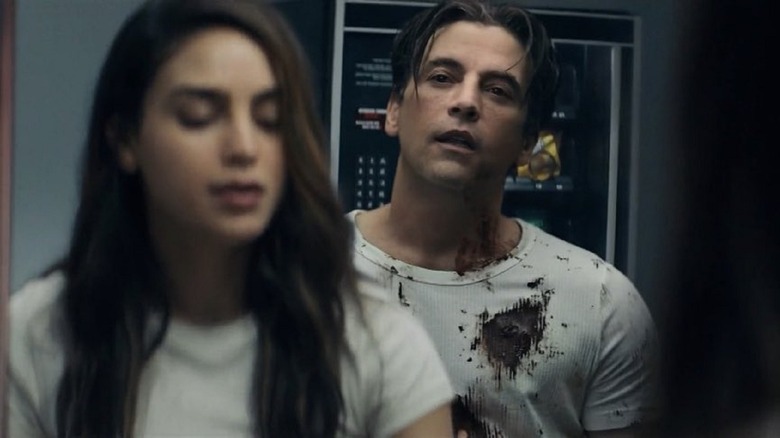 Paramount Pictures
After Tara is attacked by someone in a ghost mask who is obsessed with the "Stab" films, Sam returns to Woodsboro with her boyfriend Richie, who claims to have never seen a "Stab" movie. She comes home to find that the people she left behind aren't all that glad to see her. Sheriff Hicks suggests she leave town since her presence is doing more harm than good, but Hicks and her son are both violently murdered as well.
Plus, Sam can't leave because she wants to make sure she finds the killer(s). She wants to protect her sister and prove she hasn't inherited her father's capacity for murder, despite her hallucinations of him. She and Richie recruit Dewey to help. He tells Sidney and Gale to stay away, but Randy's niece Mindy Meeks-Martin (Jasmin Savoy Brown) theorizes that the person responsible is trying to make a direct sequel or remake of "Stab."
Dewey dies after protecting Tara, which inspires Gale and Sidney to stick around and help find the killer. At yet another party at Stu Macher's old house, Amber and Richie reveal themselves to be the killers. They intend on murdering the original survivors and framing Sam, citing her hallucinations and anger over her true parentage, while setting themselves up as the new survivors. However, Gale sets Amber on fire, and Sam kills Richie. When Amber returns, Tara finishes the job. One last hallucination shows Billy proud of his daughter, and Sam's future remains uncertain. Surviving the latest rash of murders are Sidney, Gale, Randy's niece and nephew, Sam, and Tara.