Karen Gillan Would Return To Doctor Who Under One Condition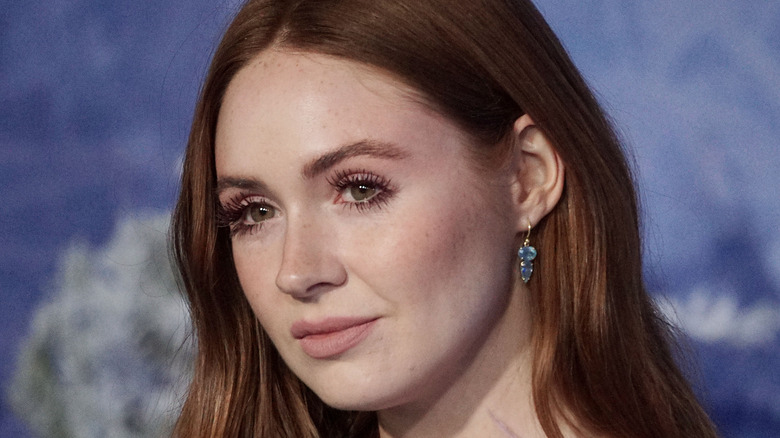 Tsuni-USA/Shutterstock
Karen Gillan has made quite a name for herself in her days since traveling in the TARDIS. The Scottish "Doctor Who" actress has since starred in blockbuster projects such as the rebooted "Jumanji" franchise and the Marvel Cinematic Universe's "Guardians of the Galaxy," as well as indie gems like "Dual" and "The Bubble." Recently, she even tied the knot with the American comedian Nick Kocher (via Daily Mail). Combined with the fact that "Guardians of the Galaxy Vol. 3" might be her final appearance in the MCU, it's clear that Gillan is always looking toward the future for her next big project.
And yet, no one is immune from looking back, either. Nostalgia comes for us all, and with credits like Gillan's, it's no surprise that she would take a few moments to reminisce. In a WIRED autocomplete interview, Gillan happily discussed her time with the BBC science fiction project that launched her into the public consciousness — and she mentioned how she would eagerly return to the show should certain criteria be met. Here's what she had to say. 
Karen Gillan would return if her original castmates returned, too
Frazer Harrison/Getty Images
Karen Gillan's requirements for a return to "Doctor Who" are simple: She'll do it if both of her previous co-stars — Matt Smith (who plays the Eleventh Doctor) and Arthur Darvill (who portrays Rory Williams) — join her. Her terms are simply stated, but the possibility of all three returning might be more difficult than it sounds. Smith is currently starring in a "Game of Thrones" spin-off called "House of the Dragon," and Darvill recently wrapped a five-year run on "DC's Legends of Tomorrow" as Rip Hunter.
That's not to mention the story hurdles such a reunion of their characters would require. "Doctor Who" isn't above a light retcon here and there, and it thrives on reintroducing characters that fans have otherwise written off to the annals of history. But Gillan's and Darvill's roles weren't just dropped off — they were given a concrete happy ending and a pair of gravestones. Even though time is a laughable concept for the Doctor and his companions, this particular situation is inarguably a tricky one to renegotiate.
That's not to say such a reentry would be unwelcome, however. Amy Pond (Gillan's role) and Rory Williams are some of the most beloved companions to ever grace the Doctor's adventure. Should it come to pass that a blue moon grants the trio's unified return, there's no doubt that fans would flock to the news en masse in the same way that they're already reveling in the news about a return for David Tennant and Catherine Tate as part of the 60th-anniversary special.