Rupert Grint Would Agree To Another Harry Potter Film Under One Condition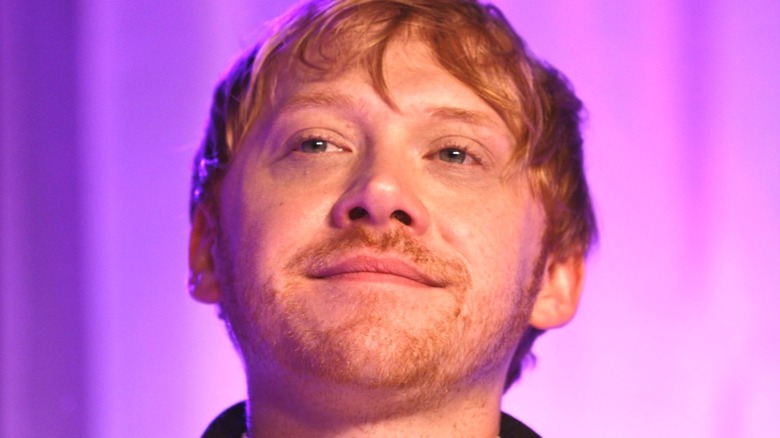 Sylvain Lefevre/Getty
It's wild to think about, but more than two decades have passed since the "Harry Potter" franchise made its big-screen debut. And it's perhaps even harder to fathom that a full 10+ years have come and gone since the original Wizarding World saga came to an end. In that time, Warner Bros. has gone on to launch a solid-enough, if slightly divisive, spin-off franchise in the "Fantastic Beasts" films, and the mastermind behind every magical moment has surprisingly become a divisive figure in her own right.
As for series headliners Daniel Radcliffe, Emma Watson, and Rupert Grint, who portrayed Harry Potter, Hermione Granger, and Ron Weasley, respectively, the "Potter" franchise naturally made legit stars of all three. And yes, each of them has stretched their careers well beyond the hallowed halls of Hogwarts since the series ended.
All three are, of course, perpetually dogged by questions about whether they'd ever return to the Potterverse should the franchise continue via a new sequel. And in an interview with "Good Morning Britain" following the release of the reunion special "Harry Potter 20th Anniversary: Return to Hogwarts," Rupert Grint admitted he would indeed be down for a "Harry Potter" return — but he'd only play Ron Weasley again under one condition.
Rupert Grint would only return to Harry Potter if his castmates came back too
As most "Harry Potter" diehards know, Rupert Grint has been vocal about almost leaving the franchise altogether at various points in production (via The Guardian), so the possibility of his return even for subsequent films in the series was never a given. It was a bit of a surprise, then, when Grint admitted he'd be game for a "Potter" return. Asked directly if he'd ever reprise the role of Ron Weasley, Grint candidly replied, "I can't really think of a reason not to, really. I love that character. I love that world. It's a huge part of my life."
Grint said that he still feels ownership over the character that made him famous before adding a pointed condition to any possible "Potter" return: "I would [come back]. If the others did, I think, yeah." The "others" in question are, presumably, Grint's former castmates Daniel Radcliffe and Emma Watson, whose post-"Potter" careers have been both fruitful and fascinating in their own rights. Still, it remains unclear whether either has any real inclination to return to the Wizarding World.
It's always possible, however, that all three "Potter" stars might one day have the chance to again wield their wands if the franchise's wildly popular follow-up play "Harry Potter and the Cursed Child" is ever green-lit for a big-screen adaptation. If such a project is ever announced, it would be fascinating to see whether Grint and pals opt in.