Here's How Much Money Rupert Grint Made From Harry Potter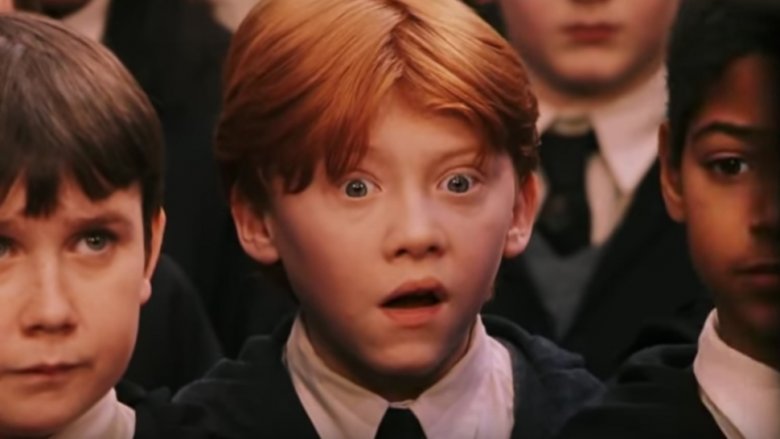 As Ron Weasley, Harry Potter's lovable and hilarious best friend, Rupert Grint soared to stardom at just 11 years old when he was cast in the first Harry Potter film. With fame comes fortune, and Grint is no exception to that rule. Here's how much he may be worth now that the Potter franchise has wrapped up.
Author J.K. Rowling's first Harry Potter book — whose subtitle differs by country (it's Sorcerer's Stone in North America and Philosopher's Stone everywhere else) — was released in 1997, and the first film followed shortly after in 2001. Grint, who was cast alongside Daniel Radcliffe as Harry Potter and Emma Watson as Hermione Granger, became instantly recognizable to millions of fans due to his ginger locks, warm face, and cheerful demeanor. Establishing himself as an indispensable member of the Harry Potter franchise, Grint went on to appear in each one of the films in the series until its conclusion in 2011. 
Considering that Grint spent a full decade of his life as a bonafide superstar, appearing in eight blockbuster movies over just 10 years, it seems pretty clear that he would be worth plenty of money thanks to his time in the wizarding world. But, as it turns out, the answer is a little murkier than that.
As recently as 2018, Grint claimed he wasn't entirely sure how much money he's got in the bank, telling The Radio Times, "I actually don't know how much I have. I couldn't even really guess." The Potter star clarified his comments by saying he's "comfortable" — which seems like the understatement of the century, considering that during their decade-long run in theaters, the Harry Potter films became one of the highest grossing franchises in film history. 
In 2017, Grint's net worth was estimated at £28 million ($34,018,740 USD as of August 2019) while his co-stars ranked considerably higher with £39 million ($47,383,245 USD) and £78 million ($94,766,490 USD) for Watson and Radcliffe, respectively. If that figure is accurate, Grint pocketed a serious chunk of change for his performance as Ron Weasley. 
Since his time at Hogwarts, Grint has appeared in a few projects, including Into the White and CBGB, about the famous New York City punk club. He's currently an executive producer of Crackle's Snatch, a TV adaptation of the film by the same name, and was recently spotted in Philadelphia filming M. Night Shyamalan's upcoming series Servant. He also infamously operated a makeshift ice cream truck in the U.K. for a while, fulfilling a childhood dream, but eventually traded in his van for a luxury car. (Gotta spend his Potter money somehow, right?) 
Meanwhile, the Harry Potter franchise has continued on without Radcliffe, Grint, or Watson; in the years since their films ended, the Fantastic Beasts franchise is going strong, and Harry Potter and the Cursed Child has won both Tony and Olivier Awards on both sides of the pond. Considering the latter features a grown-up version of the main trio, some fans might be holding out hope that the three actors may return to their roles one day.
As far as Grint is concerned, he's happy that he has money but isn't "really that focused" on his Potter finances. While that's a position many of us wish we could achieve, it's nice to see someone who grew up under such a huge spotlight maintain some much-needed normalcy in their adult life.