First Look At Mindy Kaling's Velma Is Making A Huge Splash On The Internet
Early last year, it was revealed that HBO Max had plans for an "adults only" cartoon centered around the iconic "Scooby-Doo" character Velma Dinkley, who would be voiced by comedian and Hollywood star Mindy Kaling. "The Office" and "The Mindy Project" actor was also listed as an executive producer on the project. On Wednesday, May 18, Kaling finally gave the public a first-hand look at her Velma, along with a sneak peek at the show's first episodes. And the internet can't stop talking about it. 
"This is very chaotic and I would like more," wrote Twitter user @EbyyEb. "This is gonna need some getting used to," said @Macintoshclan21. 
In the original "Scooby-Doo" animated series, Velma is the clumsy but smart member of the Mystery Inc. gang, which includes Fred, Shaggy, Daphne and Scooby. Kaling's adult-focused comedy series, according to its official description, will be "an original and humorous spin that unmasks the complex and colorful past of one of America's most beloved mystery solvers." The first look at the new series came during the Warner Bros. Discovery upfront presentation on Wednesday (via Entertainment Weekly), and all we can say is, this isn't your grandmomma's Velma. 
Mindy Kaling's first look at Velma is a gory and scandalous one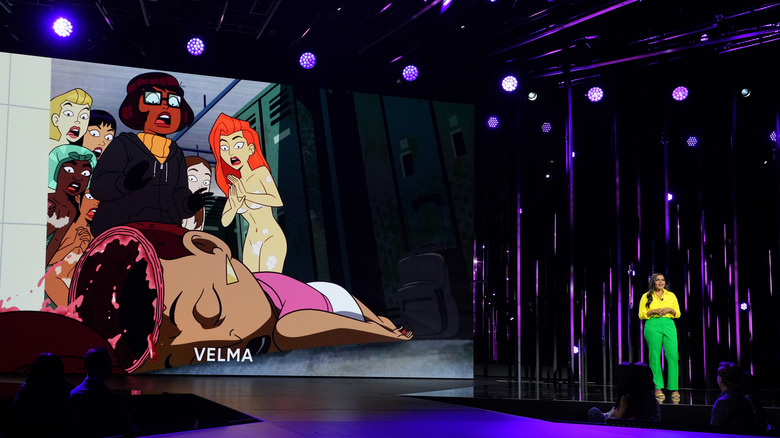 Kevin Mazur/Getty Images
It doesn't take a genius to figure out that Mindy Kaling's animated Velma series isn't going to be for the faint of heart, and her sneak peek on Wednesday proved just that. 
"Dang...The Scooby-Doo Gang jumped from Ghostface & Michael Myers straight into Hannibal territory," tweeted @JVhett. In Kaling's preview, we see her Velma — who is animated to be South Asian, like Kaling (via Entertainment Weekly) — with a group of soaped up naked women, looking down at a dead body. But this isn't your average cartoon stiff. The victim has been scalped and her brains have been removed. "I'm okay with a different interpretation of Velma, but WHY are y'all gonna post an image with someone's head open of all things," said @mk8_Triclops. "After Mystery Incorporated I'm all for these different takes," tweeted @DuffyA. 
Over the years, there have been numerous "Scooby-Doo" titles released by Hanna-Barbera Productions. Cartoon Network's 2010-2013 series "Scooby-Doo! Mystery Incorporated" took a more mature approach to the characters and franchise, including an emphasis on Velma's long-discussed sexual orientation. In June 2020, producer Tony Cervone confirmed that their version of Velma on "Mystery Incorporated" was queer, as suspected, by posting an image of Velma and the Marcie character in front of a pride flag on his Instagram page. "We made our intentions as clear as we could ten years ago," Cervone said. "Most of our fans got it. To those that didn't, I suggest you look closer."
Notably, Kaling was even more direct in addressing changes made to the latest iteration of the character. "Hopefully you noticed my Velma is South Asian," Kaling said (via Deadline). "If people freak out about that, I don't care."