Stranger Things 4 Has A Truly Eye-Popping Per-Episode Budget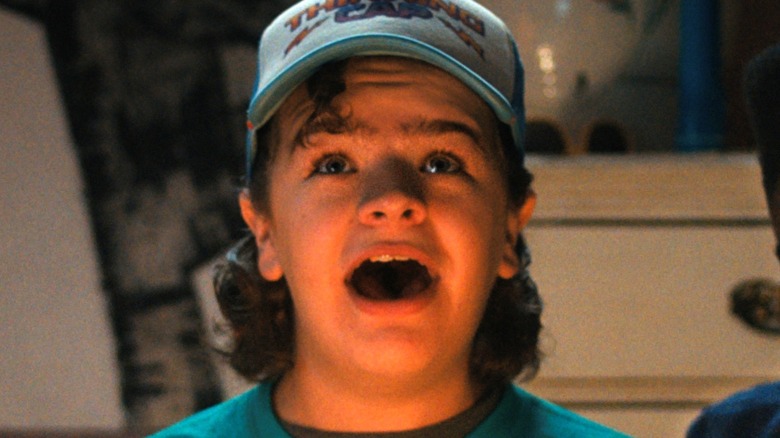 Netflix
The first volume of Netflix's "Stranger Things 4" will finally premiere on May 27, 2022 (the second will drop five weeks later on July 1). When it does, it will end a more than three-year hiatus since "Stranger Things 3." This is welcome news to the show's millions of fans–over 64 million households watched the last installment over its first four weeks on the platform (via Deadline).
Usually, the return of one of a streaming platform's most popular shows would be welcome news for the company's shareholders, too, but these days Netflix's financial situation is a bit dire. As reported by the Wall Street Journal, the value of Netflix's stock dropped 35% in the first fiscal quarter of 2022, after the streaming platform lost subscribers last year, for the first time in a decade. As a result, Netflix's value dropped by $54 billion.
Since it premiered in 2016, "Stranger Things" has become one of Netflix's most-watched English-language shows. With "Stranger Things 4," Netflix has already made a huge financial bet that the show will do just as well as it has previously, if not better.
Stranger Things 4 cost nearly $300 million to make
According to a report by the Wall Street Journal, Netflix spent $30 million per episode on "Stranger Things 4."
This is a huge jump from where "Stranger Things" started. "Stranger Things 1" premiered in 2016 and cost $6 million per episode, while "Stranger Things 2" cost $8 million per episode, (via Variety).
A large portion of that budget appears to be going into locations. Based on the trailer for "Stranger Things 4,"] the show will take place partly in familiar Hawkins, Indiana, but also in Lenora Hills, California, a fictional suburban town where the Byers family moves to escape Hawkins. On top of that, a large part of Jim Hopper's (David Harbour) storyline will see him imprisoned in Russia, necessitating even more locations. This doesn't even include the perennial trip to the Upside Down, the show's otherworldly alternate dimension that requires completely re-dressing each set in Hawkins.
It also looks like the show will make heavy use of both CGI and practical special effects. Season 4's new big bad, Vecna, is essentially an undead wizard from Dungeons & Dragons, whose face is an elaborate mess of roots, vines, and muscle fibers (via Entertainment Weekly). Then, there are the salary bumps for the cast and crew, which is to be expected after delivering three seasons of one of Netflix's most popular shows.
Still, $30 million per episode means that "Stranger Things 4" is also now Netflix's most expensive show–the next-most expensive as of 2021 is "The Crown," coming in at $13 million per (via Statista). Even if "Stranger Things 4" continues to bring in tens of millions of viewers, it's fair to wonder how much longer the ultra-high spending will continue given Netflix's overall financial situation.