Stranger Things' Maya Hawke Talks About That Big Character Reveal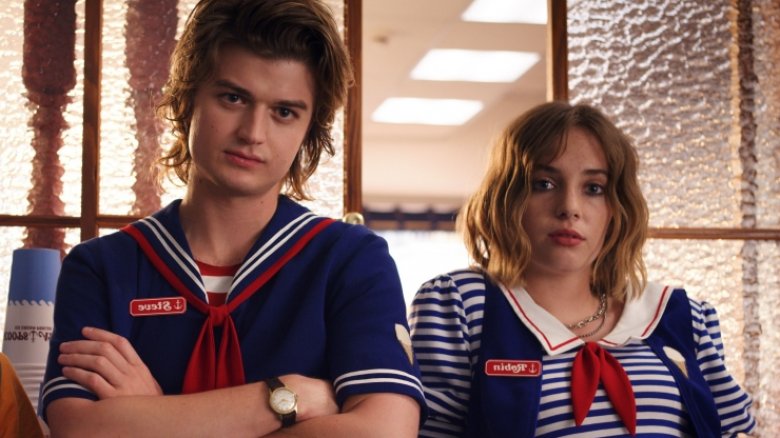 Contains spoilers for Stranger Things season 3
Throughout Stranger Things' three seasons, new cast members have joined the core ensemble, and each time, they've proven to be worthy additions to the already stellar group of original actors. This season's new standout, Maya Hawke, is no exception.
Hawke obviously comes from some serious pedigree, as the daughter of Ethan Hawke and Uma Thurman, and after her big debut in the BBC's adaptation of Little Women, she joined the cast of Stranger Things for its third season as Robin, Steve Harrington's (Joe Keery) co-worker at Starcourt Mall's nautical-themed ice cream shop Scoops Ahoy. In the aftermath of the third season, Hawke can now discuss her character's big reveal — which she did in an interview with Entertainment Weekly, disclosing how she and Stranger Things creators the Duffer Brothers came together to create such a layered, realistic, and thoughtful character.
Spoilers incoming!
During the penultimate episode of the season, "The Bite," Robin and Steve come down from a frightening and unidentified drug given to them by the Russians while they were held captive, and after literally purging the contents of their stomachs during their cool-down period, the two take a moment to figuratively spill their guts to each other. Steve wastes no time in telling Robin that he has a crush on her, but she has a bombshell of her own to admit: when she seemed jealous of Steve and other girls at school, it wasn't Steve she wanted, but the girls who pined for him.
Hawke and the Duffers have since revealed that Robin's coming out was planned from the start, and they put a lot of thought into deciding when it should happen. As Hawke told EW, "We were talking about it throughout [shooting] ... we were trying to find what was right for Robin and right for the journey and right for the show. But that ended up being my favorite scene to film."
The actress added, "She gets less sarcastic and more vulnerable and more herself, until finally in the end she has no choice but to be her complete self. I think that to have that scene [set] in the '80s, and to have that scene on TV in general, I feel really honored to have got to be a part [of] it, and I'm really grateful that the Duffer Brothers wrote it."
The Duffer Brothers were totally on board with letting Hawke take the lead for the scene, which serves as a perfectly timed emotional beat before the season's final battle at the Starcourt Mall. 
Matt Duffer said of the touching and impactful moment, "Maya and Joe spent a long time rehearsing it, not with us. They just went in and worked on it, like workshopped the scene on their own, and then they came and delivered. It was just one of those things that resonated with everybody on the crew. Some scenes you go, 'I hope that works in the edit room.' You get it to work. That scene worked on the day, in the edit room — it's never not worked." 
Ross Duffer even revealed that they didn't cut any of Hawke's lines from the scene, noting, "That's what's fun about TV: You can put on the brakes for a second and explore these characters and miss all this other blockbuster action playing out."
Introducing the series' first LGBTQ character right after Pride Month feels like an important step for Stranger Things, especially because the show's 1980s setting doesn't typically allow for characters to come out and be open about their sexuality. Remember any prominent LGBTQ characters from actual '80s movies? Yeah, neither do we.
As far as audience reactions go, fans were excited to see more representation on Stranger Things, and it's clear that both the character and the scene resonated with viewers across the world. If Stranger Things ends up returning for a fourth season, we can only hope Robin will return as one of Hawkins' fiercest teens (though the Byers family has moved on, Robin and Steve are working together at the town's local video store), continue her irresistible rapport with Steve, and give LGBTQ fans a character they can identify with and look up to on a show they love.