Giancarlo Esposito's Directorial Debut On Better Call Saul Has Fans All Saying The Same Thing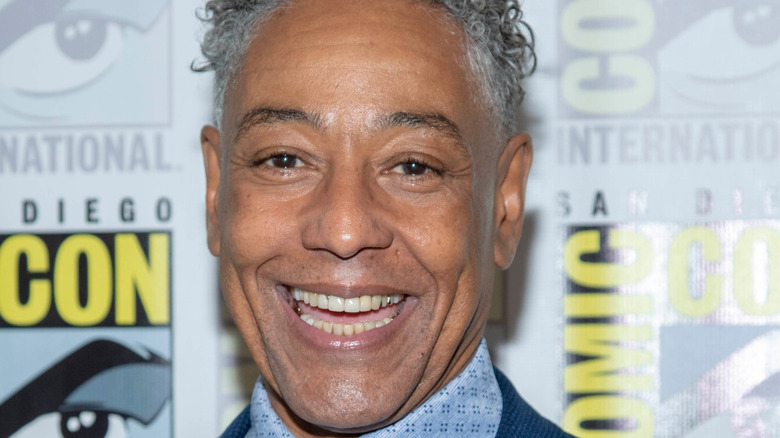 Eugene Powers/Shutterstock
"Better Call Saul," the prequel series to "Breaking Bad" created by Vince Gilligan and Peter Gould, is now six episodes into its sixth and final season — and we're just one week away from its mid-season finale, which will air on May 23. The sixth episode, "Axe and Grind," sees Jimmy (Bob Odenkirk) and Kim (Rhea Seehorn) gearing up for the mysterious final step in their plan — which they call "D-Day" — to ruin Howard Hamlin's (Patrick Fabian) reputation. They have it out for Hamlin in order to put an end to the Sandpiper case, which would allow Jimmy to receive his large payout from the case. Meanwhile, Gus Fring's (Giancarlo Esposito) team, including Mike (Jonathan Banks), continue to keep watch for Lalo Salamanca's (Tony Dalton) return. Lalo, meanwhile, is still in Germany, busy tracking down members of the crew who worked on Gus' superlab.
One person notably missing from the episode is Gus. Well, in a fun twist, while Gus is absent from the on-screen happenings, Esposito was not absent from the off-screen happenings. In fact, Esposito directed "Axe and Grind," and it is his first time helming an episode of "Better Call Saul" (or "Breaking Bad" for that matter). Because "Better Call Saul" fans are quite observant, considering how many small visual hints frequently show up in the episodes, it was easy for them to spot Esposito's director credit on "Axe and Grind." Naturally, they took to Twitter to express their thoughts on his directorial efforts — and they're all saying the same thing.
Fans loved the episode and praised Esposito as director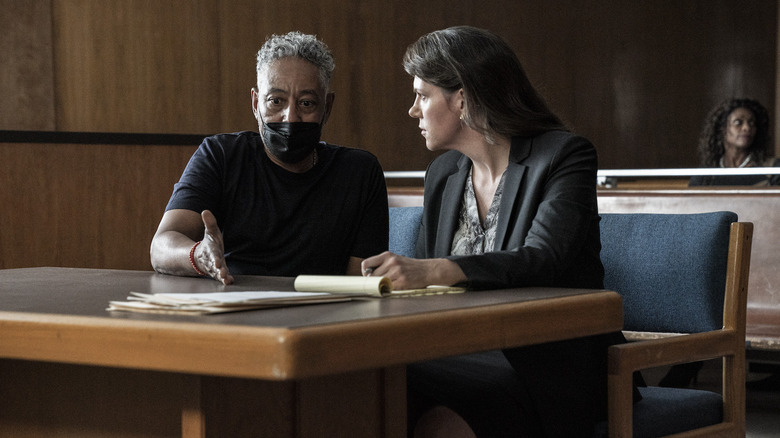 Greg Lewis/AMC/Sony Pictures Television
Giancarlo Esposito took to Twitter on Monday, May 16, to express his gratitude for being able to direct "Axe and Grind." The "Breaking Bad" alum wrote, "It was an honor to be invited to this masterful family of filmmakers! I could not have been more inspired!" He also noted how the direction he received from Peter Gould and Vince Gilligan was pivotal to his time in this new role. 
Fans were quick to flood the comments with praise of the episode and of Esposito's direction. One fan, @JOKERACN7, hilariously declared their positive feelings about the episode by quoting something Gus himself often says, writing, "It was ... acceptable." They weren't the only fan who couldn't keep from making a Gus reference. Viewer @Dr3nee1982 wrote, "It was definitely up to Los Pollos standards!"
Meanwhile, @dhirajbaidwan was more straightforward with their approval, musing that Esposito seems to have just about every skill. Twitter user @Unluccy teased that there was just one thing wrong with the episode: Esposito's storytelling was so efficiently suspenseful that the wait for next week is going to be too long. One fan, @jnmomcat, appreciated all of the details, remarking, "Young Kim with a different glimpse of her crazy mother; Nebraska plates; the Little Black Book — and the matchbook! So much and everything spot-on!" Finally, @nicholaspilk jokingly mused about what it was like on set for the actors, commenting, "Being directed by someone who's played one of the most formidable villains in film history has to be quite the experience."
In the fans' eyes, it seems that Esposito fits right in with all of the show's brilliant directors who have helped shape the highly praised series.
Better Call Saul pushed Esposito into new territory as a director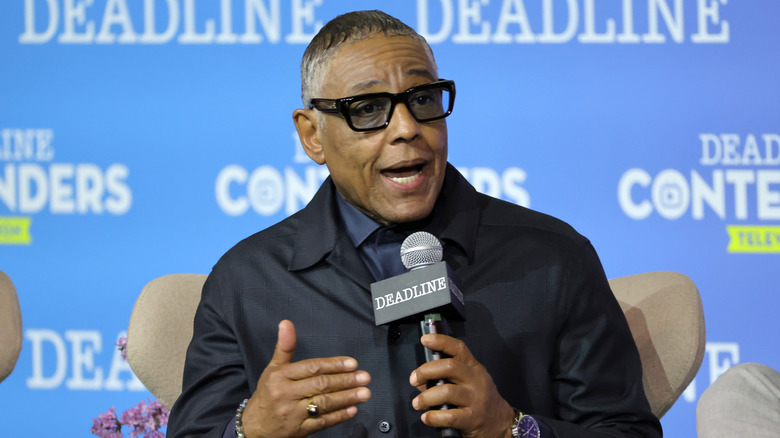 Kevin Winter/Getty Images
Prior to this episode of "Better Call Saul," Giancarlo Esposito had directed two other projects, both feature films: 2008's "Gospel Hill" and 2017's "The Show" (via IMDb). When this new opportunity arose, Esposito was ecstatic. Speaking to The Hollywood Reporter, the actor spoke about getting a call from co-creators Vince Gilligan and Peter Gould, as well as producer Melissa Bernstein, about directing "Axe and Grind." When they made the offer, he recalled, "I fumbled and said, 'Could you say that again? Am I dreaming?' And then I took the phone from my ear and said, 'Hold on guys.' And I went, 'Ahhhh!'" before going on to say, "I was elated."
THR also asked Esposito what projects he would be interesting in directing next. He gave two answers: "Ozark" and "The Mandalorian"; in other words, one show he doesn't act in, and one show where he does. He noted that, with "Ozark," he thinks the experience would be similar to that of "Better Call Saul" in terms of subject matter.
However, his answer as to why he chose "The Mandalorian" is a bit more complicated. He shared, "That's technology that I don't know as well — holograms, [the] volume green screen. And I say that completely challenging myself to learn that world because I come from a world of dramatic acting." Esposito when on to say, "To direct on a larger scale or a bigger template would be the same, to be able to capture what the characters are trying to say, and, and the depth with which they portray themselves. [...] It would be a great challenge to learn how to do that."