Better Call Saul Season 6 Has Bigger Surprises In Store Than The Return Of Walter And Jesse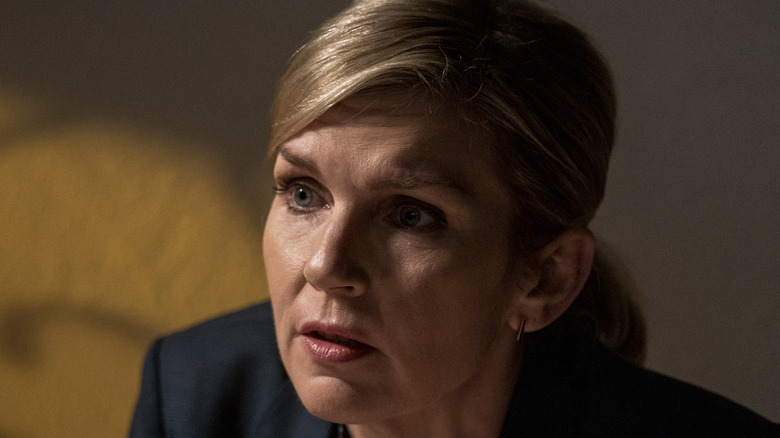 Greg Lewis/AMC
Contains minor spoilers for "Better Call Saul" Season 6, Episodes 1 and 2
The Season 6 premiere of "Better Call Saul" finally returned audiences to Albuquerque with two back-to-back episodes that made for a memorable two-and-a-half-hour television experience. The series' final season opened with a sequence that takes place toward the end of "Breaking Bad" that sees Saul Goodman's (Bob Odenkirk) home raided by police. Then, we jumped back to Saul, Kim Wexler (Rhea Seehorn), Nacho Varga (Michael Mando), Mike Ehrmantraut (Jonathan Banks), and Lalo Salamanca (Tony Dalton) in the "Better Call Saul" timeline. The premiere episodes proceeded to raise the stakes higher than ever: Nacho desperately tries to escape Mexico after the attempt on Lalo's life, while Jimmy and Kim put in motion a plan to ruin Howard Hamlin's (Patrick Fabian) reputation, reuniting with Season 1 recurring characters Betsy and Craig Kettleman (Julie Ann Emery, Jeremy Shamos) along the way. The second episode's final shot, which reveals that someone is tailing Jimmy and Kim, serves as a stark reminder that with Lalo still alive and seeking the best path for revenge, nearly every character in the show stands in grave danger.
Season 6 of "Better Call Saul" has been the subject of intense speculation since the conclusion of Season 5. The hype machine started rolling into high gear recently when co-creators Peter Gould and Vince Gilligan revealed that "Breaking Bad" protagonists Walter White (Bryan Cranston) and Jesse Pinkman (Aaron Paul) would appear in the spin-off's final season (via Vulture). Though it seems like a crazy detail to reveal early, it seems it may have been a strategic decision simply to build more hype for the season to come.
Walter and Jesse aren't the only things fans have to look forward to in Better Call Saul Season 6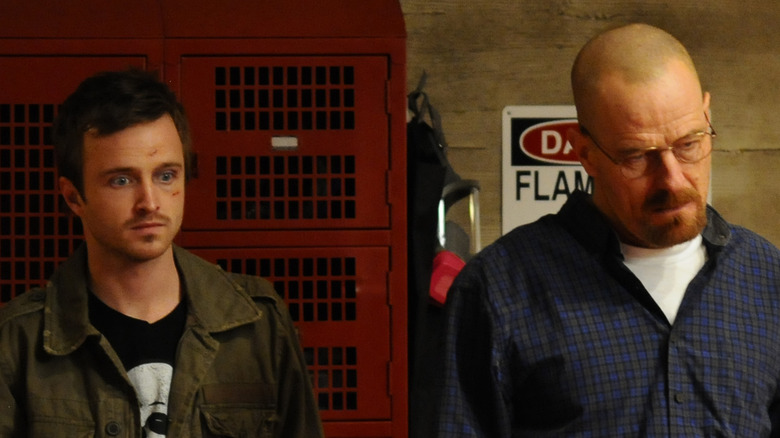 Ursula Coyote/AMC
In a recent interview with The Hollywood Reporter, Peter Gould explained that he and Vince Gilligan felt it appropriate to reveal that Walter and Jesse will appear in Season 6 of "Better Call Saul" because it's just one of many twists and turns they've set in store for audiences over the series' 13-episode final season. The series is tasked with the important job of wrapping up the story of the entire "Breaking Bad" universe (for now, at least), and Gould said he wanted to take the surprise of Walt and Jesse's return out of the realm of specualtion, in part to take pressure off Bryan Cranston and Aaron Paul from having to deflect questions any longer.
"In the past, we could always say, 'We're hoping to do it someday,' and usually we'd say, 'Not this season,'" Gould told The Hollywood Reporter. "And we couldn't lie if somebody asked if they're gonna show up this season."
The nature of "Better Call Saul" has left fans wondering whether Walt and Jesse might appear since the show started, particularly as other "Breaking Bad" veterans have made guest spots and taken recurring roles on the show. In the interview, Gould says they feel most successful when fans ask about Nacho or Kim's fate as opposed to inquiring about the potential for Walt and Jesse's appearance — though he did tease there are many more surprises to come.
"I have to say, if I thought [Walt and Jesse's return] was the biggest surprise or the biggest spoiler, I probably wouldn't have said it," Gould said.