Why Gus From Breaking Bad And Better Call Saul Looks So Familiar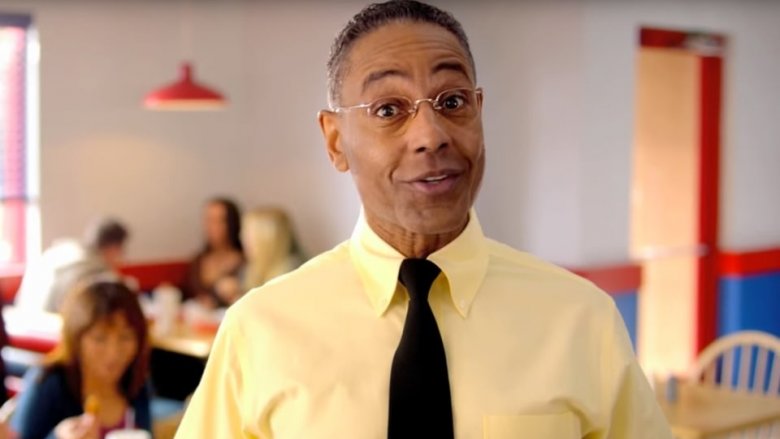 When Gus Fring first donned his light yellow button up and Los Pollos Hermanos apron, he became one of the best villains in TV history. Now, Fring's back for Better Call Saul and we couldn't be happier. Though Giancarlo Esposito and Gus Fring will always be synonymous, we need to take a look back at the actor's more than 35 year career to appreciate the genius that is Esposito.
Electric Company (1971)
Though playing a meth magnate and singing a theme for a children's show may seem entirely different, Giancarlo Esposito did them both. In 1971, Esposito sang on the track for the theme song for The Electric Company.
In an interview with the AV Club, Esposito said he was one of the singers in the choir, graced the interviewer with a brief version of the theme tune, and admitted he never made an on camera appearance during the show's long run. It's surprising to hear that Esposito started as a singer, but that wasn't his last time showing off his musical skills.
Merrily We Roll Along (1980)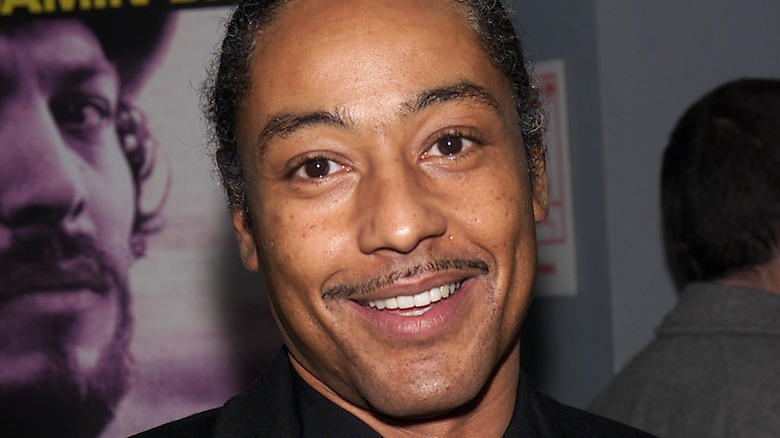 Evan Agostini/Getty Images
Unless you're a big Stephen Sondheim fan (the composer/lyricist behind Sweeney Todd, Into the Woods, and many others), you probably aren't familiar with his experimental musical Merrily We Roll Along. The story is told backwards, starting with a group of jaded, estranged former friends then goes back in time till we end with the same friends as idealistic teens. The strange structure and decision to have a cast of only teenagers and people barely into their 20s made the musical a gamble. But with Sondheim involved, how could it fail?
It did. It failed hard. It closed after 16 official performances, though it's now become a cult favorite. In the chorus of this legendary failure, was Giancarlo Esposito. Also in the cast was Jason Alexander long before Seinfeld was ever imagined. It's too bad audiences didn't know they were seeing George Costanza and Gus Fring because that would have made the show run at least another week.
Sesame Street (1982)
After appearing on Broadway, Esposito made his major television debut in practically the exact opposite of Breaking Bad: Sesame Street. Esposito played Mickey on the famous PBS show, where he almost never had to deal with box cutters but instead spent his days talking to puppets.
He told the AV Club, "That job was one of the best jobs I ever had. I was totally broke. I was a young actor who was 23 and playing 17, I had no money, and I needed the gig so bad. I had worked for RKO, doing voiceovers for black kids who didn't speak very well. I was just at the end of my rope, and I auditioned for Sesame Street, and I was like, 'How stupid is this? Sesame Street?' And I ended up working with a master: Caroll Spinney. An absolute master, and you never saw him! He was always in that silly suit as Big Bird."
Who knew that Esposito learned all his skills from Big Bird? The actor goes on to sing the praises of the show and how much he loved his couple weeks on PBS' most famous street.
Trading Places (1983)
After learning how to get to Sesame Street, Esposito started to move into film work. He appeared in Trading Places, the Dan Aykroyd-Eddie Murphy comedy. Fun fact: the short-selling scheme at the end of the film would have been perfectly legal until the Eddie Murphy law was passed.
Anyway, Esposito wasn't involved in changing stock market law, but made a brief appearance in the jail scene with Eddie Murphy. Esposito's the one showing off his guns in the tank top. It's a very small role, but gave Esposito a film credit and he got to work with one of the biggest celebrities of the time.
Maximum Overdrive (1986)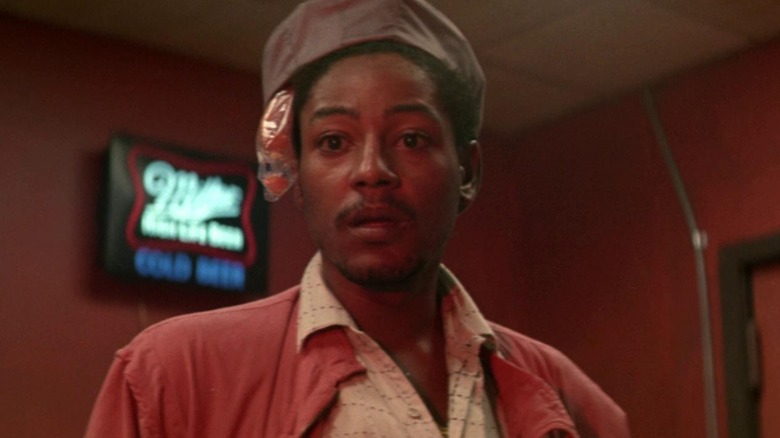 De Laurentiis Entertainment Group
Breaking Bad wasn't the first dramatic on screen death for Esposito. In Maximum Overdrive, the Stephen King directed film about machines coming to life to kill all of mankind, he played a greedy video game player.
When the video games start spilling out their quarters, Esposito fills his pockets before getting hypnotised by the Star Castle machine and getting electrocuted by the evil game. Though Maximum Overdrive probably wasn't the highlight of his career, it's one of those weird cameos that prove we've all seen Esposito a million times before the AMC show ever hit the air.
Do the Right Thing (1989)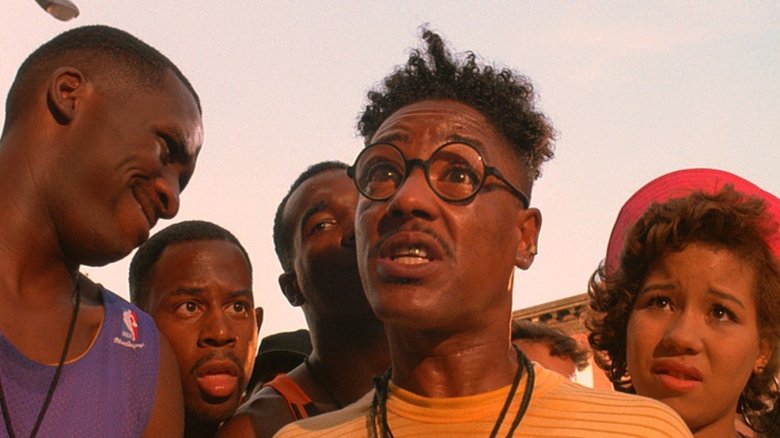 Esposito got his biggest break yet in the Spike Lee's classic Do the Right Thing. Playing the fast talking Buggin' Out, Esposito finally got the opportunity to show off his skills. His character work is so thorough and grounded and miles apart from Gus Fring.
Do the Right Thing was their second time working together and Lee and Esposito continued to collaborate many more times throughout the early '90s. In Mo' Better Blues Esposito played Left Hand Lacey, a suave piano player with an excellent pencil thin mustache and joined up with Lee and Denzel Washington again in Malcolm X. Esposito's work with Lee showed off his dramatic range and amazing character skills.
The Usual Suspects (1995)
While you were trying to solve the mystery of Kaiser Sose, you probably missed another Giancarlo Esposito appearance. Playing FBI agent Jack Baer, he's the one who first introduces the tale of Sose to the detectives.
Esposito enjoyed making the film and especially loved Benicio Del Toro's strange but genius performance. The actor said, "I really believe that in order to succeed, you have to be willing to fail, and to go to the ultimate level. When Benicio del Toro came on the set of The Usual Suspects after our first reading of the piece, the first day, he comes out and speaks that gibberish language that he was speaking, and I was like, 'Benicio, that's brilliant!' And everybody else said, 'Are you really gonna do that?' I said, 'F*** yeah, he's gonna do that! Because he's brave!'"
Twilight (1998)
No, Esposito didn't play a sparkling vampire or a shirtless werewolf in the recent Twilight franchise. Instead, he appeared in Twilight starring Paul Newman and Susan Sarandon.
Esposito plays Newman's limo driver who becomes a sidekick of sorts to Newman's Private eye. The film got mixed to negative reviews, but it gave Esposito the chance to share significant screen time with an American legend, which was probably a lot more useful than some good notices.
Homicide Life on the Street (1998-1999)
Please remember while reading this list that this is a far cry from Esposito's full resume. In between these film and TV appearances, Esposito made at least a dozen more. By the late '90s, he'd made appearances on practically every show filmed in New York and starred in his own short lived cop show called Bakersfield P.D.
In 1998, Esposito got a chance to join a major drama series for a season long arc in Homicide Life on the Street. He played Officer Mike Giardello and added to his growing resume of cop characters that he mastered.
Ghost Whisperer (2006)
In 2006, the TV show Ghost Whisperer had an episode that in some twisted universe could be seen as an accidental Breaking Bad sequel. Esposito starred in an episode titled "Fury" where Aaron Paul, who later played Jesse Pinkman, beats the hell out of Esposito and later kills him. Esposito revealed that Paul actually hit him a couple times during the shoot and Esposito slammed Paul's head into the pavement in a take gone wrong.
Maybe if Walt hadn't got his revenge on Fring, this is how Jesse would have taken him out. But it's unlikely that Jesse would ever grow such long hair with '70s sideburns and you know Fring would never let Jesse get the best of him.
Revolution (2012-2014)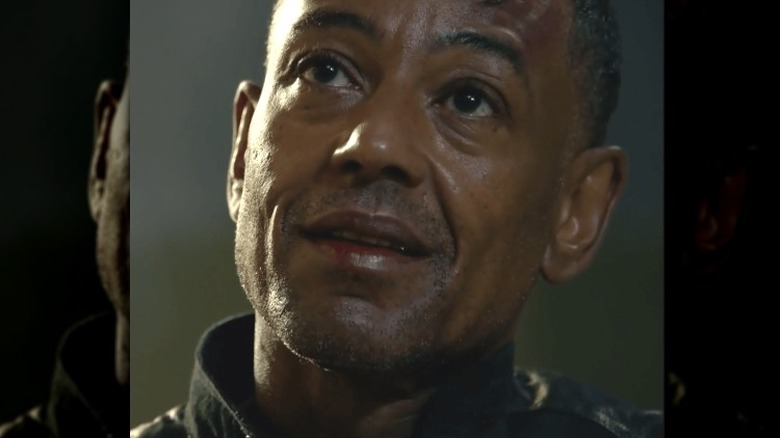 NBC
After Breaking Bad, Esposito landed a leading role on the television drama Revolution. The show takes place 15 years after a major blackout knocks out the world's electricity. Esposito plays Major Tom Neville, a simple family man who grows ruthless as he tries to survive and protect his family in this post apocalyptic world.
In an interview about the show, Esposito admitted that he had a fairly easy time relating to a world without power. He didn't own a TV until he was married and despite his great television success, he went back to ignoring TV and sticking to books.
During Better Call Saul
Just because Esposito is back in the Vince Gilligan universe, doesn't mean he doesn't have other projects going on. While working on Better Call Saul, Esposito appeared as the Magic Mirror in Once Upon a Time and as Charles Gold on Rebel. You can hear his voice narrating the Netflix series Dear White People and see him in the 1970s Bronx in The Get Down.
Though he's completed a great deal of television projects, Esposito's also busy on the big screen. James Franco directs and stars with Esposito in The Long Home and the actor landed a role in the Maze Runner film franchise.
Giancarlo Esposito has been sharing his fine acting ability with the world for more than three decades and though he spent a lot of time as "that guy" in "that thing," now his name will be forever known as one of the best actors on television.