What Lisa Marie Presley Really Thinks About Baz Luhrmann's Elvis Biopic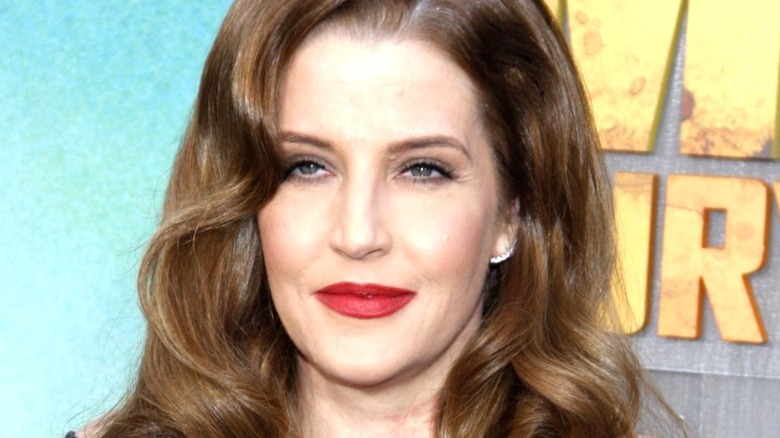 Tinseltown/Shutterstock
Baz Luhrmann's "Elvis" biopic starring Austin Butler and Tom Hanks isn't set to hit theaters until the end of June, but that doesn't mean people within the Presley estate haven't been able to get a few sneak screenings in recently. Earlier this month, we found out about the first reactions from Priscilla Presley — Elvis' wife from 1967 to 1973 — following an advance screening by Luhrmann himself. Longtime family associate Jerry Schilling was also in attendance.
"This story is about Elvis and Colonel Parker's relationship," Priscilla explained on Facebook afterwards. "It is a true story told brilliantly and creatively that only Baz, in his unique artistic way, could have delivered. Austin Butler, who played Elvis is outstanding. Halfway through the film Jerry and I looked at each other and said WOW!!!"
Over the weekend, Elvis fans got another Presley opinion — this time from The King of Rock and Roll's daughter, Lisa Marie, who also chose to share her personal review on social media. And thankfully for all involved, it seems like she is just as impressed by the film.
After two screenings, Lisa Marie calls the movie 'absolutely exquisite' and 'spectacular'
Priscilla Presley isn't alone when it comes to her appreciation for Baz Luhrmann's "Elvis" movie. 
Taking to her Twitter account on May 14, Lisa Marie Presley — Elvis and Priscilla's daughter — revealed that she, too, was blown away by the biopic. "Let me tell you that it is nothing short of spectacular," she tweeted. "Absolutely exquisite. Austin Butler channeled and embodied my father's heart & soul beautifully."
That's remarkable praise for Butler's acting, considering Presley's real-life connection. Speaking to Vogue last month, Butler recalled how he spent years teaching himself piano and guitar when he was younger, to the point where his fingers would bleed. But it wasn't just his musical talent that got him the part. Butler has a heartbreaking real-life connection with Elvis — the deaths of their mothers — which helped him channel an emotionally-charged and convincing acting performance, as well. "Elvis's mom had passed away when he was 23, the same as me," Butler said. He told Vogue about a nightmare he had before auditioning for Luhrmann, which greatly affected his approach to playing The King. "My mother was alive again, but dying," Butler said. "And it felt so fresh and painful...I thought [Elvis] probably had nights where he woke up from nightmares like this. So what can I do with that?" 
According to Luhrmann, what resulted was a performance unlike he had seen from the other actors who tried out. As Luhrmann told Vogue. "From the moment I met Austin, he was carrying something of Elvis with him."