Fans Will Love This Heartwarming First Reaction To Baz Luhrmann's Elvis
In addition to being a famous film star in his own right, Elvis Presley has become a character in and of himself over the years, with many performers playing Presley, impersonators of the music legend, or parody versions of him. The roles have been as varied as Bruce Campbell playing Presley in the 2002 cult hit film "Bubba Ho-Tep," to Jack White appearing in a blink-and-you-miss-it version of the musician John C. Reilly's Dewey Cox encounters briefly backstage in 2007's "Walk Hard: The Dewey Cox Story." Val Kilmer plays Presley as a barely-seen, often-heard supernatural figure guiding Clarence Worley (Christian Slater) in the 1993 film "True Romance." Heck, even Kurt Russell is famous for playing the singer in the 1979 TV movie "Elvis" and an Elvis impersonator in the 2001 film "3000 Miles To Graceland" (per IMDb).
The latest person to attempt an Elvis Presley biopic is filmmaker Baz Luhrmann. Despite having only five feature films under his belt, Luhrmann has already made a name for himself, with the 1996 Shakespeare adaptation "Romeo + Juliet" and the 2001 musical romance "Moulin Rouge!" turning him into a notable creative. The forthcoming Warner Bros. film, titled "Elvis," is Luhrmann's first biopic, and he takes on co-writing duties as well as directing responsibilities. As seen in the first trailer, Austin Butler plays Elvis Presley, and Tom Hanks plays his manager, Col. Tom Parker. The "Elvis" supporting cast includes Olivia DeJonge, Kodi Smit-McPhee, Dacre Montgomery, and Luke Bracey.
Ahead of the film's June 24 release, a major figure with deep ties to Presley has reacted to the movie after getting a chance to view it. Fans will no doubt love their thoughts, if only because they may be the most important seal of approval "Elvis" receives.
Priscilla Presley praised Baz Luhrmann's new movie on social media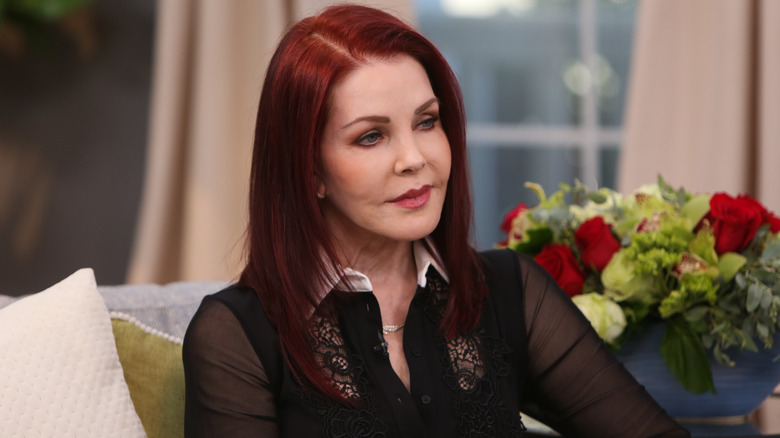 Paul Archuleta/Getty Images
Priscilla Presley, who was married to Elvis Presley from 1967 to 1973, was afforded a private advance screening of "Elvis" by director Baz Luhrmann. She attended the film along with longtime Presley associate Jerry Schilling, as both are characters in the film, played by Olivia DeJonge and Luke Bracey, respectively. 
Presley went on to effusively praise the film in a Facebook post made public to her fans. She wrote that it was uniquely a Luhrmann film artistically. "It is a true story told brilliantly and creatively that only Baz, in his unique artistic way, could have delivered." She added later in the post, "I think you will understand a little bit more of Elvis' journey, penned by a directed [sic] who put his heart and soul and many hours into this film."
Presley also praised Austin Butler in the lead role, calling him outstanding while recognizing the weight he had on his shoulders to play a version of her late husband. She added that both she and Schilling were wowed by his performance and said as much during the movie as well. She remarked, "Bravo to him ... he knew he had big shoes to fill. He was extremely nervous playing this part. I can only imagine."
This isn't Butler's first time playing a real-life figure, as he also played Manson family member Tex Watson in the 2019 Quentin Tarantino film "Once Upon a Time ... In Hollywood." Tom Hanks, meanwhile, has extensive experience playing real-life figures, including Mr. Rogers in 2019 in "A Beautiful Day In The Neighborhood." Hanks has even played an Elvis impersonator in the 2004 film "Elvis Has Left The Building" (per IMDb).