Baz Luhrmann's Elvis Trailer Will Have You Seeing Stars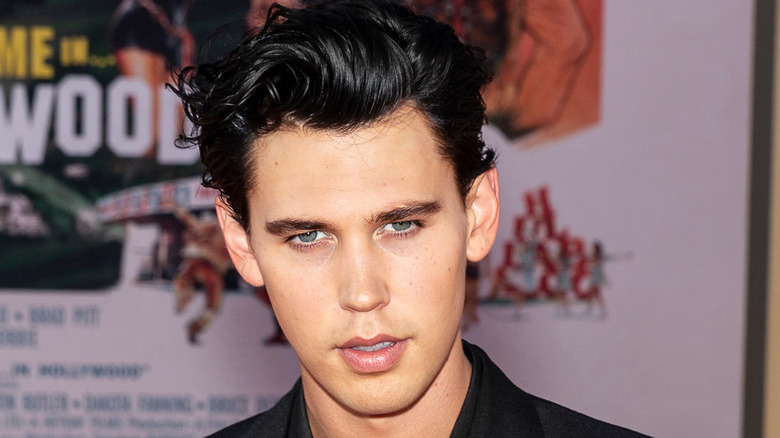 Ovidiu Hrubaru/Shutterstock
Baz Luhrmann, the director behind classic films like 1996's "Romeo and Juliet" and 2013's "The Great Gatsby," is preparing to release a new film centered around music legend Elvis Presley. Lurhmann's new movie, titled "Elvis," will focus on Presley's rise to fame and his two-decade run as one of the most famous performers in the world. And, because this is a biopic-adjacent tale told through the eyes of the director who gave us "Moulin Rouge!" we can expect this story will show the glitz, glamour, and the truth about the life of the King of Rock and Roll. Luhrmann's films are never short of all of the above as many of them tell stories of grandeur that require big scenes and bold color schemes.
The real-life Presley didn't just impact the music world, but the world of cinema, too. He starred in several films, including 1957's "Jailhouse Rock" and 1964's "Viva Las Vegas" (via IMDB). He has also been portrayed numerous times on-screen, including by Jonathan Rhys Myers in the 2003 CBS limited series "Elvis." His influence on music and the entertainment industry at large is still at work, with his hit songs and rock 'n roll persona leaving a permanent impact on pop culture and those creating it today. So great is Presley's legacy that, in the summer of 1982, his Graceland mansion opened to the public as a tourist destination. With such an eventful life and with so many accomplishments, it's no wonder Luhrmann chose him as the subject for a movie.
With the official trailer for "Elvis" finally available, fans of both Luhrmann and Presley now have the opportunity to watch with excitement as we're given a glimpse into what we can expect from the film.
The trailer for Baz Luhrmann's Elvis is filled with glitz and glamour
Baz Luhrmann's "Elvis" movie has been in the works for years, which makes the release of the trailer even more of an event. Luhrmann shared a short teaser for the movie on Twitter on February 14, offering fans the first look at Austin Butler as Elvis Presley. Butler, who was cast as Presley in 2019, beat out a handful of high-profile names for the sure-to-be-iconic role. Additional cast members include Tom Hanks as Colonel Tom Parker,  Olivia DeJonge as Priscilla Presley, Richard Roxburgh as Vernon Presley, David Wenham as Hank Snow, and Luke Bracey as Jerry Schilling.
First announced in 2014, the plot was originally said to be an "original screenplay about Elvis Presley" and "that [it] will not be based on any pre-existing material," according to The Wrap. Over time, those involved in production changed, and now the film is co-written with Luhrmann, Sam Bromell, Craig Pearce, and Jeremy Donner. By late 2020, a casting report from Variety came with an official logline for the movie, stating in part that "Elvis" will be "seen through the prism of [Presley's] complicated relationship with his enigmatic manager, Colonel Tom Parker, the film delves into the complex dynamic between Presley and Parker spanning over 20 years" and will be set against the backdrop of the evolving cultural landscape and loss of innocence in America."
The "Elvis" trailer plays through imagery that most of us are already familiar with, including the flashing lights, raucous crowds of female fans, the flashy jumpsuits, and signature dance moves that transport our imaginations to what many of us can only imagine seeing Presley live must have been like. 
"Elvis" arrives in theaters on June 24.