NCIS' Sean Murray Talks Possible Return For Gibbs And DiNozzo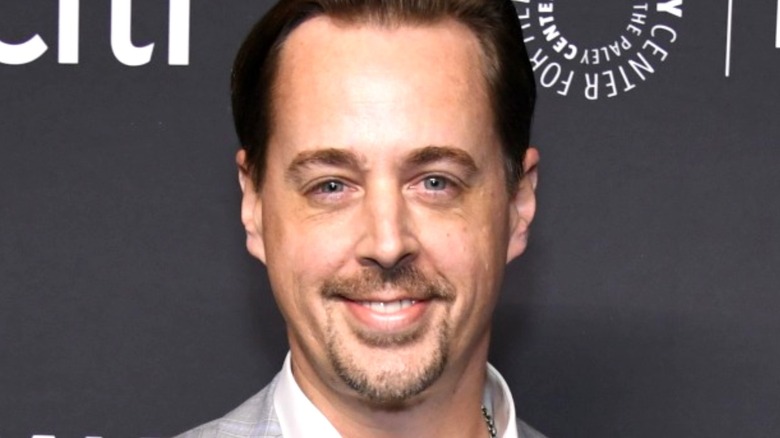 Jon Kopaloff/Getty
Significantly more awkward than most of his coworkers, tech specialist Tim McGee (Sean Murray) has been a fixture on "NCIS" since Season 1. Although he started the series as a fresh-faced probie, McGee — and, by extension, Murray himself — is now one of the most veteran members of the "NCIS" team. And it seems as though that status has given Murray the inside track when it comes to who may or may not be returning to the series. 
Season 19 has seen some monumental shake-ups in terms of characters, with long-term "NCIS" member Leroy Jethro Gibbs (Mark Harmon) resigning from his position in order to stay in Alaska. This action has had a huge impact on the show, considering that up until the 2021 installment "Face the Strange," the character had appeared in every episode of the series. Harmon's departure not only left fans wondering how the show would fare without its former leading man, but also when, if ever, the actor would make a return to "NCIS" for a cameo.
Thanks to some recent comments from Sean Murray, fans may have reason to hope that they will see Gibbs, as well as other dearly departed characters, again on "NCIS."
Murrays talks with Weatherly about his return, and says that Harmon is still on the set of NCIS
In an interview with Parade, Sean Murray revealed that while Gibbs may no longer be on "NCIS," executive producer Mark Harmon can still be occasionally seen on set. "He does pop in. I saw him two weeks ago actually," Murray revealed." So, he's around. It's not like he's packed up and left town or anything." Murray then when on to address the question that legions of "NCIS" fans no doubt have: "I'm not saying this just to say it for a tease and all that BS, I really, truly believe that the Gibbs could pop up somewhere. I really believe that there's a possibility of that happening."
And that's not all. Murray also spoke about the possibility of a return for Tony DiNozzo (Michael Weatherly), who has been missing from the show since 2016. "I talk to Michael all the time, so we joke about that possibility sometimes," Murray explained. While we'd like for those joking conversations to become more serious, at least we know that the actor is still chatting about a comeback with former co-workers — and with Weatherly's show "Bull" is coming to an end, perhaps the actor has some more free time to pay a visit to his old stomping grounds. 
Although Harmon has taken a step back from his role as Gibbs, the fact that he is still on set and engaged with the production certainly leaves the door open for his return. Perhaps fans of "NCIS" won't have to wait too long to see these two famous agents come back to the beloved show!