The Origin Story Of Jackass Star Poopies' Nickname Is As Outrageous As We Imagined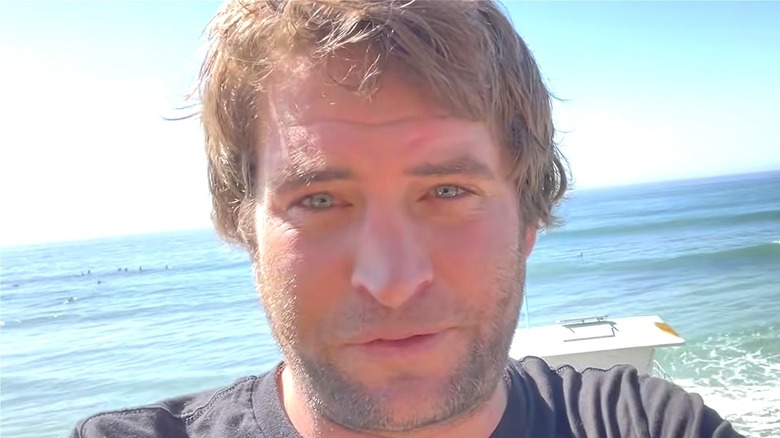 The Poopies Channel/YouTube
One does not simply wind up with a nickname like "Poopies" without a very memorable story to tell. Sean McInerny, the "Jackass" stuntman and surfer, performed some painful stunts in this year's "Jackass Forever," including flinging himself down a KY jelly slip-n-slide, getting bitten in the face by a Texas rat snake, taking a flip-flop to the groin repeatedly, and spinning around at G-force speeds while trying to chug milk (and subsequently vomiting). 
Poopies even came close to losing a hand when he tried to jump over a tank of sharks during Discovery's "Jackass Shark Week." Thanks to this stunning disregard for his own safety, he very well may be on his way to becoming a household name, like "Jackass" leaders Steve-O and Johnny Knoxville.
But how exactly did he wind up being nicknamed a colloquialism for excrement? As expected, the story is juvenile, hilarious, and even a little bit tragic. It also shows us why Poopies fits in so well with the rest of the "Jackass" crew.
Poopies' friends put him up to a dare in junior high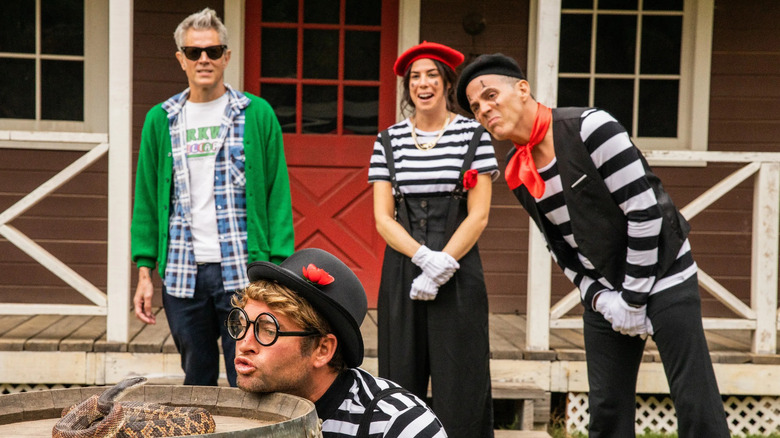 MTV Entertainment Studios
Speaking with Stab Magazine in 2016, Poopies said it all started in junior high when he and some friends were watching television; "Jackass," appropriately enough. "My friend had a gorilla mask and gloves and I shouldn't have even said it but at the time, but I said 'I gotta take a s***.' So my friend was like 'ok, go to the busiest intersection in Carlsbad [California] and put the mask on.'"
Evidently not one to shy away from a dare (or just one to easily cave to peer pressure), young McInerny accepted the challenge. He donned the mask, found the busiest intersection he could, and while his friends hid in the bushes, dropped trou and did his business.
"I felt like I robbed a bank or something," he said. "Four cop cars pulled up, yelling 'get on the ground!' The boys hopped the fence and bailed." The next thing he knew, McInerny was arrested. "And then," he said, "I was the kid who pooped in the street. Friends kept coming up with names, like s***ties, poopies, and poopies stuck."
Kids can be mean. And according to Poopies, he never went to prom or had a girlfriend in high school, thanks to the mean nickname. But if the success of "Jackass Forever" is any indication, it sounds like it's all worked out for Poopies in the end. Just so long as he isn't too precious about staying in one piece.