Poopies Is Still Recovering From His Serious Jackass Shark Stunt Injuries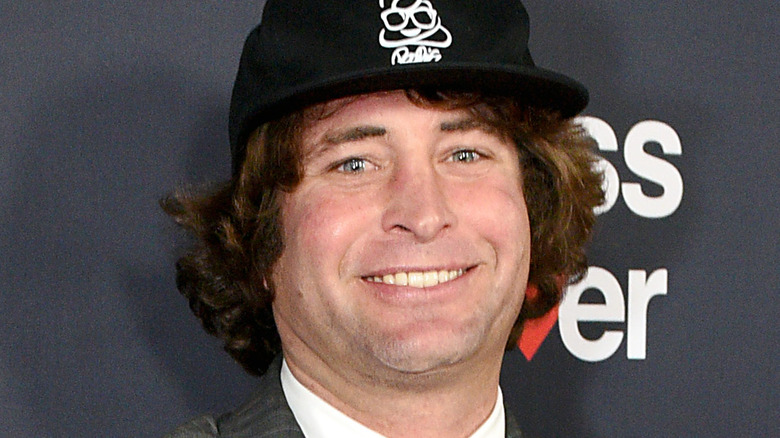 Vivien Killilea/Getty Images
The "Jackass" gang finally returned to theaters in 2022 with "Jackass Forever," which sees the team pull off bigger and better stunts than ever before, and with the same unhinged flair that fans know and love. Johnny Knoxville, Steve-O, Chris Pontius, Preston Lacy, Wee Man, and Danger Ehren pushed themselves to their limits, all in the name of entertainment. 
Thankfully, they bolstered their ranks this time around by adding some new blood into the mix, such as Zach Holmes, Rachel Wolfson, Jasper Dolphin, and Sean "Poopies" McInerney. In the movie, the newcomers prove their worth with a variety of incredibly dangerous and painful stunts, like when a scorpion repeatedly stings Wolfson's lips or when Holmes throws himself off of a ramp into a bunch of cacti. Ouch. Meanwhile Poopies gets in on the larger stunts, as he takes a shot to the groin with a motorized flip-flop in "The Dum-Dum Game" before also excessively vomiting milk on the "Vomitron" in the film's finale. 
Poopies clearly impressed the "Jackass Forever" producers, because he reunited with the team for "Jackass Shark Week" on Discovery. But when McInerney tried to jump over a shark tank on a wakeboard, he accidentally landed in the water and his hand was bitten by one of the sharks in a horrific attack. 
The stuntman recently appeared on the "Steve-O's Wild Ride" podcast to talk about his "Jackass" career, and he opened up about the shark attack. The co-stars explained that it was obvious what was going to happen — considering they were throwing chunks of meat into the water beforehand — but McInerney revealed that he still hasn't fully recovered.
Poopie's tendons and arteries were severed in the shark attack
During his appearance on "Steve-O's Wild Ride," Poopies explained that he'll never do stunts with sharks again after Discovery's "Jackass Shark Week." Although the wound itself has healed, the stuntman has been left with an incredibly gnarly scar on his hand and wrist. During the interview, the star says the arteries in his hand were severed in the attack, and it's a miracle that he survived considering they were half an hour away from the nearest hospital when filming in the Bahamas.
McInerney went on to say that he's still in physical therapy because of it, and he regularly struggles with pain in a way that means he can't use his hand properly in his day-to-day life. "I'll get on my phone, and even from just texting and typing my emails and s*** or just liking stuff, and it just starts hurting. So then I get this ache in my hand and I can't use it. And then it's like well f***, I have to use it. I have my whole day ahead of me you know?"
During the conversation, Steve-O explains that Discovery was incredibly worried about the attack, and that one of the producers was concerned it would mean the end of "Shark Week." However the stars battled for the footage to be released because it adds to the shock value of the feature, and Poopies says that at least it adds to his legacy. It's obviously incredibly sad that the stuntman suffered such a horrific attack, but it's at least reassuring to know that the rest of the "Jackass" team supported him (per YouTube) through the difficult time.