Indiana Jones 5 - What We Know So Far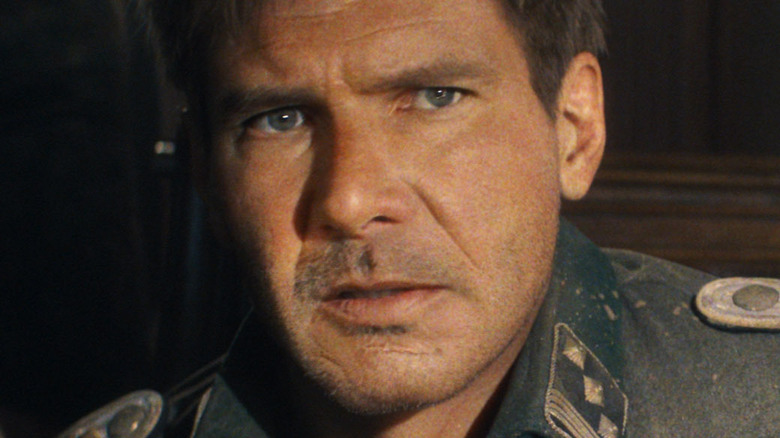 Disney
We may receive a commission on purchases made from links.
When it comes to cinematic heroes, they don't get much more iconic than Indiana Jones. The whip-cracking, fedora-wearing archaeologist has tracked down the Ark of the Covenant, gone up against a diabolical cult, discovered the Holy Grail, come face to face with aliens, and battled both the Nazis and the Soviets. He's survived everything from cobras to boulders to nuclear bombs, and now, after 15 years, Indy is coming back to the big screen.
His fifth — and from all accounts — final outing is titled "Indiana Jones and the Dial of Destiny." Indy might be older, but as he once put it so well, it's not the years, it's the mileage. And it seems the professor/adventurer has got a few more miles left in him. But what exactly is the plot of "Dial of Destiny," who's joining Indy on his adventures, and who will be sitting behind the director's chair instead of Steven Spielberg? Well, get ready for one final adventure as we discuss everything we know so far about "Indiana Jones and the Dial of Destiny."
When will Indiana Jones and the Dial of Destiny be released?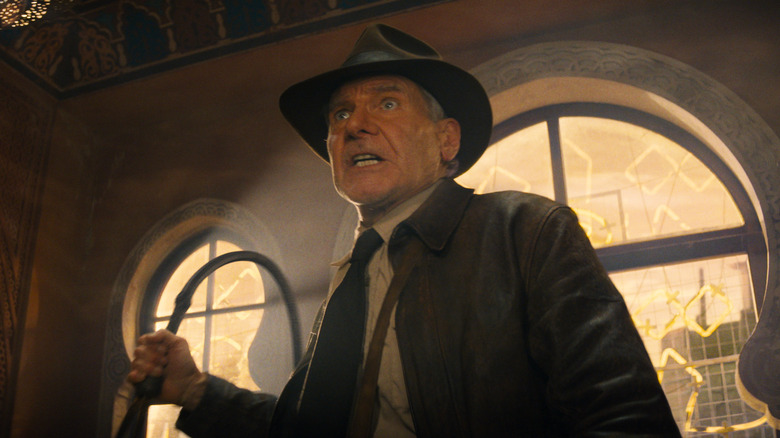 Disney
The last time we saw Indiana Jones, he was exploring the jungles of South America, avoiding killer ants, and hanging out with a leather jacket-clad Shia LaBeouf. "Kingdom of the Crystal Skull" hit theaters in 2008, and while it was the second highest-grossing film of the year — even beating "Iron Man" — it's not exactly beloved by hardcore Indy fans.
So the stakes are pretty high for "Dial of Destiny," which is set to land in theaters a little over 15 years after the fourth film. Believe it or not, the fifth movie was originally supposed to be released in July 2019, but two additional release date changes and one pandemic later, the film was finally scheduled to hit theaters on June 30, 2023.
What is the plot of Indiana Jones 5?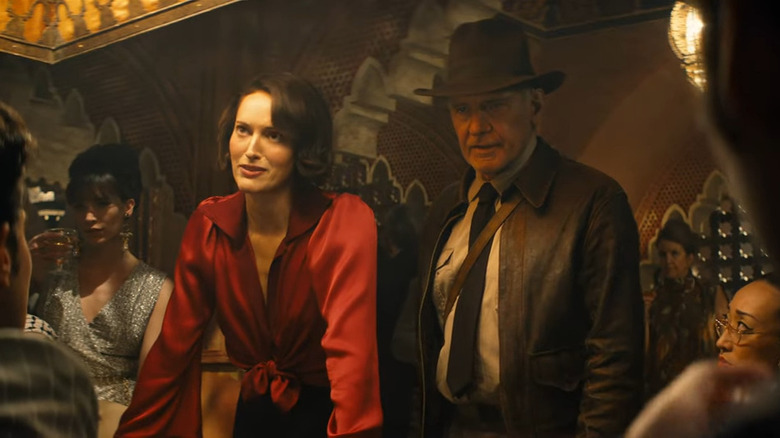 Disney
Indiana Jones has faced quite a few bad guys over the years. In "Kingdom of the Crystal Skull," he was up against a group of Soviets in South America, and he narrowly avoided having a heart to heart with a Thuggee cult leader in "Temple of Doom." However, there's one particular bunch of baddies who cross Indy's path again and again — Nazis, and boy, does Indy hate these guys.
Unfortunately for Indiana, he's not done with the Third Reich just yet, as he'll be butting heads with some very sinister Aryans in "Dial of Destiny." According to an Empire exclusive, the film will be set in 1969, during the height of the Space Race. In both the film and real life, the U.S. government employed quite a few Nazi scientists to beat the Russians to the moon. In "Dial of Destiny," one of those Nazi scientists is the nefarious Voller, whose loyalty to Hitler's regime is still strong. As Voller actor Mads Mikkelsen puts it, "He's a man who would like to correct some of the mistakes of the past."
Mikkelsen also implied that Voller is searching for something to "make the world a much better place to live in" (for Nazis, anyway). We're assuming that something is the titular dial of destiny, which Indy will need to find first with the help of his goddaughter, Helena. In addition to that relationship, the film will focus on Indy truly growing old and getting ready to take off the fedora for good. As writer-director James Mangold told Empire when discussing the script, "It became really important to me to figure out how to make this a movie about a hero at sunset."
Who is starring in Dial of Destiny?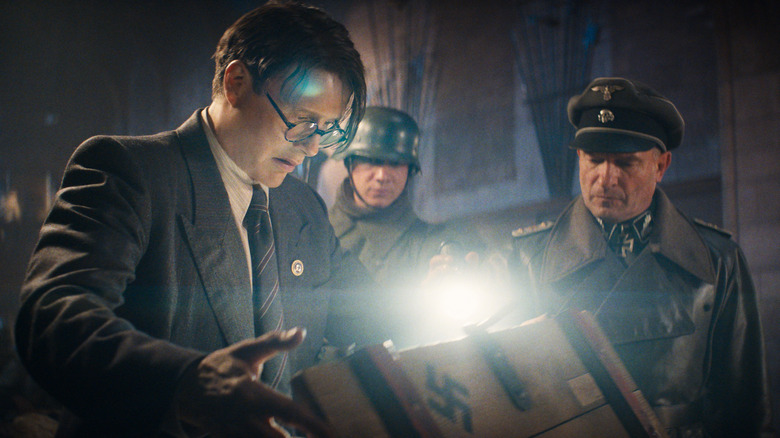 Disney
There are few actor-character combos as intrinsically linked as Indiana Jones and Harrison Ford. You simply can't think of one without thinking of the other. And unlike a certain other character from another mega franchise, Ford seems to genuinely love playing Indy. So as you might assume, the legendary actor has the bullwhip ready to go, and he'll be stepping onto theater screens as Dr. Jones for one more go-round.
But who will accompany him on this journey through the 1960s? Well, John Rhys-Davies will be returning to play Indy's BFF, Sallah. In addition to donning the fez in "Raiders of the Lost Ark" and "The Last Crusade," Rhys-Davies has also endeared himself to fans as the ax-wielding dwarf Gimli in the "Lord of the Rings" franchise. In addition to his old buddy, Indiana will be accompanied by a new character — his goddaughter, Helena, who writer-director James Mangold described to Empire as "slippery, charming, the girl next door, a grifter." She'll be played by the fantastic Phoebe Waller-Bridge, best known as the fourth-wall breaking lead of "Fleabag."
As for the big bad, Mads Mikkelsen will play Nazi scientist Voller, who's tricked the U.S. government into thinking he's abandoned his old ways but is cooking up a dastardly scheme. Mikkelsen is no stranger to playing bad guys, as he's played Le Chiffre in "Casino Royale," Gellert Grindelwald in "Fantastic Beasts: The Secrets of Dumbledore," Kaecilius in "Doctor Strange," and of course, the titular cannibal in NBC's "Hannibal." Voller's murderous enforcer, Klaber, will be played by Boyd Holbrook, another actor who specializes in scary roles, like the Reaver commander Donald Pierce in "Logan" and the Corinthian, the nightmare turned serial killer in "The Sandman."
In addition to these big names, Antonio Banderas of "Zorro" fame will show up in a cameo role. Plus, Toby Jones of "The Hunger Games" and "Captain America: The First Avenger" will play Basil, who seems to be a Marcus Brody-type based on the trailer. The film also stars Shaunette Renée Wilson ("The Resident"), Thomas Kretschmann ("The Pianist"), and bodybuilder Olivier Ritchters.
Who is directing Indiana Jones and the Dial of Destiny?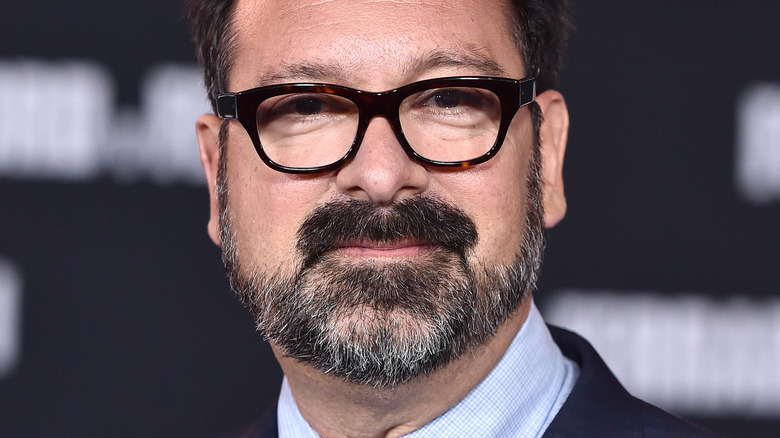 DFree/Shutterstock
When you think of "Indiana Jones," you first think of Harrison Ford. And next, you probably think of Steven Spielberg, the GOAT of action-adventure filmmaking. The celebrated director helmed the first four Indy films, and it's almost impossible to think of the franchise moving on without him. However, "Dial of Destiny" won't see Spielberg calling the shots. While he will remain as a producer, he won't be sitting in the director's chair, as he reportedly stepped away so a younger filmmaker take the reins.
However, don't worry — "Indiana Jones 5" is in the very capable hands of James Mangold, who might be the best choice after Spielberg to direct the film. After all, "Dial of Destiny" is reportedly about an aging Indy going on one last adventure before riding off into the sunset, and Mangold has already crafted a film dealing with similar themes. He co-wrote and directed "Logan," the swan song to 20th Century Fox's version of the Wolverine and one of the most critically acclaimed superhero films ever made.
In addition to "Logan," Mangold has helmed some seriously amazing films such as 2007's "3:10 to Yuma," the vastly underrated "Cop Land," the Johnny Cash biopic "Walk the Line," and the impressive sports drama "Ford v Ferrari." With those kinds of credentials, Mangold seems like the perfect person to send Indy off on one last adventure.
Who is composing the score for Dial of Destiny?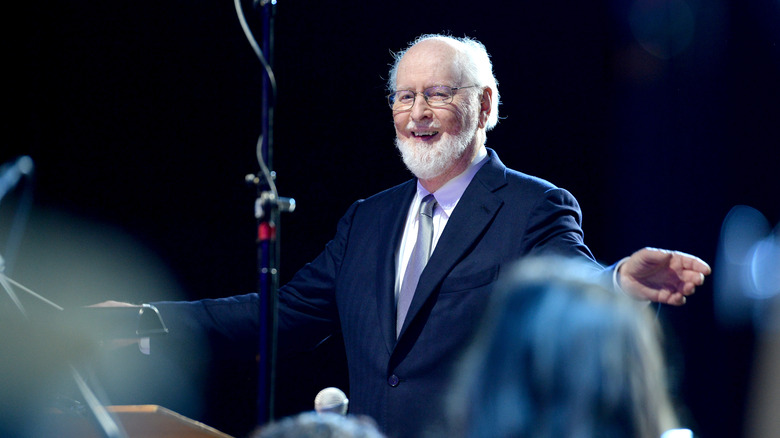 Michael Kovac/Getty Images
When it comes to film composers, there's none more famous than John Williams. Hum a classic movie theme song, and chances are good Williams wrote it. "Jaws," "Jurassic Park," "Star Wars," "E.T.," "Harry Potter," "Superman" — that's all Williams. The man even came up with the theme for the Olympics, and he's also responsible for the rousing score that accompanies Indiana Jones on each new adventure. He'll also be back for "Dial of Destiny," composing a score that's sure to get the blood pumping as Indy travels the world and punches Nazis. However, the Oscar-winning composer has implied (via the Associated Press) that this might be his last cinematic score, and if it is, it's a fitting way to say goodbye to such a musical legend.
Is there a trailer for Indiana Jones 5?
The trailer for "Indiana Jones and the Dial of Destiny" dropped at Brazil's CCXP on December 1, 2022, promising all sorts of adventure for our aging hero. When the trailer starts, it seems like Indiana is living a quiet life of a college professor — one who hasn't been in the field for quite a while. "I miss waking up every morning wondering what wonderful adventure the new day will bring us," his friend Sallah says. "Those days have come and gone," Indy replies. "Perhaps," Sallah says, "perhaps not."
Turns out, adventure isn't done with Dr. Jones just yet. As the trailer progresses, we see Indiana picking up the whip, getting in a showdown atop a train, and exploring ruins filled with Greek statues. There's a de-aged Indy in a Nazi castle (this will purportedly open the film) and an exciting chase at a crowded ticket tape parade for the Apollo 11 astronauts. All the while, Indy gives us his unique worldview, saying, "I don't believe in magic, but a few times in my life, I've seen things — things I can't explain. And I've come to believe it's not so much what you believe, it's how hard you believe."
The trailer ends with a pretty funny callback to "Raiders of the Lost Ark," where Indy used his pistol on a showy swordsman. Here, the old archaeologist tries to intimidate a room full of bad guys with his bullwhip abilities, only for every goon in the room to pull out a gun. It's a wonderful callback and a great joke, proving this new film is very much in line with the previous installments in the franchise.
Where to watch the previous Indiana Jones movies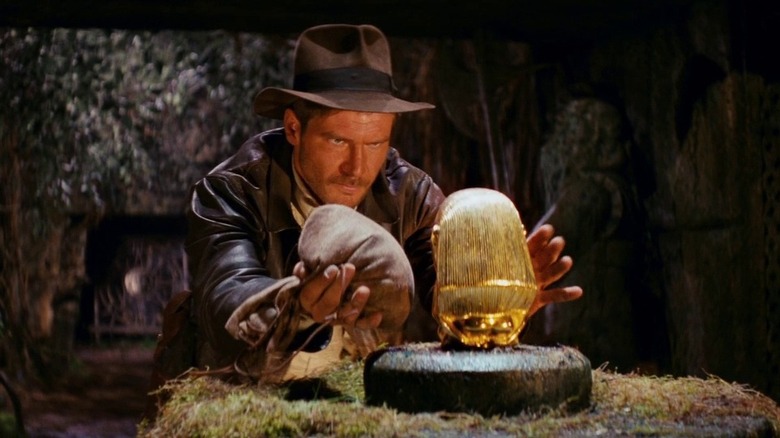 Paramount
"Indiana Jones and the Dial of Destiny" will most likely serve as the final adventure for Harrison Ford. It's also bringing back Sallah from the first and third films, and who knows what other references and secret characters from the past might appear? If you want to brush up on your Indiana Jones knowledge or perhaps just celebrate his long, exciting career, now would be a great time to check out the other installments in the series.
One of the best action movies of all time, "Raiders of the Lost Ark" introduced us all to Indy, his fear of snakes, his fondness for beating up Nazis, and his quest for mystical relics. You can stream the first film on Paramount+, rent it for $3.99 on Amazon Video and Apple iTunes or $2.99 on Google Play, YouTube, and Vudu.
The controversial second installment, "Temple of Doom," takes Dr. Jones to India, where he teams up with the adorable Short Round and the annoying Willie Scott in a quest to find the Sankara stones and deal with an evil cult. The film can be streamed on Paramount+, rented for $3.99 on Amazon Video and Apple iTunes, or rented for $2.99 on Google Play, YouTube, and Vudu.
"The Last Crusade" — which turned out not to be the last, after all — introduced Sean Connery as Indy's delightful, if neglectful, father, forcing the dad and son duo to find the Holy Grail before the Nazis can. The third movie in the franchise can be streamed on Paramount+, rented for $3.99 on Amazon Video and Apple iTunes, as well as $2.99 on Google Play, YouTube, and Vudu.
Lastly, "Kingdom of the Crystal Skull" might not be a fan-favorite, but it definitely has enough charm and fun Indy moments to deserve a watch. The fourth movie can be streamed on Paramount+, rented for $3.99 on Apple iTunes and Amazon Video or $2.99 on Google Play, YouTube, and Vudu.