It Was Hugh Jackman's Idea To Return As Wolverine In Deadpool 3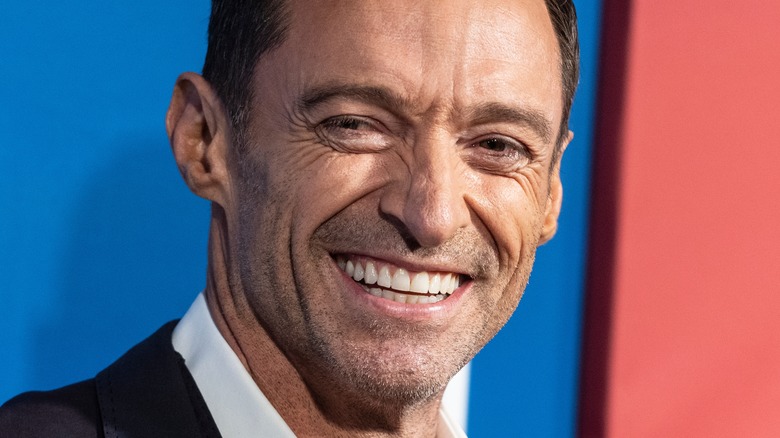 Lev Radin/Shutterstock
As you've undoubtedly heard, Hugh Jackman recently sent shockwaves through the realm of comic book cinema by announcing he's coming out of superhero retirement to once again play his best-loved character in "Deadpool 3." That character is, of course, the adamantium-enhanced "X-Men" staple Wolverine, whom Jackman portrayed in nine feature films before he famously walked away from the role after 2017's pitch-perfect swan song "Logan." 
Such it was, even the actor's most devoted fans were shocked when he and "Deadpool" star Ryan Reynolds took to Twitter to drop a hilarious video teasing Jackman's Wolverine return. Some even wondered if the video might not be part of the on, and off-screen joke-a-thon the pals have reveled in about their respective characters over the years. But once Jackman's return was confirmed (via The Hollywood Reporter), talk immediately turned to what finally drew Jackman back into the superhero game after he so amicably and artfully left it behind. 
Was it the chance to bring Wolverine into the Marvel Cinematic Universe proper? Or was it the prospect of working with his buddy Ryan Reynolds on a film near and dear to both of them? Maybe Jackman just found it too hard to let go of playing Logan in the end. Ultimately, any number of factors might've played a part in the actor's decision. What we now know for certain, however, is that Jackman's Wolverine return was 100% his own idea. 
A screening of Deadpool changed Jackman's mind about a Wolverine return
Hugh Jackman made that fact known in a recent interview with Variety covering the various stages of his acting career. When the topic of Wolverine and "Deadpool 3" invariably came up, the actor confirmed he really did intend to retire his iconic superhero persona after "Logan." Jackman also admitted the seed of his "Deadpool" return may have been planted while Wolverine's final was still in production.
What changed Jackman's mind? Watching his pal Ryan Reynolds ham it up as the Merc with a Mouth during a 2016 viewing of his superhero game-changer. "I went to a screening of 'Deadpool," Jackman told Variety, adding he almost immediately regretted his retirement, "I was 20 minutes in, and I was like, 'Ah, damn it!'" Seems shades of the roaming buddy movie Reynolds Tweet-teased in 2021 were already in Jackman's consciousness back in 2016, with the actor claiming, "All I kept seeing in my head was '48 Hours' with Nick Nolte and Eddie Murphy."
Jackman further said of his Wolverine return, "So it's been brewing for a long time. It just took me longer to get here." It seems he only decided to make that return official a couple of months ago. He promptly called his pal to let him know, adding that Reynolds responded in disbelief. "I think it was a big shock to him," Jackman stated, noting, "There was a massive pause, and then he said, 'I can't believe the timing of this.'" Turns out Reynolds had been prepping for a meeting with MCU mastermind Kevin Feige concerning the status "Deadpool 3." And it's now abundantly clear how that fateful meeting went.