Why Bob Odenkirk Butts Heads With The Better Call Saul Writers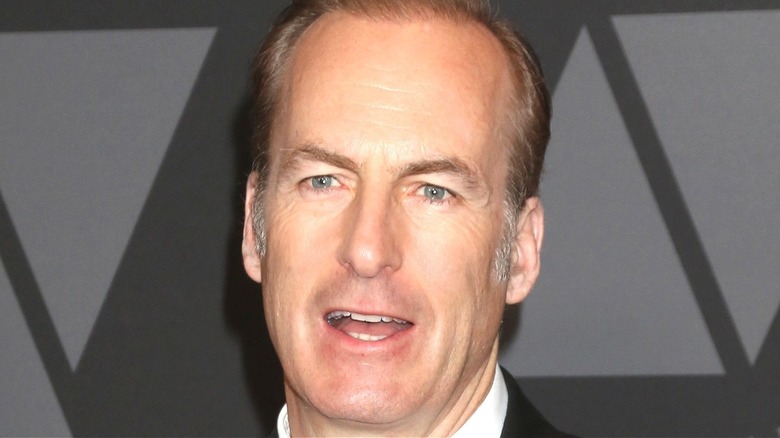 Kathy Hutchins/Shutterstock
Bob Odenkirk has opened up about his disagreements with some of the choices that Vince Gilligan and Peter Gould have decided for his "Better Call Saul" character. In an interview with Awards Focus, Odenkirk described how tough it has been reconciling with some of the choices Jimmy McGill has made as he enters into the murky moral ground that will take him further toward becoming his "Breaking Bad" counterpart, Saul Goodman. 
While Odenkirk loves the nuance of playing a character with such range and depth, he admits that he doesn't always quite understand him. "Honestly, yes. There are moments where I say that 'I think this is too far,' or that I don't understand the choice," the actor said in response to questions about the character's moral degradation over the course of the fifth season of "Better Call Saul." Luckily, he's able to find compromises that make the character work for himself and the showrunners.
Bob Odenkirk Compromises with Better Call Saul Showrunners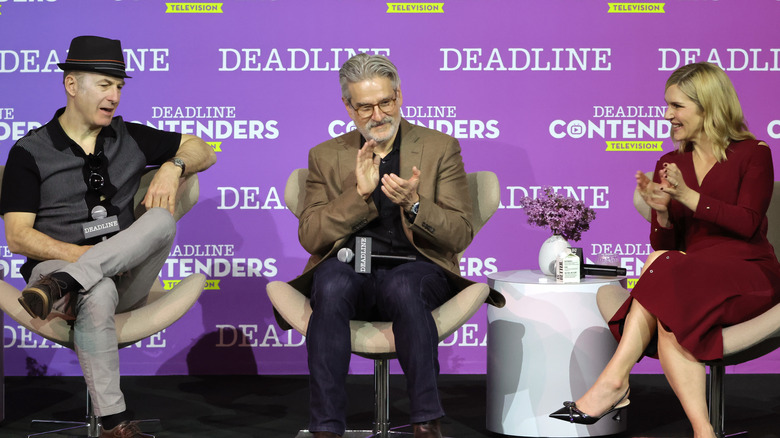 Kevin Winter/Getty Images
Bob Odenkirk laments that he wants what's best for Jimmy, but as showrunner Peter Gould reminds him, "That's the story we're telling. You don't have his ear." Since fans of both "Better Call Saul" and "Breaking Bad" will no doubt know where Jimmy McGill's choices are bound to take him, it's easy to see Gould's point. Though Odenkirk's is one of the few "Breaking Bad" characters who actually escapes relatively unscathed at the end of the series, that doesn't mean his troubles are over. 
Flash-forwards throughout "Better Call Saul" show that Jimmy/Saul is now Gene, a meek and mild Cinnabon worker who is trying desperately to keep a low profile. However, a recent promo from AMC featured Jimmy McGill as the focus of a fictional true crime show titled "American Greed." In the promo, it's revealed that law enforcement is indeed still looking for the man who helped Walter White and Jesse Pinkman elude capture for so long. 
Bob Odenkirk's Comedy History Helped Make Saul Goodman Work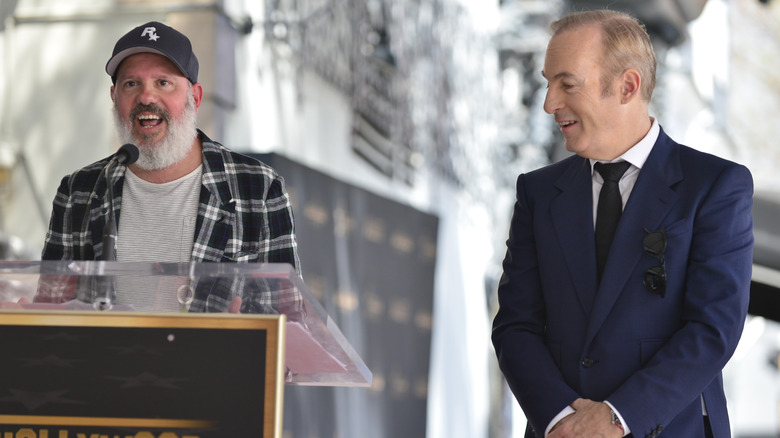 Jerod Harris/Getty Images
Also known for his outstanding comedy work, Odenkirk was responsible for writing one of the most famous "Saturday Night Live" sketches of all time. Featuring Chris Farley as motivational speaker Matt Foley, the sketch has him warning two teenagers that they'll end up "living in a van down by the river" if they don't get their lives together. Of course, Odenkirk is beloved for his work on HBO's "Mr. Show," which he co-created with David Cross. Even with such grand accolades as these under his belt, however, he's still best known for his role as Saul Goodman aka Jimmy McGill on "Better Call Saul" and "Breaking Bad." 
Still, he wishes he could help Jimmy do better, but understands that this is not going to be the case. "And in the end, we know how those choices pan out," the actor told Awards Focus. "We've seen 'Breaking Bad' and the road Saul takes." It sounds like Odenkirk has made peace with where Jimmy will ultimately end up, but will fans feel the same? With the final season of "Better Call Saul" currently underway, we'll have our answer soon enough.