Our Flag Means Death's Rhys Darby Has More Voice Acting Roles Than You Might Think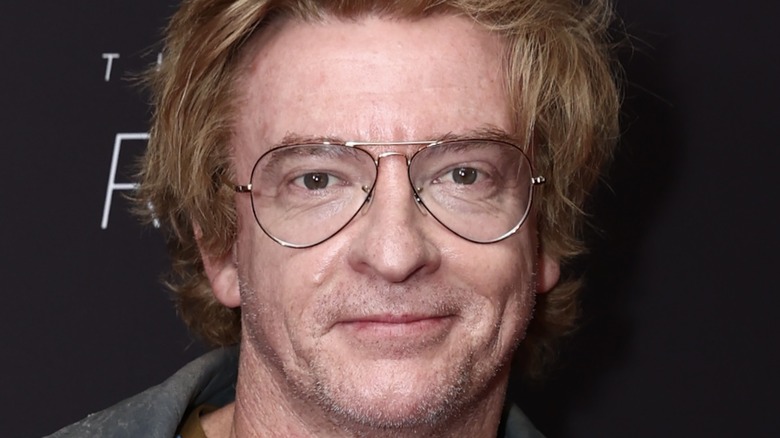 Matt Winkelmeyer/Getty Images
New Zealand actor and comedian Rhys Darby has enjoyed a cult following ever since his days starring as the band manager in 2004's BBC radio series "Flight of the Conchords," and then later in the HBO series of the same name. Since then he's had a career that specializes in small but memorable comedic roles, such as Jim Carrey's boss in "Yes Man," and Nigel Billingsley, the guide in "Jumanji: Welcome to the Jungle" (via IMDb).
Darby is good friends with his former "Flight of the Conchords" castmates Jemaine Clement and Bret McKenzie, and actor and director Taika Waititi, and has jumped at any opportunity to work with his friends over the years, such as in the vampire mockumentary "What We Do in the Shadows," where he plays werewolf leader Anton. Waititi also directed Darby in the film "Hunt for the Wilderpeople," and the two are currently starring in the series "How Our Flag Means Death," in which Darby plays the lead for the first time, as Stede, 'the Gentleman Pirate.' While he's thrilled at his first leading role, he told The Nerdist "The cherry on top is my mate Taika being there. It just felt like it was meant to happen."
Darby has also become quite a prolific voice actor over the years, and while many people may have heard him during stints on "Voltron: Legendary Defender" and "Bob's Burgers," most people don't realize how many voice acting roles he's actually had.
Rhys Darby is credited with over 30 voice roles
Rhys Darby's first voice acting role was as Dennis Gobb in "Missing Christmas" in 2012. He has since voiced characters in over 30 television series and films since then — even more if you count video games — including reprising his role as Dennis Gobb in 2016 for "The Barefoot Bandits" animated series (via IMDb). Shortly after he got the role in "Missing Christmas," he began voicing Percy the Penguin in the animated series "Captain Jake and the Never Land Pirates."
Darby got much more immersed in voice acting after taking the role of Coran in the Netflix animated series "Voltron: Legendary Defender," which he considers his first major role on an animated project, as he revealed to Digital Trends. "I've done bits and pieces on other things, but this one is a fairly big deal," he continued. Darby told the outlet that he was impressed with his portrayal when he saw that Coran was made out to be similar to how he is in real life. "It's kind of amazing, really. I think they knew what I was like in real life and put a version of that in the show," the actor said.
While Darby doesn't have any voice roles he's currently filming, he can be seen in the upcoming "Next Goal Wins," directed by Taika Waititi, and "Relax, I'm From the Future," where he shall be playing a character named Casper.