Will Ezra Miller's Flash Movie Erase The Snyderverse?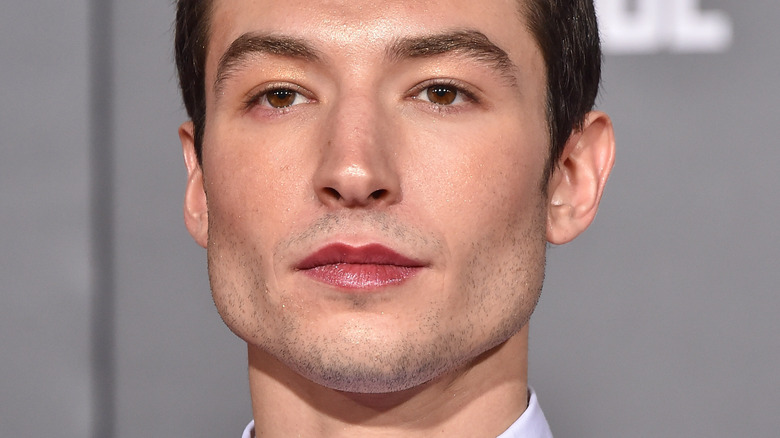 DFree/Shutterstock
As of this writing, we know a good bit about "The Flash" solo film. Thanks to the CinemaCon presentation of an unreleased trailer, we know that Michael Keaton's Batman will play a central role. It was also revealed that Ben Affleck's Batman would return as well, given the multiverse shenanigans that are set to unfold. "The Flash" film will also draw from elements of the famed Flashpoint story in DC Comics. Although it's unclear who the main antagonist of the story might be, the first teaser for the film reveals that Barry clearly runs into another version of himself, Keaton's Batman, and even Sasha Calle's Supergirl.
Although Miller's version of Barry Allen and Affleck's Batman come from what is referred to as the Snyderverse, which includes all the members of "Zack Snyder's Justice League," insiders told Variety that the Warner Bros. merger with Discovery could spark an overhaul its DC characters. This could have been set in place already with the upcoming "Batgirl" movie, which Deadline confirmed will feature Keaton's Batman (and no confirmation yet if Affleck will don the cowl again after "The Flash"). Not to mention, Henry Cavill's Superman return has been up in the air since 2018 after complications with Warner Bros.
With these potential big changes on the horizon at the new Warner Bros. Discovery, some fans are wondering if "The Flash" movie will serve as the catalyst for a new DC film universe, effectively erasing the Snyderverse. Here's what we know. 
Ezra Miller says The Flash will not destroy the Snyderverse
According to a recent thread on Reddit, "The Flash" actor Ezra Miller seemingly shot down rumors that his character's solo movie will effectively erase the Snyderverse. User thatwasagoodone5598 released an apparent screenshot from an unnamed fan who messaged the account @ezra._x_.aradia on Instagram about "The Flash" erasing the Snyderverse movies. This account is apparently one of Miller's that he uses from time to time, and he responded to the fan. In the screenshot, Miller explains, "No power or force in any known megaverse would or could ever erase Zack Snyder's mighty wrkz," adding, "You can take that quote."
Although this doesn't seem to completely answer the question, serving mostly as support from Miller to Snyder, it's a good sign for fans of the Snyderverse that although nothing new with the director will likely be coming from Warner Bros. Discovery anytime soon, the Snyderverse lives on. This would certainly make sense given the fact that we have yet to see "Aquaman and the Lost Kingdom" along with "Wonder Woman 3," which has seemingly been confirmed by Gal Gadot and writer/director Patty Jenkins. Even with Miller's legal struggles, it should be somewhat comforting for fans to know that the lead actor of "The Flash" is behind the Snyderverse. We'll keep you posted.