The Witcher Actor You Likely Missed In Star Wars: The Rise Of Skywalker
"The Witcher" is something of a rarity — and not just because it's actually getting a third season on Netflix. It's both fairly well reviewed and well-liked, with Season 1 earning a 68% Rotten Tomatoes score and Season 2 jumping up to 95% (with an average audience score of 75%). The show has quietly filled the sword and sorcery void on screens while everyone waits endlessly to see how Amazon's kajillion-dollar "Lord of the Rings" series turns out. As if we could ever have too much magic and mayhem in our lives. But "The Witcher" has achieved something that's hard to do in the typically gritty genre: It's fun.
The show (based on the book series of the same name) follows the exploits of monster hunter Geralt, who often finds that people are worse than the evil creatures he seeks. How very 2020s. Geralt is played by Henry Cavill (that's right, Superman does other stuff when he's not Superman-ing), and he's by far the most familiar face in the cast. But there are other talented actors in this mystical realm, like Freya Allan (Princess Ciri) and Anya Chalotra (Yennefer, which is like Jennifer but not). Through two seasons and 16 episodes, these faces have led us to high adventure on "the Continent" (as the locals call it).
There's also another actor involved here who isn't a stranger to fantasy worlds. In fact, she has appeared in one of the most popular cinematic franchises of all time.
Mimi Ndiweni was in Star Wars: The Rise of Skywalker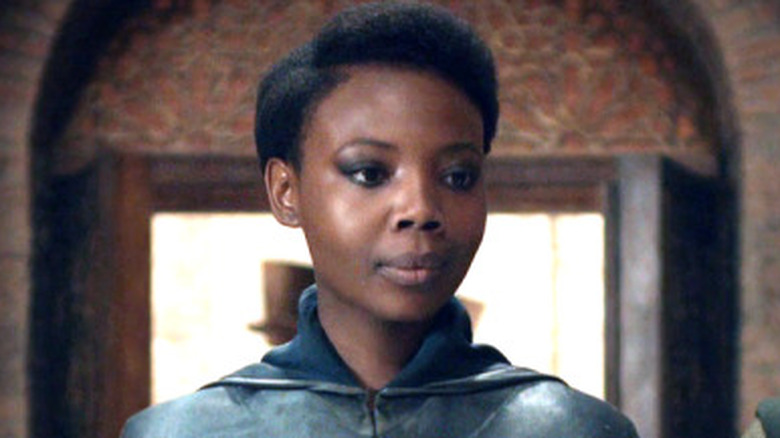 Netflix
Yes, that's right. The sorceress Fringilla on "The Witcher" has also been around the galaxy a time or two. Okay, one time. Mimi Ndiweni did the whole "death to the Empire" thing in "Star Wars: The Rise of Skywalker," which, as it turns out, was seen by more than a few people (a billion and change in worldwide ticket sales, per Box Office Mojo). If you missed the connection, it might be because Ndiweni did something sneaky that threw us off the trail. Ahead of the second season of "The Witcher," she changed her credited name to Mimî M. Khayisa. So if you noticed a Mimi Ndiweni in the credits of "The Rise of Skywalker" (listed simply as "Resistance Officer") and wondered if it was in fact the Mimi from Season 2 of "The Witcher," now you know. You're welcome.
If you missed her part in "The Rise of Skywalker," though, don't feel too bad. There are kind of a lot of cameos to keep track of as it is (ghost Han Solo, anyone?), and Ndiweni's role is brief (so brief she doesn't even get a proper name). She shows up mostly in the background while the heroes with names go from Point A to Point B. So you know, there's that. Long live the rebellion.
Clearly, Khayisa has developed a taste for fantasy realms. And between "Star Wars" and "The Witcher," she's covered a lot of ground already.