Chris Evans Explains How His Gray Man Character Is The Complete Opposite Of Captain America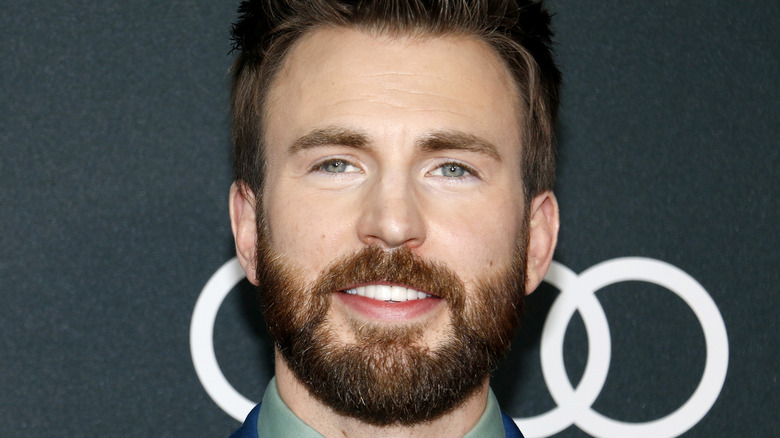 Tinseltown/Shutterstock
It's been a few years since Marvel fans saw Chris Evans suit up as Captain America for the final time in "Avengers: Endgame." Although fans expect the star to return to the MCU in the future, he's prioritizing other projects for the moment — and he'll next be seen in Netflix's "The Gray Man" alongside Ryan Gosling and Ana de Armas. The action-thriller is based on the book of the same name by Mark Greaney, and it follows CIA operative Sierra Six (Gosling) who goes on the run after uncovering the organization's dirtiest secrets.
It's one of the most expensive films Netflix has ever made, as the streamer spent over $200 million on its budget (via Entertainment Weekly). But with the Russo brothers on board as directors, it's clear that audiences are in for something special. They previously worked on "Extraction" with Chris Hemsworth for the streaming service, and that has been one of Netflix's most popular original films (per Bloomberg).
Evans plays Lloyd Hansen, one of Six's old colleagues who is in charge of hunting down the assassin on a globetrotting adventure. Joining Evans and Gosling is "Bridgerton" alum Regé-Jean Page as Carmichael, and "Luke Cage" star Alfre Woodard as Maurice Cahill. So if you couldn't tell already, it's a cast stacked with talent. But Evans recently revealed that his character in "The Gray Man" is the complete opposite of Captain America, and it sounds like Gosling's hero will have a difficult fight on his hands.
Lloyd Hansen is a twisted anarchist
Not only is Lloyd Hansen an incredibly talented assassin, but he's also a deranged anarchist — as co-writer Stephen McFeely recently told Empire Magazine. "He's a trainwreck of a human being. That guy can be anything in any scene, because all he wants is anarchy." It seems like the mustachioed bad guy is going to be an unpredictable force of nature, although Chris Evans explained to Empire that this wasn't always the plan. "It does seem that I've aggressively gone 180 [degrees] from Steve Rogers. But it just kind of unfolded that way."
Evans has already got a great working relationship with the Russo brothers due to "Captain America: The Winter Soldier," "Captain America: Civil War," "Avengers: Infinity War," and "Avengers: Endgame." And the star explained that their involvement is why he signed on for the Netflix movie, saying, "I love the Russos, and I'll pretty much do anything they ask me to do. And this is a character I've never been able to play. He's so liberated, and free, and honest."
The Marvel alum also pointed out that Lloyd is a wolf in sheep's clothing, and that his smile is his greatest weapon. "What I like about him is that you should almost fear his smile more than his scowl. I think he understands that what he does is bad and harmful, but I think he considers himself necessary. He thinks he's a disrupter." After years of playing Steve Rogers, it's easy to see why Evans is relishing the chance to play a complicated bad guy.