The Good Doctor Star You Likely Forgot Starred In CSI: Miami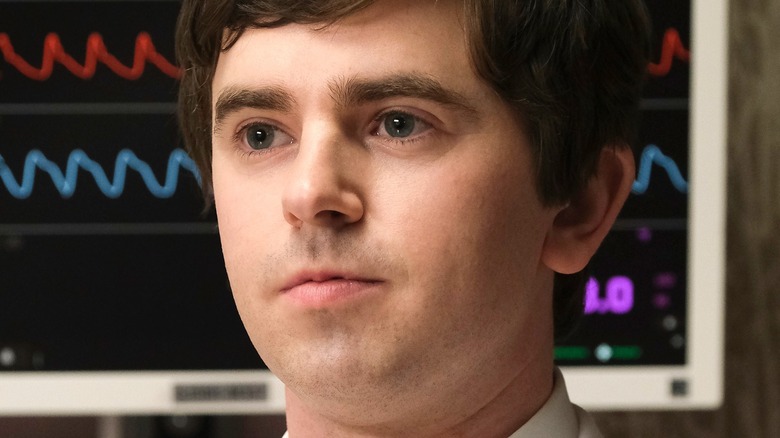 Jeff Weddell/ABC
Since 2017, ABC's "The Good Doctor" has followed the exploits of Dr. Shaun Murphy (Freddie Highmore), a young medical professional with autism and savant syndrome. Murphy's colleagues at St. Bonaventure Hospital include Dr. Aaron Glassman (Richard Schiff), Dr. Marcus Andrews (Hill Harper), and Dr. Morgan Reznick (Fiona Gubelmann). Highmore came to the series with a certain amount of cachet thanks to his starring roles in TV shows like "Bates Motel" and movies like Tim Burton's "Charlie and the Chocolate Factory." But the supporting cast members have impressive credits, as well, with Schiff being well-loved for his portrayal of Toby Ziegler in "The West Wing" and Gubelmann co-starring FX's cult comedy hit "Wilfred," among many other examples. 
With all that prestige, it can be easy to overlook a "Good Doctor" cast member's connections to other popular shows. Case in point: Did you know that a major player from "The Good Doctor" previously had a recurring role in "CSI: Miami," the ultra-popular procedural spin-off hit? 
Christina Chang played Rebecca Nevins in CSI: Miami
Christina Chang, who plays surgeon Dr. Audrey Lim in "The Good Doctor," has been a presence in film and TV since she made her debut in a 1997 episode of the soap opera "As the World Turns" (via IMDb). With over two decades of experience under her belt, it would be easy to forget that she appeared in 10 episodes of "CSI: Miami" as State Attorney Rebecca Nevins. 
Nevins pops up in Seasons 3, 6, and 8, during which time she gets involved with series lead Horatio Caine (David Caruso). Throughout her time on the show, she flirts with danger, literally and figuratively, and during one storyline, she is forced into prosecuting Caine's son Kyle Harmon (Evan Ellingson) after she and Caine split. This conflict of interest complicates matters between her and Caine multiple times in the 6th season. In her final appearances in the show during the Season 8 episode "Time Bomb," Nevins is unexpectedly killed in an explosion during a tense investigation into stolen diamonds.
A few years after ending her run on "CSI: Miami," Chang would go on to join ABC's "The Good Doctor."