The Real Reason The Good Doctor Almost Didn't Air On ABC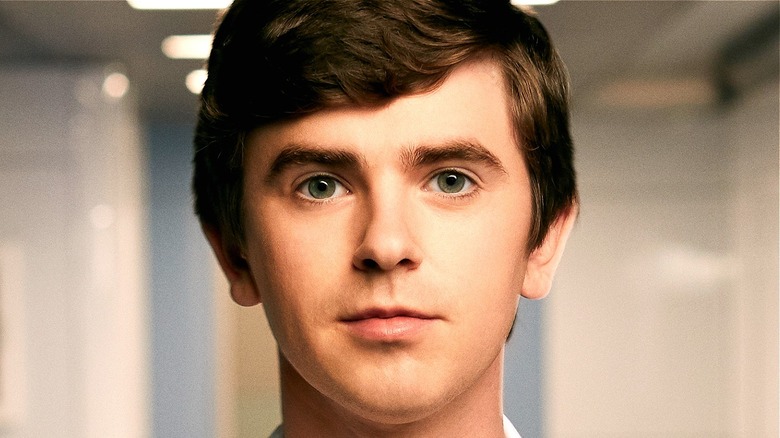 ABC/Art Streiber
Fans of Dr. Shaun Murphy (Freddie Highmore) rejoiced when ABC announced that "The Good Doctor," which is currently on its 5th season, would return on February 28, 2022, an earlier date than anticipated. Since the show's premiere in 2017, millions of viewers have dedicated their Monday nights to watching Shaun and the other highly-skilled surgeons of San Jose St. Bonaventure Hospital complete complicated procedures on severely sick and dying patients.
Despite its 10 p.m. air time, which is often seen as a dreaded slot, "The Good Doctor" garnered an instant fan base five years ago. In 2017 (via Vulture), the American adaptation of the Korean drama rose above NBC's "This Is Us" and CBS' "NCIS" in ratings after only its first few episodes.
Though hospital dramas are nothing new, there's something about "The Good Doctor" that's resonating with people. Nearly every moment is fast-paced and emotional in some way, all with the occasional dash of much-needed humor as Shaun, who is on the autism spectrum and has savant syndrome, navigates his career, love life with Lea Dilallo (Paige Spara), and mission to better communicate with patients.
But despite the ever-growing fandom behind Dr. Shaun Murphy, "The Good Doctor" almost didn't air on ABC.
The Good Doctor was originally supposed to air on CBS
ABC/YouTube
Initially, "The Good Doctor" was slated to air on CBS. In 2014, it was reported that the network was working with "Lost" and "Hawaii Five-0" actor Daniel Dae Kim to create the American adaptation (via Korea JoongAng Daily) with an expected air date in 2015.
However, the project never came to fruition under CBS, which passed on "The Good Doctor" twice, as Kim admitted to The New York Times. He then bought back the rights to the show, allowing ABC (via Deadline) to jump at the opportunity to bring it to the states, with Kim serving as executive producer. In fact, Kim even appears on "The Good Doctor" for a handful of episodes as Dr. Jackson Han, who has his own way of doing things as the new chief of surgery, much to Shaun's discomfort (via Deadline).
According to Channing Dungey, who was serving as ABC Entertainment Group president at the time the network acquired "The Good Doctor," the decision to pick up the show was a "no brainer" (via The Hollywood Reporter). She said, "We had gotten to a point as a network where we were skewing very heavily female in terms of some of the stories we were telling ... and feeling like we wanted to have a slightly broader access point that would allow men and women, old and young, into the tent."