Why Detective Nina Cassidy From Law & Order Looks So Familiar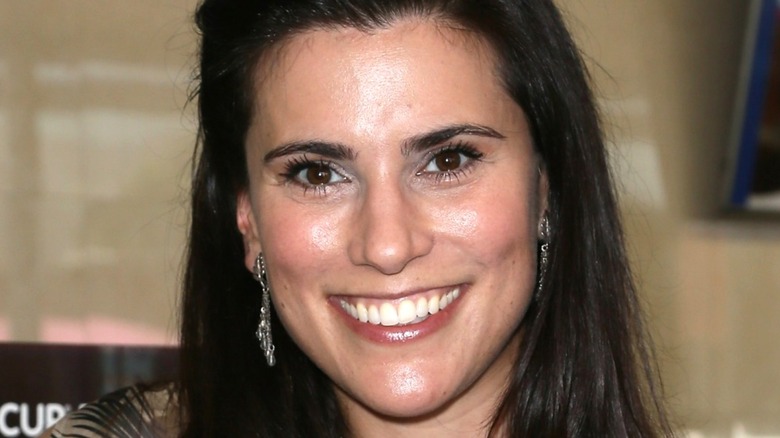 David Livingston/Getty Images
In Season 17 of "Law & Order," the series' first-ever female detective is introduced in the form of Nina Cassidy. The young detective's assignment to the 27th Precinct comes after her swift actions during a shootout at the beauty parlor she is stationed near bring lots of positive press to the police force. 
Unfortunately, the press nicknames Nina "Detective Beauty Queen," leading to ridicule among her peers. Her integration into the precinct proves to be even more of an issue among the staff when Nina becomes esteemed Detective Ed Green's (Jesse L. Martin) partner with very little experience. While she does prove her worth throughout the season, she doesn't appear in Season 18. 
Nina is not the only the female detective in the "Law & Order" universe, but she remains to date the only female detective ever to grace the halls of the original "Law & Order" series. So, what else has such a groundbreaking actress done in her career, and why does she look so familiar? We've got the answer.
Milena Govich entered the Law & Order universe with Conviction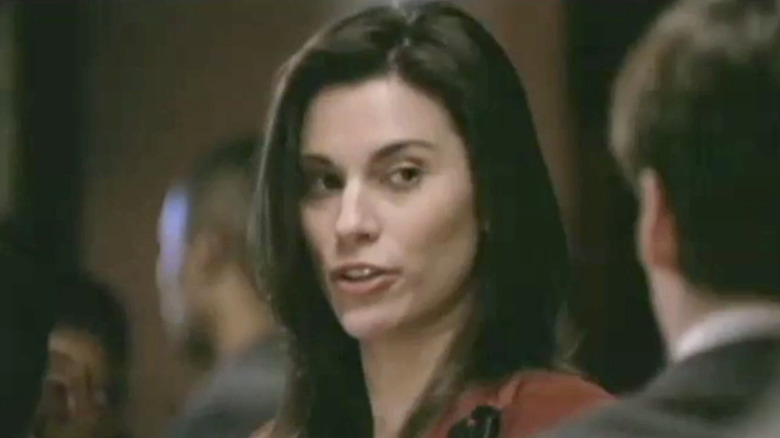 NBC
Milena Govich, who played Nina Cassidy in "Law & Order," actually had a lot more to do with the world of the series than you might think. Before starring in "Law & Order," she was involved in a different series also executive produced by Dick Wolf called "Conviction." The drama series is set in the same continuity as the rest of the "Law & Order" world. "Conviction" follows a group of assistant district attorneys (ADAs) in Manhattan. Stephanie March reprised her role as Alexandra Cabot from "Law & Order: Special Victims Unit" for the spinoff and Govich plays one of the main characters, ADA Jessica Rossi. 
The show is intended to focus less on court cases and more on the lives of those in the office. In Rossi's case, she deals with an abusive mother who causes her brother to become unhealthily dependent on her. As she works in the DA's office, Rossi also enters into an affair with her supervisor, Jim Steele (Anson Mount), while trying to find her footing in the justice system. She also forms a close friendship with coworker Christina Finn (Julianne Nicholson), and the two support each other in the male-dominated field. 
Unfortunately, "Conviction" was canceled in the middle of its first season, but fans of the "Law & Order" franchise would luckily see more of Govich a few years later.
Govich took a darkly funny turn in Rescue Me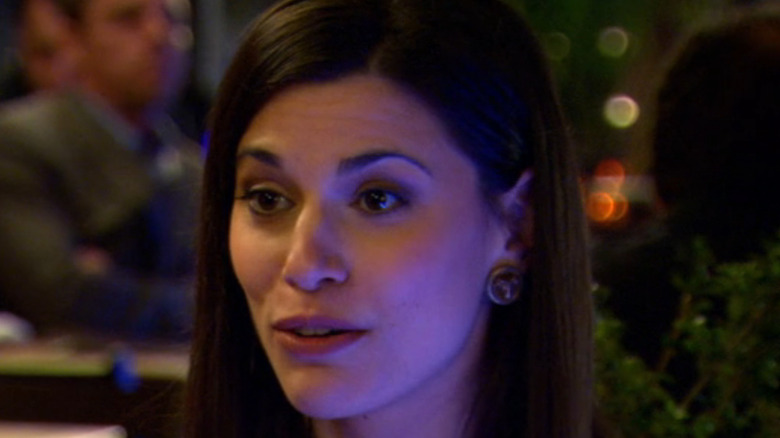 FX
While Milena Govich was in "Law & Order," she also appeared in the series "Rescue Me" between 2005 and 2009. "Rescue Me" follows Denis Leary's firefighter Tommy Gavin as he navigates the pressures of his dangerous job and a tumultuous relationship with his ex-wife. At the same time, he is also grappling with the trauma caused in part by the 9/11 terrorist attacks. 
Govich first appears in the dark comedy series in Season 2, Episode 7, "Shame," as the character Candy. One of the firemen, Lou (played by John Scurti), calls on Candy, a sex worker, simply to take her on a fake date in an attempt to regain the interest of an ex-girlfriend. However, the tables quickly turn and Candy manages to con Lou out of his entire life savings. But not to worry, the pair eventually get married further along in the series. 
It's a wild ride throughout the couple's relationship, and the show includes some fantastic dry humor that Govich gets to bring to the screen. She stars in "Rescue Me" through the end of Season 5, though she unfortunately never became a series regular.
A Novel Romance gave Govich a different type of role
Milena Govich has ventured into feature films a few times, but no role has been more notable than her character in "A Novel Romance." The 2011 film tells the story of Nate Shepard (Steve Guttenberg) who gets fired from his advertising job and dumped by his live-in girlfriend Adi Schwartz (Shannon Elizabeth), and he suddenly finds himself in a mid-life crisis. 
Nate brings in a new roommate, Jenny Sparks (Govich), to help smooth things over, and in the natural progression of romcoms, it does the exact opposite. Jenny swiftly breaks all the "roommate commandments" that Nate attempts to impose. She brings dogs into the apartment, scatters her personal belongings throughout the bathroom, hosts parties at which she gets drunk, and more. However grating her actions seem, Nate begins to warm up to her, and the two eventually enter into a romance.
As Jenny, Govich was given a role that allowed for a slight break from the more fun-averse characters she's played on television. In "A Novel Romance," she delivers funny one-liners, lets her inhibitions go, and plays a sincere love interest. But fans of Govich's darker work wouldn't have to wait long to see her return to that type of material.
Finding Carter was a return to form for Govich
In MTV's "Finding Carter," Milena Govich took a more hardened villainous turn. The series follows Kathryn Prescott's Carter Stevens who finds out around the time of her 16th birthday that the woman raising her is not her mother, but rather her kidnapper. The kidnapper in question is a woman named Lori Stevens, who Govich plays for the show's two seasons, airing between 2014 and 2015. 
As Lori, Govich plays a much darker character than her slightly nefarious role in "Rescue Me." Lori uses a plethora of nicknames in an effort to hide her illegal deeds, which include stalking Carter's real family, the Wilsons, before Carter is even born. As the series progresses, it's revealed that Lori also abducts several other children that Carter grows up with, as well as the mind-blowing claim that Lori herself is in fact Carter's real mother, as she is her parents' egg donor. 
The role gave Govich plenty of twisted material to bring to life and also allowed her to be a series regular rather than just a guest star, as most of her roles were in the past.