Titus Welliver And Mimi Rogers Discuss Bosch: Legacy And Reflect On The Doors - Exclusive Interview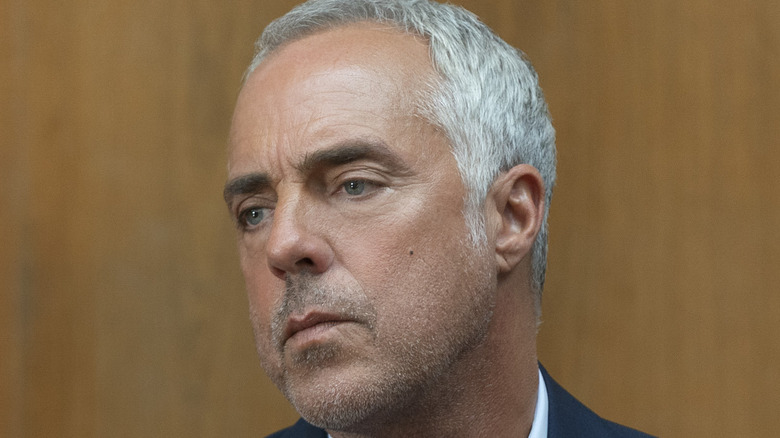 Tyler Golden/Amazon Freevee
We may receive a commission on purchases made from links.
After nearly a decade of streaming original content from Prime Studios, even the most dedicated subscriber could be forgiven for forgetting that much of the streamer's success started with one show. Long before Prime Video became the home of "The Boys," "Jack Ryan," or "The Lord of the Rings: The Rings of Power," the streaming service had "Bosch." 
The series, which is based on a long-running string of novels from best-selling author Michael Connelly, chronicles the work and home life of LAPD Detective Hieronymus "Harry" Bosch (Titus Welliver). Throughout much of its seven-season run, the show earned significant praise for its portrayal of the hardened police officer and the version of Los Angeles depicted in Connelly's books (via Rotten Tomatoes). Although the drama ultimately came to a close in 2021, it quickly became clear that audiences weren't quite done with this story.
Only a few months before the "Bosch" series finale aired, it was announced that the beloved character's television journey would continue in a then-untitled spinoff set to reunite Welliver with "Bosch" co-stars Mimi Rogers and Madison Lintz (via TVLine). In the time since that announcement, the show has been titled "Bosch: Legacy," and fans have even gotten their first look at the new series on Amazon Freevee.
In an exclusive interview with Looper, Welliver and Rogers discussed the moment they found out about "Bosch: Legacy," how the new series differs from the original "Bosch," the introduction of a new actor playing Harry Bosch, and their work on Oliver Stone's 1991 Jim Morrison biopic "The Doors."
Welliver and Rogers were both thrilled to learn about Bosch: Legacy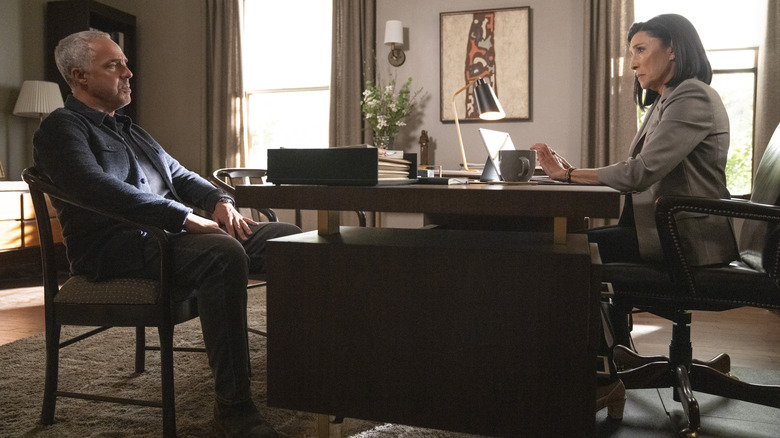 Greg Gayne/Amazon Freevee
Can you both tell me a little bit about when you first found out about the spinoff? After seven seasons, what made you say, "Yeah, sign me up for round two?"
Mimi Rogers: I probably have a more interesting story about finding out than Titus because when we were going to do Season 7 of "Bosch," we were told that was the last season. I was supposed to be killed, and the producers had called very kindly to talk to me about it, what the whole storyline was, and that I was going to be assassinated and they wanted to make sure that I was okay. I said, "Well, if this is it, if the show's done, then why not, no pun intended, go out with a bang?" I was like, "Cool, I'll be dead." Poor Maddie, she gets to lose another mother figure.
Then we started shooting and we were doing the big New Year's Eve party at Chandler's house in the garden. I had been reading some of the scripts and saw that I was in the hospital in a coma. I would talk to one of the producers during this party sequence and said, "So, what's the deal? I get shot, but then I'm in a coma in the hospital. Is this going to be like the typical 'Bosch' thing where we torture Madeline and the audience and then I freaking die at the end anyway or what?" He was like, "Has [Executive Producer] Henrik [Bastin] spoken with you?" I was like, "No," and he goes, "Come with me."
We gathered together, me and two or three of the producers, and they gave me the news that we had a new life and a new show, and I was not going to die. I literally cried happy tears and went on from there.
Titus Welliver: We were shooting in the thick of COVID and so the focus was to try to get the show completed. It was a pretty high anxiety scenario of getting through our work days. There had been whisperings and mutterings about it, but nothing concrete because we were really focused on trying to get the show completed. Then, as things evolved and it looked like it was going to become a reality, I was told that the idea was to continue. Needless to say, I was very excited about the idea of less of a spinoff, but a continuation with a smaller ensemble and focusing on these three characters. I was overjoyed, and here we are.
Bosch and Chandler face changes at work in Bosch: Legacy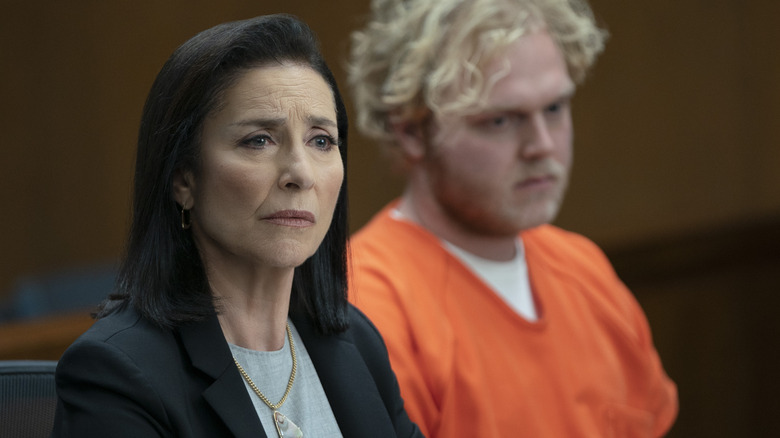 Tyler Golden/Amazon Freevee
Was there anything different from your perspective about playing Bosch as a private investigator versus Bosch as a detective?
Welliver: When Harry was a cop, he was afforded protections of the department and he had a badge. He's always been a loner and an isolated character, but now as a private eye, given the circumstances, he leaves the department. He's more isolated than ever, and he's really on his own. He no longer has any of those protections, nor does he have the accessibility that he had. He can't go into a police database if he's working on something, so it's really him out on his own and operating with his experience and his wits.
As you alluded to earlier, in Season 7 of "Bosch," Honey Chandler really had a major trauma with being shot. I was wondering if you could talk a little bit about how you think that changes Honey's perspective on her role as a defense attorney?
Rogers: Going into the new season, it was very important to me to try to bring a lot of realism into how you recover from a near-death experience and from something that was that violent and that traumatic. Some people become consumed with fear. She gets consumed with a lot of rage and this almost pathological need for justice. That carries over professionally, that she couldn't continue to do the type of work that she had been doing, her focus, because she is so obsessed with justice for herself. 
She's also obsessed with obtaining justice for others and working with Martin Rose (David Moses), working in that capacity and more of a civil rights element is a way for her — in an odd way, if she can achieve justice for anyone, it helps relieve some of the pain that she's experiencing.
A familiar face takes on the role of Harry Bosch
This season also introduces a new actor in the role of Harry Bosch. I was wondering if you could talk a little bit about working with your son, Eamonn Welliver, on this part of Bosch's story?
Welliver: That was an interesting idea, being "Legacy," to go back and give some of the backstory to Harry as he's relating, and he's asked a very direct question by [Whitney] Vance (William Devane) about his relationship with his father. Harry says, "Well, I didn't know my father." My son, Quinn, has played Harry in the past and we were looking at the timeframe and age and where it would be. My eldest son, Eamonn, is also an actor and bears a strong resemblance to me, except he's a bit taller than I am.
Rogers: Just a little bit.
Welliver: Just a little bit, so that scene came about. That'll be a really interesting, fun scene for the audience to see. It does give us a little look back and I thought Eamonn really ... made it his own, but he really kept to the integrity of who Harry was, and we really see that the adult that Harry is. The character that we've seen for all these seasons, we get a glimpse into [the fact] that he's always been this guy with the same intensity and attitude about right and wrong.
Did you give Eamonn any advice on set?
Welliver: I was not on the set when he shot, in fact. I was not there that day, but he was in the very capable hands of the director, Ernest Dickerson, who had also shot the other scenes with my son, Quinn. He's watched the show over the years, and he's an observant actor, and he cherrypicked nuance and things that he thought were important to keep that line clear. I was very proud of him and look forward to seeing him coming back for some more flashbacks.
Welliver and Rogers both had interesting experiences in The Doors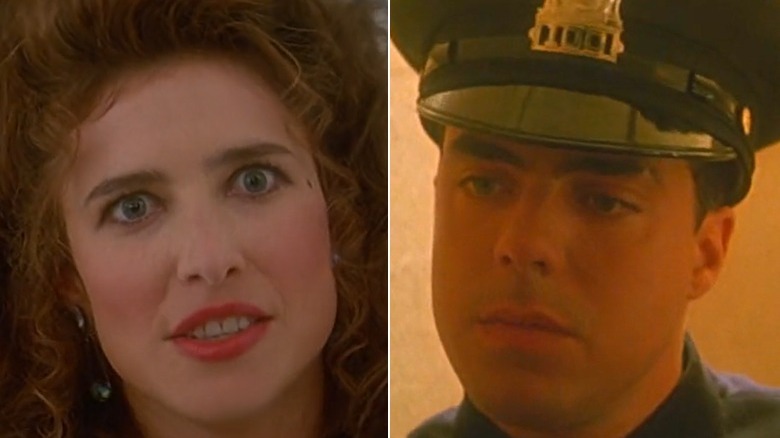 Tri-Star Pictures
I was looking at both of your IMDb pages in preparation, and I noticed that you both played small parts in "The Doors" as well, outside of "Bosch." I was curious, did you two know each other before you appeared in "Bosch?"
Rogers: Yeah, we met years ago.
Welliver: We knew each other socially through the actor Anthony LaPaglia, and we used to go to barbecues and things at their house. We knew each other socially, but we hadn't worked together and we didn't work together on "The Doors."
Rogers: I was a one-day shoot. It was me, Val [Kilmer], and Oliver [Stone] alone for 15 hours. Hair raising and wild and interesting, yeah.
Welliver: I had four scenes. I worked on that film for almost five months where they would fly me out, and then I would shoot, and then they'd send me back to New York, and then fly me back out. There's one scene that's left, which is the New Haven concert macing scene. It was an interesting experience, to say the least. It's a film I'm really proud of being a part of. [It was] a very, very tiny part, but it was an interesting experience.
The first four episodes of "Bosch: Legacy" are now streaming on Amazon Freevee (formerly IMDb TV) on May 6. Two new episodes will release every Friday until the season finale on May 27. All seven seasons of "Bosch" are also available for streaming on the site.
This interview has been edited for clarity.