Jack Ryan Season 3 - Everything You Need To Know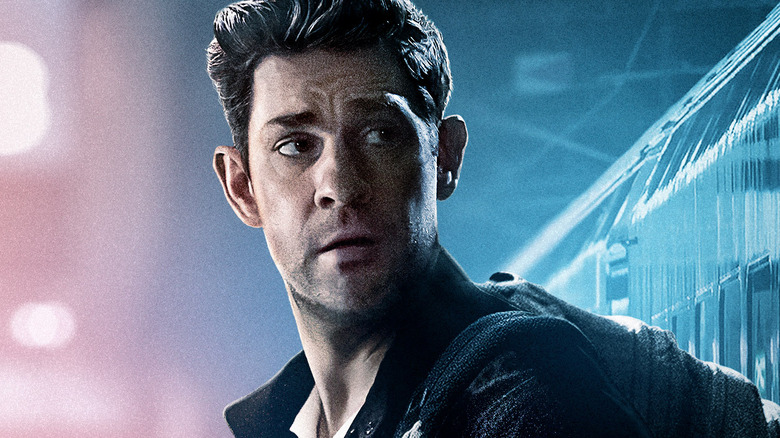 Prime Video
We may receive a commission on purchases made from links.
Tom Clancy's reluctant analyst is back again. After years of waiting — thanks to COVID-19 delays and multiple behind-the-scenes shake-ups — Jack Ryan returned to Prime Video on December 21, 2022, bringing us eight episodes of action-packed goodness.
Since the series' bow back in 2018, the leading pair of Jack Ryan (John Krasinski) and James Greer (Wendell Pierce) have foiled a bioterror plot targeting American leaders in a Washington hospital and beheaded a corrupt Venezuelan political machine indirectly responsible for the assassination of a U.S. senator. This time around, Ryan will find himself up against a group of Russian baddies and the CIA itself. 
So who will accompany Ryan on his adventures? Who's working behind the scenes and giving him orders, and what did critics and audiences think about the third season? It's been a long time coming, but here's everything you need to know about "Tom Clancy's Jack Ryan" Season 3.
What is the plot of Jack Ryan Season 3?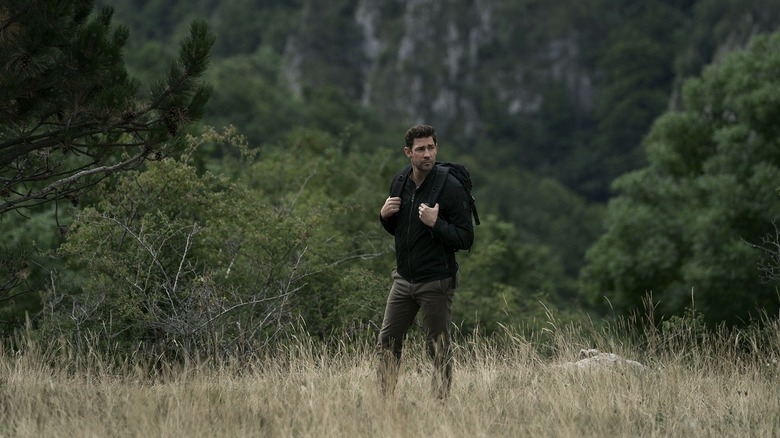 Attila Szvacsek/Prime Video
Each season of "Jack Ryan" has focused on a different mission, and Season 3 will follow in that tradition. 
This time around, a group of warhawk Russians who miss the glory days of the Soviet Union are planning on bringing back the Sokol Project, a decades-old plan that involves nuclear weapons and World War III. Needless to say, Ryan — who's working as a case officer over in Rome — can't stand by and let all this go down, even when the CIA tells him to stand down.
But Jack's insistence on saving the day backfires when, as the official synopsis reveals (via TVLine), "Jack is wrongly implicated ... and suddenly finds himself a fugitive out in the cold. Now, wanted by both the CIA and an international rogue faction that he has uncovered, Jack is forced underground, crisscrossing Europe, trying to stay alive, while preventing a massive global conflict."
With Russian assassins on one side and CIA agents on the other, Ryan must team up with old allies — like CIA officer James Greer and former agent Mike November (Michael Kelly) if he's going to clear his name and save the world from nuclear attack.
Who stars in Jack Ryan Season 3?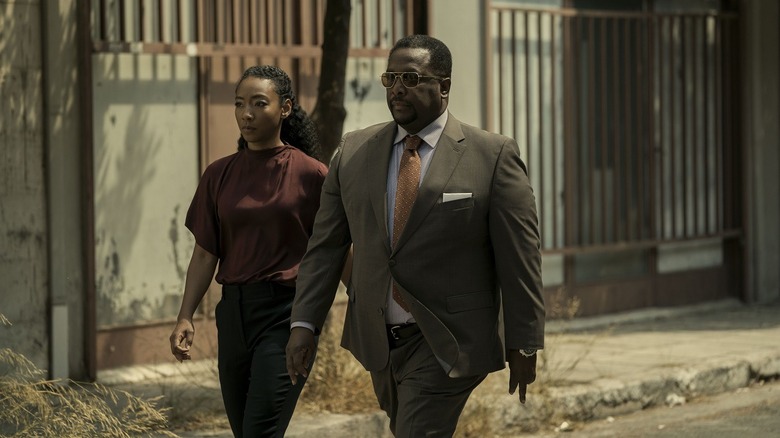 Attila Szvacsek/Prime Video
After playing Jack Ryan in the first two seasons, John Krasinski has returned to save some lives and beat up some bad guys in Season 3. But he isn't the only familiar face back in action. Both Wendell Pierce and Michael Kelly are here, playing the roles of James Greer and Mike November, respectively.
As for newcomers, Betty Gabriel ("Get Out," "The Purge: Election Year") plays the role of CIA Rome Station Chief Elizabeth Wright and Nina Hoss ("Tár," "A Most Wanted Man") plays the part of Alena Kovac, the president of the Czech Republic. You can also expect to see Peter Guinness, James Cosmo, and Alexei Mavelov.
Unfortunately, if you were hoping to see Michael Peña in Season 3 as "Rainbow Six" character Domingo "Ding" Chavez, that didn't pan out. However, Peña will appear in Season 4, and Deadline has reported that it seems likely he's getting his own spinoff series.
Who is the showrunner of Jack Ryan Season 3?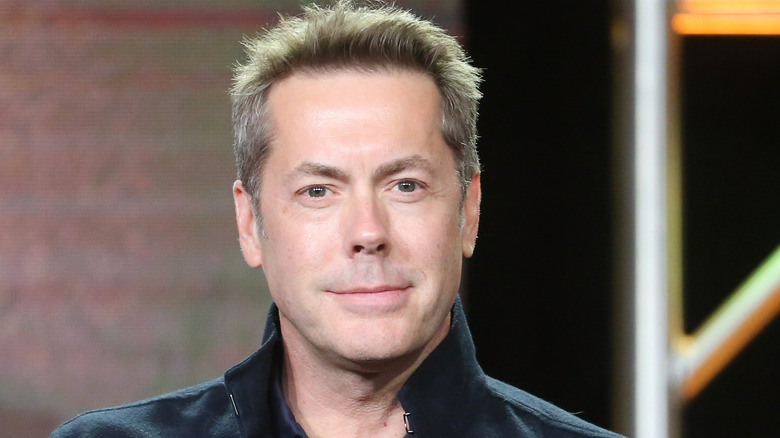 Frederick M. Brown/Getty Images
Best known for his work on "Lost," Carlton Cuse was the original showrunner for "Jack Ryan," working on the first two seasons. After he stepped down, the production entered a phase of showrunner musical chairs, with David Scarpa stepping in and leaving, Paul Scheuring stepping in and leaving, and finally, Vaun Wilmott getting the showrunning seat.
Wilmott was Scheuring's right-hand man on the project — the two had previously worked on "Prison Break" — and he's had experience producing "Star Trek: Discovery" and creating the series "Dominion." He's also written episodes for all three aforementioned shows, as well as "Sons of Anarchy."
Of course, he wasn't the sole creative voice in "Jack Ryan" Season 3. As Deadline explains, lead star John Krasinski is very hands-on with the show. He's the executive producer and has been involved in making important decisions for the show's trajectory. With the dynamic duo of Wilmott and Krasinski in charge of things, it's no wonder that "Jack Ryan" Season 3 was just as exciting and action-packed as the previous two.
How are critics and audiences responding to Jack Ryan Season 3?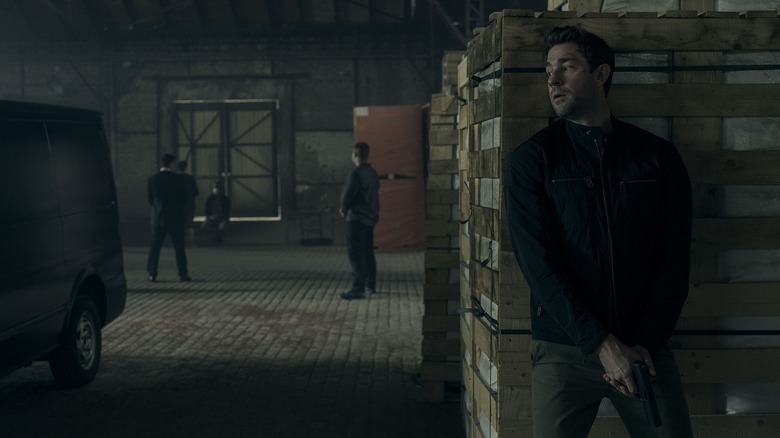 Jonny Cournoyer/Prime Video
Does Season 3 hold up to the previous season of "Jack Ryan?" Well, at the moment, it holds the highest critical score on Rotten Tomatoes of the three installments. Season 2 only has a so-so 67% approval rating, whereas Season 1 has a 75%. As for Season 3, it boasts a 78% approval rating, albeit one based on 18 critical reviews compared to Season 1's 85.
So, what exactly do critics have to say about the series? Well, in fairness, the critics who like the show tend to fall along the lines of "it's okay." For example, Trent Moore of Paste Magazine wrote, "It might be as well worn as those old Clancy paperbacks, but it's still compelling if you like the genre. But if you don't? Jack Ryan's latest is just more of the same." However, almost everyone who gave positive marks singled out the lead for praise. As Abhimanyu Mathur of the Hindustan Times put it, "Despite a predictable plot and stereotypical villains, the show manages to deliver its best season yet, largely due to its lead star — John Krasinski."
On the more negative side of things, Craig Mathieson of The Age took umbrage with a couple of issues, writing, "There's a laziness in how only a central character can spot clues, or the US-centric worldview which paints European nations as readymade vehicles for Russian corruption. Another generation's Jack Ryan is done." As for audiences, "Jack Ryan" Season 3 has a pretty solid 77% audience approval rating on Rotten Tomatoes, based on 436 reviews, which is the second best audience score for the series.
Where to watch Jack Ryan Season 3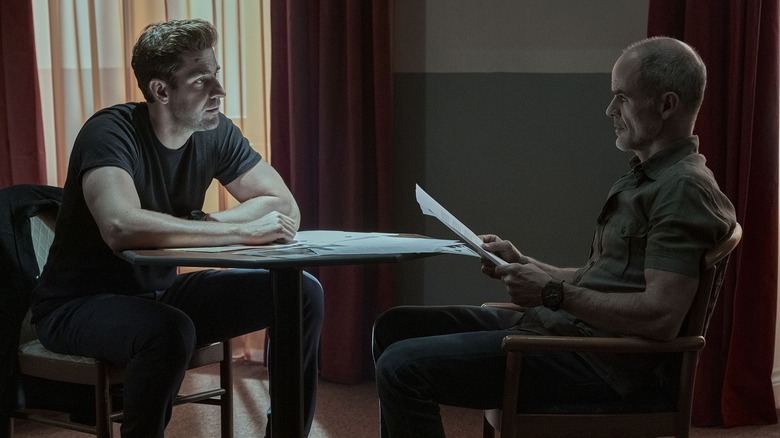 Jonny Cournoyer/Prime Video
Jack Ryan made his grand return on December 21, with eight episodes landing on Prime Video. If you haven't yet, you'll definitely want to check out that Season 3 action. Or perhaps you need to go back and brush up on his previous adventures. So where can you go to watch all three season of "Jack Ryan?" Well, if you have Prime Video, you can watch all 24 episodes over on Amazon. And then start prepping yourself for Season 4.
What is Jack Ryan Season 3 rated?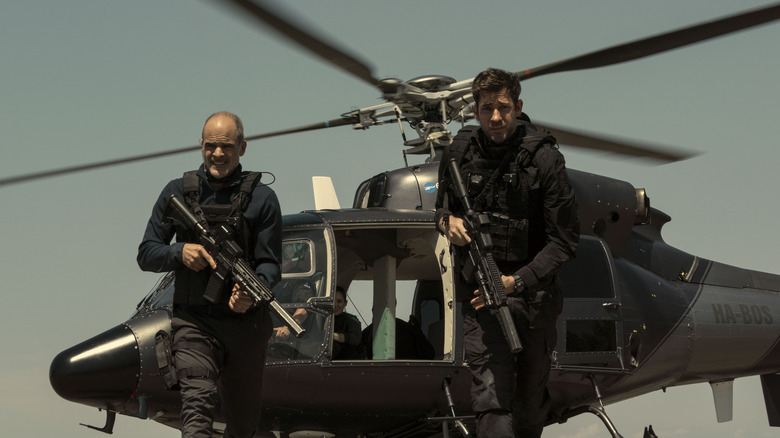 Jonny Cournoyer/Prime Video
Similar to the two previous seasons, "Jack Ryan" Season 3 has been labeled as TV-MA. As this is a show about a CIA agent stopping terrorist plots, there's plenty of violence, and ol' Jack Ryan and his cohorts have been known to drop a few F-bombs over the course of the show. In short, it's your standard, run-of-the-mill, TV-MA thriller series — if you've seen the previous seasons and were unphased, then you should be fine here. But if you're wanting to watch something with young kids, perhaps this isn't the best series to be checking out.