The Underrated Dwayne Johnson Comedy You Should Be Watching On Disney+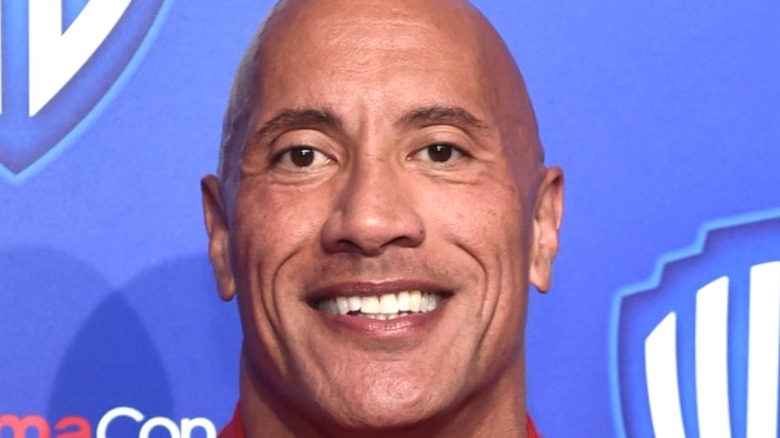 Alberto E. Rodriguez/Getty
If we go by box office receipts, Dwayne Johnson is one of the most popular stars in the world. His films have grossed over $5 billion worldwide (via The Numbers) and it looks like his reign is going to continue well into the near future. Currently, the star is on track to appear as the titular character in DC's "Black Adam," which arrives later next year. Johnson has another DC ace up his sleeve as he'll be voicing Krypto, Superman's dog, in "DC League of Super-Pets." The animated film, which has him teaming up with frequent collaborator Kevin Hart, will release theatrically this summer.
Before DC snatched Johnson up, the star appeared in a variety of high-profile projects, making his cinematic debut as The Scorpion King in "The Mummy Returns." Johnson continued down the action path, which is no surprise considering he made his name as a WWE wrestler in the late '90s. After appearing in films like "The Rundown" and "Doom," Johnson tried his hand at comedy with films like "Get Smart" and "The Other Guys." Eventually, he found a steady paycheck in "The Fast and Furious" films, appearing in four mainline entries, and spearheading his own spin-off alongside Jason Statham in "Hobbs & Shaw."
Before Johnson became the household name that we now know him as today, he appeared in a lesser-known family film that was huge on laughs and tears that you can watch right on Disney+.
Dwayne Johnson starred in The Game Plan
Before he was climbing tall buildings in "Skyscraper" and searching for a mysterious treasure in "Jungle Cruise," Dwayne Johnson appeared as a football player trying to do right by his daughter in the Disney-produced "The Game Plan." The family-friendly film hit cinemas in the early fall of 2007 and went on to gross over $145 million worldwide (via Box Office Mojo), proving Johnson was a draw beyond action films.
In the film, Johnson plays a football superstar on the verge of winning a championship. His life turns upside down when a young girl (Madison Pettis) arrives at his door, claiming to be her biological daughter. Initially neglectful, the football star becomes enamored with his daughter, and the two bond, causing strife with his football duties and bad boy image.
Despite being a box office success, the film failed to captivate critics. The film currently rests at a low 29% on Rotten Tomatoes. Time Out was mostly negative with their review, calling out the film's humorless plot. However, critic Anna Smith made it clear that Johnson brought his A-game to the project. "Johnson's amiable performance makes this watchable for the target audience; namely sporty daddies and spoiled little girls primed to assimilate their lives into the Disney brand," she wrote.
Fans of Johnson should certainly give the underrated film a chance as it shows the star truly flexing his emotional chops before he became one of the biggest action stars on the planet. Those hoping to revisit the film or watch it for the first time can do so on Disney+.