The Real Reason Dwayne Johnson Waited 10 Years To Play Black Adam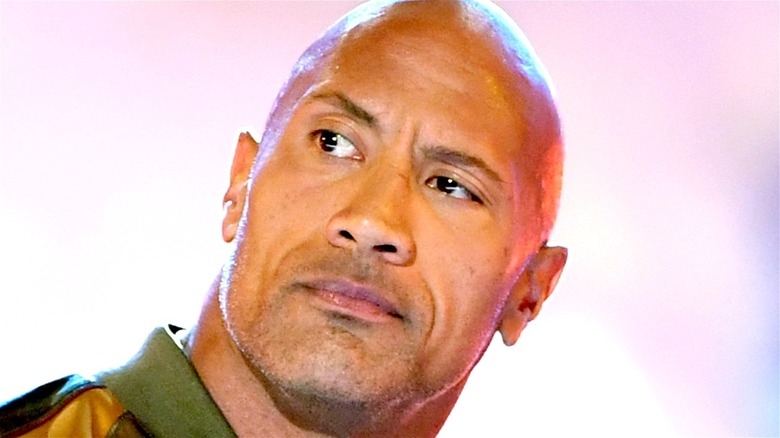 Kathy Hutchins/Shutterstock
After being in development for over a decade (via SlashFilm), 2022 will finally be the year that audiences get to see Dwayne Johnson suit up as the titular star of the DC Extended Universe flick "Black Adam." As the actor himself said in an Instagram post celebrating the end of filming on the movie, "The hierarchy of power in the DC UNIVERSE is changing."
As comic fans will know, Black Adam, aka Teth-Adam, is a fierce anti-hero and one of Shazam's main villains. It doesn't look like Johnson's Black Adam will be facing off against Zachary Levi's Shazam in the upcoming film (although Johnson has an idea of how that match-up might go), but we do know "Black Adam" will include a number of other heroes including Atom Smasher (Noah Centineo), Doctor Fate (Pierce Brosnan), Hawkman (Aldis Hodge), and Cyclone (Quintessa Swindell). 
That should be a fitting way to introduce Johnson as Black Adam, especially as it's a performance that has been over a decade in the making. In fact, Dwayne Johnson recently opened up about the film and revealed what it is about Black Adam that made him wait 10 years to take on the role.
Dwayne Johnson says Black Adam is 'unique'
Dwayne Johnson recently spoke to Total Film about "Black Adam" and opened up about how he really views the anti-hero. The star called the character "a bad motherf****r" while also adding, "there was always something unique, different about Black Adam." Johnson explained that although he was never officially offered any other superhero role, there were options on the table. "Official offers never happened. It was always conversations with studio heads," he explained. But the actor had his sights set on playing Black Adam.
It's true, the ruler of Khandaq is not a typical costumed crusader, as he always believes he's doing the right thing for his people. Johnson said during his interview, "He was a villain, an antihero, depending on your interpretation of what a villain is. I loved this idea that his pain and rage comes from loss, and was fuelled by oppression." It's an interesting theme to explore, and it seems like oppression will be a huge part of the story, especially since Sarah Shahi is playing a Khandaq freedom fighter called Adrianna Tomasz.
Dwayne Johnson also noted that Black Adam's revenge is absolute, saying that he has no issue in murdering people that wrong the people he loves. Per Johnson, "And at some point, he refused to be held down any more. If you wrong him, his family, or his people, then you will die. Period. That is just that simple." 
"Black Adam" arrives in theaters on July 29, 2022.