Fans Have Strong Feelings About Grey And Nolan's Relationship On The Rookie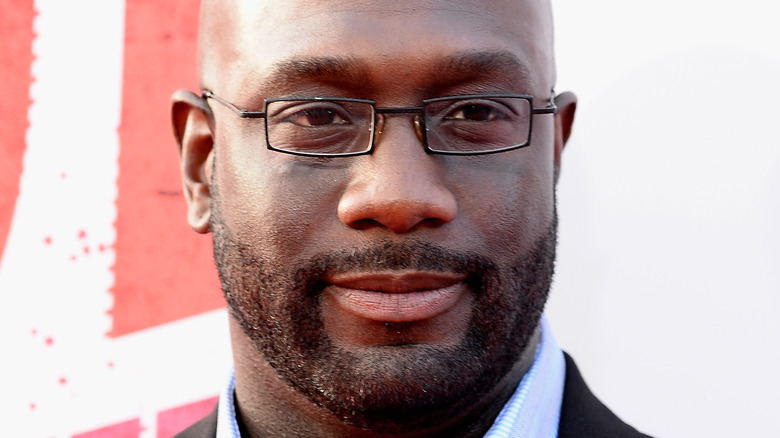 Frazer Harrison/Getty Images
Officer John Nolan (Nathan Fillion) is a middle-aged man who abruptly changes careers to join the Los Angeles Police Department. This is the core premise behind the ABC police procedural "The Rookie." One of the obstacles Nolan faces in his job is the hard-edged demeanor of Sergeant Wade Grey (Richard T. Jones). The superior officer treats Nolan harshly, but is the treatment unfair?
From the moment Nolan arrives for role call on his first day, he and his two fellow rookies, Lucy Chen (Melissa O'Neil) and Jackson West (Titus Makin Jr.), are subjected to every plausibly horrific scenario a police officer can face. Because of the threats they will undoubtedly face on the streets, the trio's training officers are tasked with molding them into the kinds of police officers who make it home safely every night. Indeed, during their time with the LAPD, the three of them face threats as diverse as serial killer kidnappings, gangster beatings, and lots and lots of murder.
Through it all, the group is overseen by Sergeant Grey. He treats each of the group members differently, similar to the way their individual training officers do. But does he mistreat Nolan? According to Reddit, fans feel quite strongly about this question.
Some fans think he is too hard on Nolan
Some fans believe that Sergeant Grey is unfairly harsh on Nolan. Police work is a calling; for those who see it as more than a job, Nolan could be seen as someone resorting to it only as a midlife crisis. Even though Nolan proves himself each week as a capable and dedicated officer, Grey continues to be hard on the man.
A thread on the r/TheRookie subreddit addressed the issue in a humorous way, beginning with u/Dinich3110's sharing of a meme. In the meme, a sunflower screams with a caption that says, "Sgt. Grey when Nolan makes a mistake." Below that is a much happier flower smiling with a different caption that reads, "Sgt. Grey when another officer makes a mistake." 
As funny as the meme is, like all good memes, it rings with a substantial amount of truth. Many Reddit users sounded off in agreement. "Nolan has been Grey's least favorite since day one," u/TurtleTheRedditor wrote. "He made sure Nolan knew on his first day."
But is it more than a dislike? In his first year as a police officer, Nolan makes a plethora of mistakes. Indeed, Nolan sometimes finds himself at odds with his fellow officers. This undeniably complicates his relationship with Grey, something a number of Reddit users pointed out. U/thejoker954 wrote, "For a while, Grey seemed to be warming up to Nolan, but since Nolan went rogue, he's regressed." U/mhoner agreed, writing, "You can't really blame him. While very likable, he has been causing headaches for the sergeant." 
However, while some fans believe the sergeant goes too far with Nolan, others argue that Grey is only doing his job to the best of his ability.
Some fans argue it is exactly what Nolan needs
Sergeant Grey supervises employees in one of the most dangerous jobs in the world. His job, first and foremost, is to make sure that each and every one of his officers are prepared to conduct themselves accordingly. After all, following Titus Makin Jr.'s 2021 departure from the series, only two of the three initial rookies remain living. Some fans believe that because the job is so filled with heartbreak, tragedy, and loss, Grey needs to be harsh on his rookies in order to instill a very real sense of peril.
A number of fans on the Reddit thread pointed to this fact in an extended discussion of the police sergeant's motivations. "I feel like Grey definitely respects Nolan," u/Unitedfan0722 wrote. "But I totally get the treatment he gives Nolan too. He knows Nolan is probably the best/most natural cop out of the three rookies, and he knows that Nolan has a hero complex. [Grey] being hard on [Nolan] is key in his eyes to make sure Nolan continues to progress as an officer." 
Interestingly, others believe that Grey's harsh treatment of Nolan is based on the rookie's age. These users believe that Grey believes that Nolan's more developed life experiences should help him avoid certain mistakes. This is the view of u/shadowX760, who wrote, "I feel like Grey is harder on Nolan because he is older and ... the mistakes he has been making shouldn't be made by someone of Nolan's age." 
To these fans, Grey simply pushes Nolan to be better because he knows that he can be.